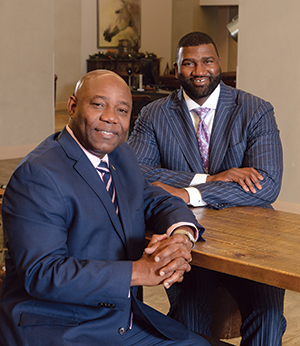 Writer: Jane Schorer Meisner
Photographer: Duane Tinkey
At 6 feet 8 inches tall, former Drake University basketball star Aliou Keita towers over his friend Eric Idehen. But the big hearts of the West African natives measure much the same.
Idehen is originally from Nigeria, and Keita is from nearby Senegal. Both immigrated to the United States, gained citizenship and now are bank executives in Des Moines. And both are deeply committed to caring for African orphans and finding those children loving homes.
Idehen, 52, of Urbandale, is founder of Cornerstone of Hope Orphanage in Benin City, Nigeria.
His inspiration for the orphanage stemmed from an insult he experienced as a teenager—a sting he's never forgotten.
"I grew up very poor in Africa, and I never had jeans or tennis shoes," he says. "When I was in high school, for our homecoming party, the girl I thought was my girlfriend did not want to dance with me because I was wearing my African dress and my sandals that I wore to school. That was when I knew I was poor."
Years later, as Idehen and his wife, Emily, struggled to have a child, they became interested in adoption. Then Emily gave birth to three boys in three years, and adoption plans were delayed—but not forgotten.
"I felt bad just because I didn't have jeans and tennis shoes," Idehen says. "I don't know what it's like to not have a home or a parent's love or food. I'm trying to look at this world through the eyes of an orphan."
Idehen founded Cornerstone in 2006 and eventually recruited Keita to its board, where he served last year as president. "My job is to support the board and to get awareness out," Keita says.
The two men followed different paths to the United States. Idehen immigrated in 2001 through the Diversity Visa Lottery Program, beating monumental odds to win a green card.
Although he has a bachelor's degree in construction and a master's degree in business administration, Idehen's first job in Des Moines was as a restaurant dishwasher. Later, he joined Wells Fargo Bank as a teller. Today, he is Wells Fargo's vice president of community development.
Keita, 34, of West Des Moines, was a foreign exchange student at Iowa City Regina High School. A three-year starter on the Drake men's basketball team, he graduated from Drake in 2007 with a bachelor's degree in computer science and a minor in information technology. Instead of returning to Senegal, Keita chose to remain in America and work on projects that support Africa and children. "For me to give more, I have to stay here," he says. "I can accomplish more here."
Keita now is vice president of business development at Lincoln Savings Bank. He and his wife, Tiffany, have two young children and hope to adopt a child in the future.
Cornerstone has placed more than 90 children in permanent homes, including a daughter adopted by the Idehens and a son adopted by the Rev. Jonny Craig and his wife, Kayla, of Urbandale.
"Once the adoption process started, everybody at Cornerstone was amazing," Jonny Craig says. "They hosted us on two visits to Nigeria in order to finalize the adoption of our son. Eric was our guide in every facet in Nigeria—everything from finding an attorney to navigating bureaucracy. He connected us with friends from his childhood so we would have a place to stay."
Kayla Craig calls Eric "a humble and generous leader."
"I'm blown away by Cornerstone's heart—and commitment—to take care of children who are on the margins of society," she says.
Cornerstone currently raises funds through an annual golf outing and a gala in Des Moines, but Idehen and Keita hope to increase awareness of its work and gain the support of Iowans.
"We need people who have the spirit of giving to consider Cornerstone as a charity they can give to," Idehen says. "As little as $60 a month will take care of feeding a child, health care, education, everything."
Idehen says he feels fortunate to live in Des Moines. "My story could not be possible somewhere else," he says. "So I'm grateful for that."
More Information:
Cornerstone of Hope Orphanage
P.O. Box 634
Des Moines, IA 50303
Phone 515-321-2807
Email: eric@thehopeorphans.org
thehopeorphans.org