Writer: Megan VerHelst
Nonprofit organizations don't always embrace technology. In fact, only 11 percent of nonprofit organizations view their digital approach as highly effective, according to a survey conducted by the digital strategy consulting firm NetChange.
Yet the effective use of technology can transform the way a nonprofit does business and, in doing so, expand its reach. Here are three local organizations that looked at their missions through an innovative lens and adopted advanced digital tools to make a greater impact on those they serve.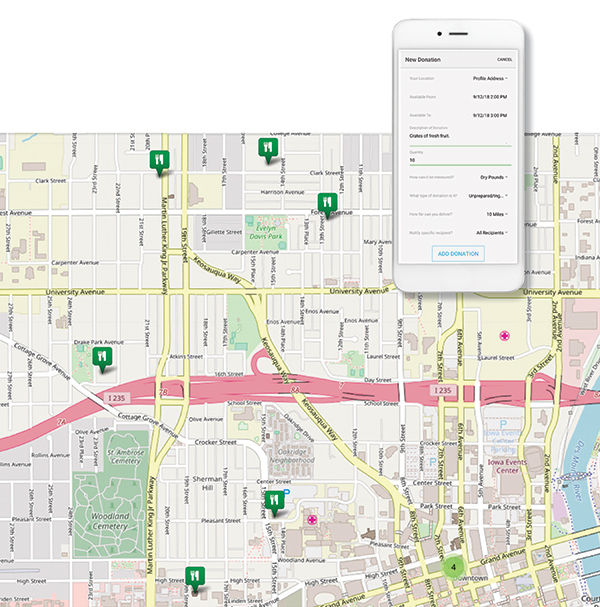 Wondering what to do with the leftover cheese from your holiday party? Don't toss it in the trash; instead, download the ChowBank smartphone app, which connects people with organizations that serve those in need.
ChowBank
Eat Greater Des Moines
Consider these common scenarios: You attend a gala with a plated meal. Your employer throws a celebration for employees, complete with a large catered meal. You're invited to a dinner party with friends. All these events have one thing in common: leftover food. Where does that go? More often than not, it ends up in the trash. 
Eat Greater Des Moines, which seeks to strengthen the area's food system, wants Central Iowans to know there are organizations and people willing to take these leftovers—and its ChowBank smartphone app makes such connections possible.
"One of the biggest challenges with food rescue … is knowing where to take it and use it," says Aubrey Alvarez, executive director of Eat Greater Des Moines. "Someone with leftover food might call a ton of places, but find no need." That person, she adds, might know of places in need—a homeless shelter, say, or a food pantry—but hasn't developed a relationship with any of those organizations.  
The ChowBank app was developed with the assistance of Emerge@Simpson, a program at Simpson College in Indianola that focuses on providing students opportunities to apply their skills through entrepreneurial and collaborative projects. The beta version was unveiled in 2016. Nonprofit organizations that support the food insecure can register as partners, while anyone can register as a donor. 
Once the ChowBank app is downloaded on a mobile device, the way it works is simple.
"Let's say you are planning an event and have food left over. What you do is use the app to create an alert," Alvarez explains. "In the alert, you include where you are located, what and how much food is available, when it needs to be gone, and if you are willing to deliver."
Alerts are then pushed out to either the donor's partner of choice or the entire database of partners, Alvarez adds. Partners can choose to ignore or accept the alert. Once accepted, contact information is shared between the donor and the recipient. When food is delivered or picked up, donors receive a tax receipt and recipients can rate their experience with the donor. 
ChowBank, with its roughly 300 users, fills the need within Eat Greater Des Moines for small-scale, one-time solutions with a goal that the donor and recipient will develop an ongoing relationship. This allows Eat Greater Des Moines to put more of its focus on eliminating large-scale food waste—think grocery store chains, food service distributors and the like. Last year, more than 13,000 pounds of food was donated through the ChowBank app, equating to about 15,000 meals, Alvarez says.
The app is "the best way we've found to take care of those 'one-off' things and engage new donors," she adds. "Relationships are key to food recovery, and we just want to make sure this leads to great relationships."
GIVEdsm
Community Foundation of Greater Des Moines
Through the creation of its newest online giving platform, GIVEdsm, the Community Foundation of Greater Des Moines provides ways donors can learn more about the timely funding needs of local nonprofits as well as offer support.
"What we wanted to do was create a Match.com of sorts for donors and nonprofit organizations," says Kristi Knous, president of the Community Foundation. "Depending on the time of year, nonprofits often have very different needs. It could be a backpack program. Others may need a new air conditioner. Our field has really been calling for something like this."
GIVEdsm.org was created with the help of dsmHack through its 2018 Des Moines Charity Hackathon, a 48-hour event where participating nonprofits partner with volunteers to create technology solutions for their organizations. 
GIVEdsm, which rolled out in August, is a website where nonprofit organizations can fill out and share "cards" with information on their timely funding needs. These cards include the project name and description, a funding goal and the funding deadline. Community Foundation donors receive a login link and can peruse the cards, either all at once or according to the causes they care about most, such as education, mental health or youth. Should they choose to give to a project, donors can contribute directly via check, credit card or their Community Foundation charitable giving fund. 
"Picture your family coming together around the table during Thanksgiving," Knous says. "This is that platform they can use to determine where your family wants to give, based on their identified areas of interest."
While GIVEdsm currently is only available to Community Foundation donors, Knous says the organization hopes to make it available to the public by November.
"We knew there was a way to better leverage technology than we were," says Sarah Bonney, vice president of marketing and communications at the Community Foundation. "I think one of the things we are most excited about is how many more connections this can make between those who are so generous in our community with those with so many timely needs."
Food Pantry 2.0
Des Moines Area Religious Council
The Des Moines Area Religious Council, an interfaith organization responsible for overseeing the largest food pantry network in Iowa, used technology to completely rethink the way food is distributed to Central Iowans in need.
The new system, which goes by the moniker Food Pantry 2.0, reframes the food pantry experience from a client's perspective. Instead of receiving a specific number of items in different food categories each month, DMARC Food Pantry clients can now receive "pantry point" credits, which are used to purchase any combination of food items and products available. Buying choices are tracked by individual bar codes on each item, which are scanned at the time of purchase. The model hopes to empower pantry users by offering more choice and self-sufficiency.
Beyond the technology, however, is the comparatively innovative concept behind how DMARC assigns point values to food items and products.
"Lesser point values are assigned to nutritious items, so a food pantry user will spend fewer of their monthly points choosing fresh produce than if they choose canned soup, for example. Choosing healthier options enables them to purchase more food," explains Luke Elzinga, DMARC communications and advocacy manager. "It's really the inverse of a grocery store, where the more affordable food is often high in calories and highly processed, and the more expensive items are fresh fruits and vegetables."
The idea to distribute points in such a way is connected to studies linking food pantry usage to a higher risk of diabetes and heart disease, Elzinga says. While the DMARC Food Pantry Network initially responded by increasing the availability of fresh fruits and vegetables and healthier nonperishable food items, the organization wanted to do more to empower pantry users to make healthier choices.
The idea for Food Pantry 2.0 was introduced at the Community Foundation of Greater Des Moines' Ignite Community Innovation Challenge, a "Shark Tank"-style pitch to community investors. DMARC received $30,000 through the challenge to implement the new system. 
Currently, the Food Pantry 2.0 pilot program is available at the West Des Moines Human Services location. DMARC hopes to roll it out to all network pantries in the future, Elzinga says. 
"We spent three months collecting baseline data before rolling out Food Pantry 2.0, and we are seeing what people select. Clients are choosing more healthy food," Elzinga says. "What we are doing is trying to flip the current system on its head and incentivize people to make healthier food choices."