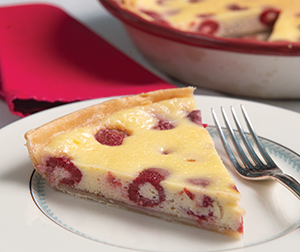 Writer: Wini Moranville
Growing up in midcentury Ohio, Vicki Goldsmith lingered often in the farmhouse kitchen of her grandmother, Laura Keck. Her grandparents lived on a 10-acre farm, complete with a garden, an orchard, two cows, two pigs, 20 chickens in the yard, one dog and a bunch of cats. 
Over the years, Goldsmith has traveled far from that Ohio farmstead. Launched in 1962, her teaching career took her to an Army post in the Utah desert, New York state, Upper Michigan, Taiwan, Warsaw and Ohio. In 1989, she began teaching English at Roosevelt High School in Des Moines, and in 2005 she was named Iowa Teacher of the Year. She retired from teaching in 2006. 
While it's been more than six decades since she spent time in her grandparents' farmhouse, Goldsmith keeps one cherished culinary tradition alive: She makes her grandmother's Berry Kugen often. 
The dessert, a fruit-and-custard pie, was originally the recipe of Laura Keck's mother-in-law, Manno, who hailed from Germany. Goldsmith guesses that the pie was a "farmwife's last resort."
"It was likely something my great-grandmother came up with when she didn't have quite enough fruit to make a double-crust fruit pie," Goldsmith says.
I first tasted the pie when Goldsmith brought it to a potluck in 2006. When compared with the endless crème brulées, flourless chocolate torts, gooey molten cakes and other ultra-rich desserts I encountered back in those days, Vicki's bright fruit-filled, sweet-and-tangy pie was a revelation and the kind of dessert I always long for: one that makes you feel better for having eaten it, not worse. It's perfect for summer—especially when you spot some plump, ripe berries at a farmers market. Best of all, it's easy enough to help you get in and out of the kitchen fast on a beautiful day.
A word on the name: Goldsmith calls the recipe a "kugen," which, she surmises, is simply the way her family pronounced the German word "kuchen." Never mind that German kuchens are usually more akin to a cake. The pie and its name have passed through at least one century of family lore, ever since Laura Keck married Manno's son in 1919. 
The errant moniker reminds me of the way my own grandmother called a roux a "goo"—back when each family had its own kitchen language, back when there were no smarty-pantses with cellphones and Google to correct anyone. 
Let's hold on to this lovely dessert's name as it sweetens the next century, shall we?
---
Vicki Goldsmith's Berry Kugen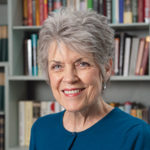 Pastry for a 9-inch pie (Goldsmith uses a purchased refrigerated pie crust, such as Pillsbury)
2 cups fresh berries (such as raspberries, blackberries or blueberries) or 1 15-ounce can tart red pitted cherries (not cherry pie filling), well drained
1/2 to 1 teaspoon cinnamon (to taste)
2 eggs
1/2 cup sugar*
1 teaspoon vanilla extract
8 ounces sour cream
1. Heat the oven to 350 degrees. Line a pie plate with a crust and crimp the edge. Scatter the fruit evenly over the bottom of the crust and sprinkle with the cinnamon.
2. In a medium bowl, beat the eggs, sugar and vanilla until combined. Beat in the sour cream until well blended. Pour this mixture over the fruit in the crust.
3. Bake in the preheated oven until the center is set and slightly puffed, about 40 minutes, covering the edges of the crust during the last 20 minutes of baking to prevent overbrowning.
4. To serve warm, cool on a wire rack 1 hour. You can also serve this pie chilled. Whichever way you serve it, be sure to cover and chill the pie within 2 hours of baking. Makes 8 servings.
* If using the canned tart cherry option, increase sugar to 3/4 cup total.