Writer: Chad Taylor
Photographer: Duane Tinkey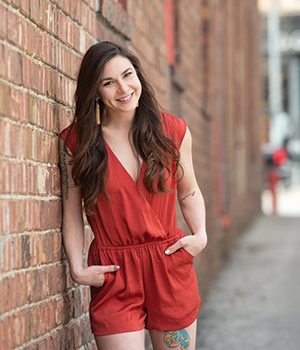 "I was born on a bathroom floor in Noblesville, Indiana."
Talk to Betsy Rudicil for any length of time and you'll find that this is not the only facet of her life that sounds like it belongs in a Nick Cave song. Nevertheless, that's how we start: in the middle of Indiana, with Rudicil's mother lying on the bathroom tile.
"I was late," Rudicil explains.
"I was the third kid. My mom was flustered that I was taking my own sweet time coming out. She had always wanted a home birth, so one night she just woke up, went into the bathroom, had me, then woke up my dad."
From that semi-charmed introduction to the world, and for most of the 39 years since then, Rudicil has been a genuine polymath—someone whose talent in a variety of fields is excelled only by her curiosity and passion for exploring new challenges.
That alchemy of innate ability and seemingly boundless enthusiasm has served Rudicil well in a life that took her from Indiana and Medford, New Jersey, before settling in Des Moines in 2004. 
Along the way, and often simultaneously, Rudicil has been a ballet dancer, model, actor, photographer, poet, carpenter, wife and mother of two.
Rudicil was in fifth grade when she landed her first modeling gig, posing for a department store catalog—she forgets which one. The shoot was taking place at a friend's house. Rudicil went over to play, and the art director decided he had found his new cover model.
For Rudicil, modeling is something that has come and gone in her life with little effort on her part. Her nascent acting career is similar—"I didn't get that job because I auditioned," she says of a 2016 national commercial for Gordman's, in which she rappels down a large storefront. "I got asked to do it because I was willing to jump off a building."
Beyond a sense of daring, though, Rudicil also possesses natural physical aptitudes. Lithe of build and erect in posture, she moves with an almost casual fluidity, even while in the throes of mundanity. That she was a dancer isn't surprising, but whereas most accomplished dancers begin almost before they can walk, Rudicil didn't begin serious study until she was a teenager. During her freshman year of high school, she began studying with the Joffrey Ballet. 
"It was intense," she says. "Practice six days a week, monitoring food, monitoring activities. At one point we were told that we weren't allowed to run in gym class anymore, because running activates different muscles than dancing."
While with the Joffrey, Rudicil danced in the company's annual performances of "The Nutcracker," as well in "Sleeping Beauty" and "The Adventures of Dorothy," a take on "The Wizard of Oz."
Rudicil had plans to forestall college so she could pursue a dance career, but a back injury during her junior year forced her to reevaluate, and she eventually attended the University of Dayton, where she graduated with degrees in psychology and photography.
Of all her interests, with the possible exception of carpentry, photography is the one that most occupies Rudicil's mind and heart. She's the official photographer for First Fleet Concerts; her work has been published in the Des Moines Register; and her photos have been featured in commercial work for companies ranging from Willowsong Midwifery to Interstate Battery.
"I love having a creative flow that can go from very hard work—the manual labor—to capturing the results of that work on film for other people to enjoy," she says, explaining her various interests. "I like having that fluidity."
That manual labor has included working on the construction teams for a variety of entertainment venues. "Wooly's, Grateful Chef," Rudicil says, listing off projects she has helped build, "xBK, Hinterland, Big Country Bash, Up/Down …"
Her first major project in the city was Wooly's. From there, Rudicil has worked on the crews that have built Up/Down arcade bars in five different cities. On every job she works, Rudicil serves as a kind of jack-of-all-trades: One day she'll do demo and knock down interior walls; the next will see
her finishing trim work or laying tile. She's even remodeled every room in her own house. 
Rudicil also spends a long weekend each summer in St. Charles at the Hinterland Music Festival, climbing scaffolding, putting out fires (usually metaphorical; occasionally literal), and roaming the backstage area, ensuring everything goes smoothly. (The festival is Aug. 2-4 this year.)
"Betsy has a ton of pride in the projects she does for us," says Sam Summers, founder of First Fleet Concerts, Hinterland, Wooly's and Up/Down. "When she takes something on, she can see it through from start to finish with little to no guidance."
Most of the guidance she does get on a job site comes from her friend and business partner, Brad Brotherton. The pair met when Rudicil enrolled in a fitness class that Brotherton was teaching. Brotherton was working on what would become Wooly's, and asked Rudicil to come down and photograph the job site. Once there, however, Rudicil became more interested in helping with the construction than with documenting it.
"She was just always there," Brotherton says. "She started out as an extra hand, and it grew from there.
"I've done construction for 20-some years," he adds. "I honestly don't see a whole lot of females doing the jobs I do. For her to take that initiative and even want to try jobs like that, I respected that."
"It can be intimidating being the only female" on a construction site, Rudicil admits. "There are 35 men walking around with more experience and …" 
She lets her voice trail off, then adds: "I don't feel like I have the luxury of messing up because it's like I'm representing my entire gender. That's what gets in my head the most. Because if I'm the only woman you've ever seen on a construction site, then if I mess up, I've ruined it for women."
Outside of her construction work, Rudicil takes photos as time allows. She's raising her son, Jackson, 10, and daughter, Leelia, 13. She still models from time to time, and this past fall she enrolled in a dancing class downtown. 
"I have one job," Brotherton says with a laugh. "I'm a carpenter. She's got a ton of jobs. I don't know how she does it."
"I think the reason I still do all of them is simple," Rudicil says after a half-second's thought. "I want to still be excited by all of them. By life."