Writer: Kelsey Batschelet
Photographer: Duane Tinkey
Ah, summer. When the days are sweetened by fresh lemonade on porches and long evenings at barbecues and baseball games. Don't let that summertime feeling stay confined to the outdoors, though. Bring the bright, sun-drenched vibes of the season inside with these tips from local designers.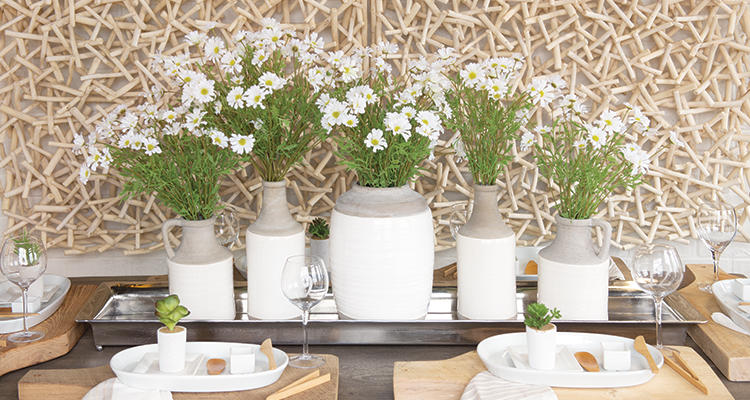 Lighten Up
Kathy Sorbe, the Elements
At the Elements, owner Kathy Sorbe preaches authenticity. "A home should represent your personality, not a trend," she says. And to freshen up that personality for the summer months, Sorbe recommends decluttering to open up a space, while bringing in light colors and earthy materials. 
"Pull the drapes back, let the light in and get rid of all the tchotchkes that warm up the space in the winter," she advises. "Bring in fresh, clean fabrics, such as linen, in natural shades of tan, off-white and foam." By pairing natural textures, such as ceramics and cotton, with clear, sparkling glasses, you can recreate the refreshing sensation of the season.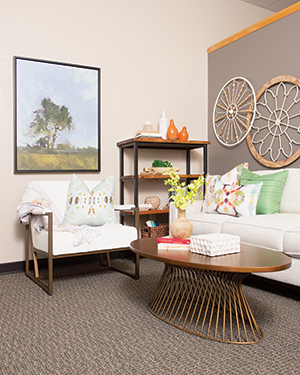 Add Bright Colors
Julie Youngblade, JY Designs
When dsm spoke with Julie Youngblade, owner and designer at JY Designs, she had just returned from market, where she got the lowdown on the newest design trends. "Richer color palettes are coming onto the scene, paired with more natural textures, like unpolished wood and matte finishes," she says. 
For summer, she suggests "changing out an accent color to something bright and reminiscent of vacation." Those accent colors can come in the form of throw pillows, dining room placemats—or even a plant. "Adding a vibrant plant to the space can make the indoors feel as lively as the outdoors," she says.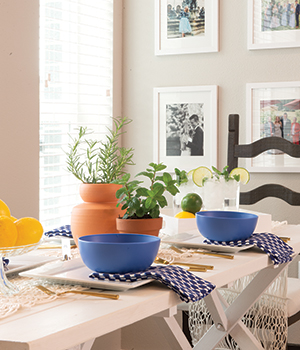 Use Functional Accents
Jen Haywood, Texturious Designs
The way we decorate a space has power, according to Jen Haywood, owner of Texturious Designs. "The colors, materials and textures we decorate with can be powerful influencers on our mood," she says. In the summer, she recommends bringing the feel-good, smell-good vibes of the outdoors in.
"Most people put flowers on their dining room table, but placing a pot of herbs in the center of the space is both functional and a creative way to bring the season inside," she says. "Then you have the herbs right there where you're cooking with them." Adding a pot of rosemary or mint to the center of the table brings fresh, earthy smells to the room and gives you easy access to a garnish for your drink or flavor for a dish.