Writer: Jody Gifford
Photographer: Duane Tinkey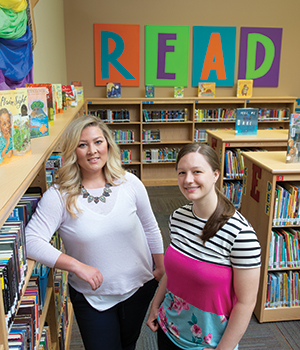 The first year at any new job can be intimidating, maybe even more so when you're a teacher. New faces and names to remember, schedules to memorize and a set of standards and expectations that can drive many young educators to ask themselves why they ever chose to teach in the first place. 
When 2018 Iowa Teacher of the Year Aileen Sullivan started her career in 1996, she experienced many of those same challenges. Fortunately, Sullivan had a teacher mentor at Ames High School who not only helped her navigate the classroom, but also demonstrated how to ultimately be successful in her career. 
"My mentor knew the value of getting outside of the building and learning new things," she says. "But I also remember how connected he was and how many people he knew. He put a lot of importance on making those connections."
Making connections, Sullivan adds, is at the heart of what makes teachers successful—connections not only with students and their families, but also with others in the field. 
Thanks to an initiative funded by the Iowa Department of Education's Teacher Leadership and Compensation (TLC).

System, every school district in Iowa has implemented a similar plan focused on stewarding new teachers. Veteran teachers are paired with rookie educators from within their schools with the common goal to speed their professional development and improve their skills. More than 10,000 teachers serve as mentors in districts across Iowa.
Continuous Learning
With more than 30,000 students, Des Moines Public Schools see teacher coaches and mentors as vital to their overall mission of education. Their purpose, according to a district presentation, "is to collaboratively engage in a continuous cycle of learning."
The mentorship program in the Waukee Community School District is threefold: If you're new to the profession, an instructional mentor works side by side with you for your first year. If you're new to the building or the school district, you're paired with a building mentor—an experienced teacher who can show you the ropes and be a sounding board. Additionally, most buildings also have an instructional coach who works with all teachers. 
Kristin Grotewold is an instructional coach at Woodland Hills Elementary School in West Des Moines, part of the Waukee Community School District. She says Waukee's program helps build a sense of community among educators.
"In looking at people we have mentored, I think they feel like they're a part of something bigger than just one building or one grade level or one team," she says. "The relationships they've formed and the teachers they've connected with … those connections are alive and well and still happening five years later. That's why the program is so successful—they feel important and valued."
'Huge Positive'
Woodland Hills Principal Scott Shumaker says those connections are an important piece of the framework shaping a new teacher's career. "I think this is a huge positive for teachers, students and families," he says. "It takes a first-year teacher and accelerates their experience. Just the opportunity to grow from another colleague and peer is incredibly valuable." 
Britni Flaherty, a fifth grade teacher at Woodland Hills, has been a building mentor for three years. When she came to the district eight years ago, there was no one in a position like hers to help her navigate the new landscape. As a mentor, she believes the experience is invaluable to newcomers. 
"That first year is so hard," Flaherty says. "It was a lot of trial and error and learning the ropes on my own. To have someone you can talk to without judgment … someone who knows what you're going through, is awesome."
Flaherty mentored fellow fifth grade teacher Megan Brown during the 2018-2019 school year, her first in Waukee. 
Brown says that in the end, the experience made her a better teacher. "You will not stop growing," Brown says. "There is always someone pushing you to get better every day. That's something I appreciate about being a teacher here."