Above: See and hear from our 2019 Sages in this video, created by Duane and Dylan Huey of Good Plan Productions.
Writer: Luke Manderfeld
Photographer: Dylan Huey
Once again, we are honored to present a new group of Sages Over 70. And once again, we are inspired by their wisdom, grace and generosity of spirit. They truly represent ideals of leadership, mentorship, philanthropy and citizenship. 
We invite you to celebrate this year's honorees at a reception Nov. 11 at the Sheraton West Des Moines Hotel, where each Sage will share brief remarks. Networking begins at 4 p.m., with presentations starting at 5:05 p.m. Tickets are $50 per person; details are available on our website, dsmMagazine.com. Also on the website, you can hear from the Sages themselves in a video produced by Duane and Dylan Huey of Good Plan Productions.
As in previous years, proceeds from the Nov. 11 event will benefit the Sages Over 70 Fund at the Community Foundation of Des Moines, our presenting sponsor. To learn more about the fund and how you can contribute, visit desmoinesfoundation.org. 
We sincerely hope you can join us for this memorable evening. Not because they need applause. Not because we need a crowd. But because you will gain so much and feel such pride in your community that produces and celebrates these treasured few, the best among us. 
Penny Furgerson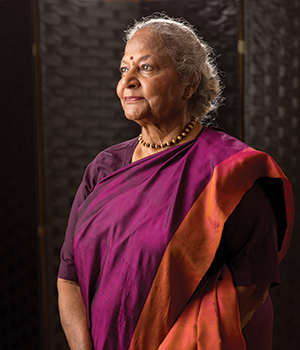 Born in Karachi, Pakistan, Penny Furgerson later moved near what was then Bombay, India—now Mumbai—when she was still a child. A daughter of a nurse and a business executive, she learned much about community service from her parents, but especially from her grandmother, who was a doctor and provided free care to many of her patients.  
Without realizing it, Furgerson became a pioneer in her teenage years. Schools at the time were separated by gender, and the girls' school didn't offer science courses. One day, Furgerson, who had always been interested in science, asked the principal if she could take chemistry and physics. "[The principal] was a little surprised, and I didn't know I was asking for something really different," she says. The schools obliged, and Furgerson, along with two other girls, walked to the boys' school every day to study science. She later became a pharmacist.  
Furgerson was always interested in the fine arts as well, and her parents took her to traditional Indian performances when she was young. After moving to Des Moines to attend Drake University, Furgerson and her husband, Lee, an Iowa native, settled in Central Iowa. Their commitment to the arts led them to start Gateway Dance Theatre in 1972. Furgerson, 83, has also been involved with Bravo Greater Des Moines, the Indo-American Association of Des Moines and more. She had three children with Lee,
who died in 1998.
Her Advice
Always keep learning. "Whatever your economic situation, no one can take away your education and knowledge." As a child, Furgerson's father was passionate about giving her the best schooling the family could afford. She says she's eternally grateful for it.  
"It's not I, it's we." Your accomplishments come from everyone who has touched your life in a meaningful way. 
Surround yourself with people who know more than you do. That way you can be the best version of yourself. 
Always put your best foot forward. Do things with the best of your ability because you never know who is watching.
Community Voices 
"Penny Furgerson has a long legacy with Gateway Dance Theatre to educate, communicate, engage and collaborate with diverse communities to enrich lives, and we're all better for it." Veola Perry, former principal dancer, Gateway Dance Theatre
"Penny is a consistent and worthy role model showing how to stay true to one's vision and purpose while working with so many other organizations." Lu Spaine, owner, Zumi 
"Penny lives out her belief in a diverse and inclusive world where art is as essential as the air we breathe." Rema Nilakanta, former education director, Gateway Dance Theatre
Among Her Achievements
Co-founded Gateway Dance Theatre in 1972.

 

Served as an executive committee member of the Indo-American Association of Des Moines.

 

Recipient of the Passport to Prosperity honor from the Iowa International Center in 2008.

 

A retired pharmacist, most recently at Blue Cross and Blue Shield of Iowa.

 

A board member for Bravo Greater Des Moines from 2009 to 2011.

 
---
Ruth Ann Gaines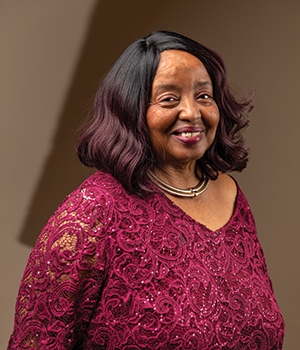 Neither of Ruth Ann Gaines' parents completed high school, but that didn't prevent them from insisting on a better life for their daughter. Growing up in Des Moines during the heart of the civil rights era, Gaines faced numerous obstacles, including discrimination and limited financial means. But she says her parents instilled in her a never-say-die attitude that led her to succeed. 
Gaines' interest in the arts emerged from her childhood days as well. Her family lived across the street from an apartment building where black performers stayed while in Des Moines, and Gaines would stay up late and look out the window as the stars exited the cab. One night, Gaines sneaked out of the house, bolted to the cab and found Eartha Kitt and Nat King Cole. "I leaned in and saw them really, really close," she says. "I was surprised by how much younger they looked than on TV." 
The 72-year-old Gaines, who currently serves in the Iowa House of Representatives, intended to become an actress, but decided to pursue teaching after her father encouraged her to minor in education at college. That choice led to an almost 50-year teaching career in Des Moines schools—40 years of which were spent teaching drama at East High School—and distinctive honors both in Iowa and nationally. In 1984, Gaines adopted her son, Brandon, who has multiple disabilities and still lives with her today. She's been with her partner, Vidal Spaine, for more than 20 years.
Her Advice 
"Never give up. Never let anybody tell you that you can't do it." 
"Don't let racism or sexism stand in your way. Always stand on your own two feet." 
"Realize you can be the author of your own life. You can overcome obstacles." 
"You can make a difference." Help others. Leave a legacy and then pass the baton to someone else.
"Plant a seed in every person you meet." That helps them to be a better person, and we can always do better. 
Community Voices
"Everyone Ms. Gaines has touched has touched the lives of others, and in this way, her influence continues to spread." Lyra Halsten, co-founder, Rising Phoenix Theatre Company 
"She is such a great messenger for things that are positive. She has tremendous tenacity. … She's about moving forward, making things happen and doing what needs to be done." San Wong, director, Iowa Department of Human Rights
"Rep. Ruth Ann Gaines has given most of her professional career to addressing human and civil rights injustice. … She has the shoulders many stand on today." Ako Abdul-Samad, Iowa state representative and former Des Moines school board member
Among Her Achievements
Has served in the Iowa House of Representatives since 2011.

 

A member the Iowa Women's Hall of Fame, National Teachers Hall of Fame and Iowa African American Hall of Fame.

 

The first fine arts teacher selected as Iowa Teacher of the Year, in 1998-1999. One of four finalists for National Teacher of the Year in 1998.

 

A current and past member of many local boards and commissions, including Very Special Arts Iowa, the Human Rights Commission, the Iowa Arts Council, the Des Moines Area Religious Council and more.

 

A noted actress, playwright and director who has been involved in over 200 stage productions.

 

A recognized national diversity trainer for corporations, universities and nonprofit organizations.
---
Tom and Ruth Harkin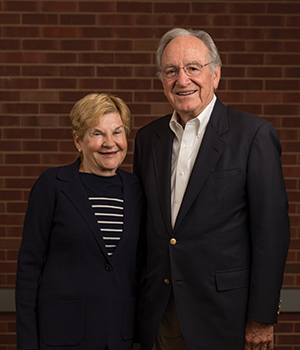 Tom and Ruth Harkin seemed destined to find each other. They met in 1967, when Tom was a Navy pilot and Ruth worked with the Army. They had similar backgrounds: She grew up in Vesta, a sleepy southwest Minnesota town of about 350 people. Tom was born in Cumming, a town of about 150. Interestingly, it was in Tokyo, at the time the world's most populated city, when Tom noticed Ruth eating cotton candy at a street festival. "It reminded me of the Iowa State Fair and the county fairs," Tom says. "I asked, 'Can I have a bit of your cotton candy?' " 
That's all it took. Tom and Ruth were married in 1968 and early on shared a passion for public service. Ruth became the first woman to hold a variety of roles in the public and private sectors, starting with Story County attorney in 1972. Tom was elected to the U.S. House of Representatives in 1974 and became a senator in 1984, serving until 2015. 
Tom, 80, and Ruth, 75, continue to serve the public through the Harkin Institute at Drake University, a nonpartisan public policy organization started by the couple in 2013. They have two daughters, Amy and Jenny, and three grandchildren.
Her Advice
"Don't think of how tough something will be. Just do it." 
"Never lose your sense of humor." 
"Marry a partner—a person who supports and encourages your goals and ambitions." 
His Advice
"Don't let a few stumbles stop you dead in your tracks. Do something, aim high, take risks, stick your neck out." 
"Don't blindly follow someone else's advice. Be a healthy skeptic, but not a cynic." 
"Be part of something larger than yourself. One person with vision, energy and leadership can inspire and move millions of people and change the world."
Community Voices 
"Tom and Ruth stand as examples to all on how to act in the interest of the common good." Marty Martin, president, Drake University 
"They both have had wonderful careers that have influenced and enhanced the lives of people from Iowa and the world." Jim Hubbell, former chairman and CEO, Hubbell Realty Co. 
"Their respectful and loving support of each other's endeavors has clearly contributed to their individual and collective accomplishments. They provide an inspiring role model to all of us in that regard." Marsha Ternus, attorney and former Iowa Supreme Court justice
Among Their Achievements 
Tom served 40 years in Congress and helped pass the landmark Americans with Disabilities Act.

 

Ruth became the first woman to serve in a number of roles, including Story County attorney and president and CEO of the Overseas Private Investment Corp.

 

Ruth has served on numerous boards, including the University of Iowa Tippie College of Business, the Iowa Board of Regents and Conoco.

 

Created the Harkin Institute for Public Policy and Citizen Engagement at Drake University.

 
---
John Pappajohn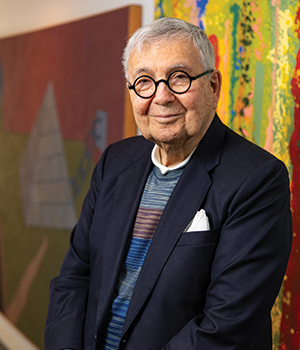 An immigrant from Greece who came to Mason City in 1929, John Pappajohn was a young boy when the Great Depression hit. While his father owned and operated a corner grocery store, John scavenged through the city dump every day, collecting brass, copper and lead to sell to a local scrap yard. "It was located a block from our house, and I was their best customer," says Pappajohn, now 91. 
That entrepreneurial spirit carried through to his college and professional years. Pappajohn graduated from the University of Iowa in 1952 and started his first business, Guardsman Life Insurance Co. After raising $2 million, going public and selling the company, Pappajohn in 1969 became a pioneer in the venture capital field. Fifty years later, he still works most days of the week and owns an apartment in New York for easy access to Wall Street. 
Pappajohn and his wife of 57 years, Mary, are passionate about the arts and philanthropy. They've given more than $100 million to various causes and created the John and Marry Pappajohn Sculpture Park with the Des Moines Art Center. They have one daughter, Ann Vassiliou.
His Advice
"Adversity is a blessing in disguise. If you have a problem, you learn how to solve it." That helps one to grow and make decisions. His father died when Pappajohn was 16, which forced him to mature.  
Don't worry about the past. "I move forward. That's how I've been my entire life. I don't have a problem making a decision and moving ahead." 
Find work that you like. "It's very important to find the right business. If you're working at a job you don't like, just quit." 
"Live frugally." As he grew up in the Great Depression, Pappajohn says, his mother never bought a bar of soap, instead making it with lye and fat. He picked up pennies on the street, even when he accumulated considerable wealth. "It's hard to change." 
"The more you get, the more you give. When I was a little boy, we didn't have a lot of money, but we had an open house. My mother would have food available to anyone who wanted a meal. … It's more fun to give than to receive for me."
Community Voices
"John Pappajohn defined and perfected the role of social and private sector entrepreneur, helping people in Iowa, the region, nation and around the world help themselves." Sara Fisher Gardial, dean, Henry B. Tippie College of Business at the University of Iowa
"I don't believe anyone could have imagined the impact that his vision has had on the cultural, social, educational and economic components of the Des Moines metro." Jeff Fleming, director, Des Moines Art Center
"There are really no words to express what he has done for our state and our country. He is more than just an outstanding 
and successful entrepreneur; he has made and continues to make our world better." Jean Robillard, M.D., former vice president for medical affairs, University of Iowa
Among His Achievements
Involved in more than 100 startups and more than 50 IPOs and has served as a director in more than 40 public companies.

 

Founded and funded five entrepreneurial centers at college campuses around Iowa.

 

Donated 24 sculptures to the Des Moines Art Center, which enabled the foundation of the John and Mary Pappajohn Sculpture Park.

 

In 1997, he and Mary endowed a $5 million scholarship fund for ethnic, disadvantaged and minority students.
Recipient of numerous awards, including induction into the Iowa

 

Business Hall of Fame and the national Award for Philanthropy in the Arts.
---
Ila Plasencia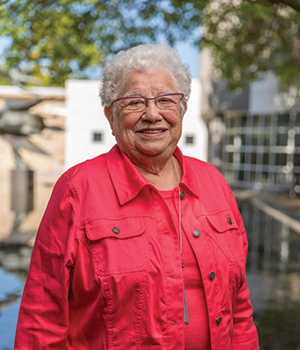 Ila Plasencia was a teenager during World War II when she learned the value of community service. She grew up on a farm on the outskirts of Des Moines, but when both her brothers joined the armed services and therefore couldn't help on the farm any longer, her father moved the family to the Valley Junction neighborhood. In their free time, Plasencia and her father assisted the war effort by using a horse and wagon to organize a scrap metal drive. Plasencia recruited her Mexican-American friends to help and formed an official group called the 12 Stars. 
Plasencia's father was the driving force in her lifelong passion for giving back, she says. "When we had the farm, we had plenty of chickens and pigs, so we'd have plenty to eat and fed people in the Latino community," Plasencia says. "I didn't realize what he was doing at the time, but he was sharing and giving what he had." 
Plasencia has endured family tragedies as well. Both brothers were killed during the war, her sister died after suffering a ruptured appendix around the same time, and her mother died in 1944 after a long bout with tuberculosis. But that adversity didn't stifle Plasencia's passion. Throughout her life, Plasencia, now 92, has served as an advocate for immigrants, unfairly treated workers, minorities and others. Plascencia had four children with her late husband, Ralph.
Her Advice
Share your good fortune. Whatever Plasencia had growing up, her father taught her to share it with others. 
"Leave a place better than how you found it." Plasencia specifically mentions passing the baton and 
helping children become future leaders. 
"We have to educate them and show them how to take care of our country."
You get out what you put in. Your reward is directly reflective of your effort. 
Always be respectful. "Just be kind to people, and you'll get it back." 
"Always have a good breakfast." Plasencia grew up poor, but one thing her father always taught her was the value of a good breakfast to prepare her for the day ahead.
Community Voices
"If there is a problem, Ila just goes about finding a way to solve it. Frankly, sometimes she wears me out. She has done so much for so many." Brena Corona, community volunteer and retired teacher
"The success of the Latinx community in Iowa is dependent on how we support each other, and Ila's life is evidence that the time and passion we pour into each other will make for a stronger community." Rob Barron, co-founder, Latino Political Network
"Ila is always doing something to help people. I don't know where she gets her energy sometimes, but I'm so glad she's still [passionate about giving back]." Connie Kidman, community volunteer and retired teacher
Among Her Achievements
Her 30-year government career included work in the Department of Labor, helping employees recover unfairly lost or unpaid wages.

 

Served on the first Iowa Commission of Latino Affairs, the Iowa Civil Rights Commission and the Iowa Commission on the Status of Women, among many others.

 

Helped establish the first women's League of United Latin American Citizens Council in Iowa.

 

Founded the Latino Student Awards Recognition Ceremony, which helps honor Latino students and reinforce the importance of education.

 

Honored as a YMCA Woman of Achievement and is a member of the Iowa Latino Hall of Fame.
---
Mary Seidler 
Photographer: Florence McCall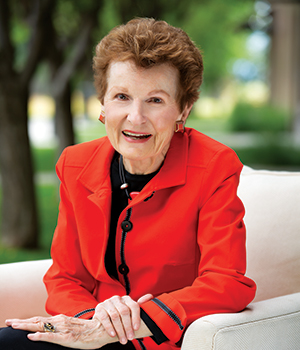 Much of Mary Seidler's inspiration in life came from her grandmother. Living near Chicago and working in the poultry industry, Seidler's grandmother directed the company's operations with just an eighth-grade education. On weekends, her grandmother jumped on the train from Chicago to Mount Vernon, Seidler's hometown, to watch Seidler act in plays. Fascinated by the opera, symphony and ballet, her grandmother first introduced Seidler to the fine arts. "She passed that along to me," she says. "She was a great role model." 
Seidler, now 80, turned all that inspiration into a successful career in banking, becoming one of the first female private bankers at Chicago's Harris Bank in 1976. When she moved to Des Moines in 1983 and started working at Iowa Realty, Seidler became actively involved in the local arts scene. She helped lead and raise funds for Des Moines Metro Opera, where she served as a board member from 1985 to 1996. In addition, she was a trustee of the Des Moines Art Center for 18 years. Her philanthropic efforts also have included supporting her alma mater, Cornell College, and managing the Seidler Foundation, an organization she established with her husband, Stanley.
Her Advice 
Decide how you want to contribute to society. "I can't imagine exiting this world and looking back to see that I didn't do things of real value. That's important." 
Be a mentor. "The best part of what I do is seeing somebody who really develops. It's a payback to society to invest in people."
Realize that "there's nothing you can't do." Seidler learned this from her grandmother, who wanted Seidler to know there were broader horizons for women at the time. 
Work hard, with a strategic focus. "There's nothing you can't do, but you have to work hard because there are a lot of people who want recognition for something they haven't worked for." 
Be earnest. "It's hard to fool people, so if you're there, and you're earnest," good things will happen. 
Community Voices 
"A selfless and devoted human being, Mary not only puts the needs of others before her own, but does so in the most genuine and inspiring ways. Jonathan Brand, president, Cornell College
"Mary is a quintessential hostess, an astute fundraiser, avid art enthusiast, and a world traveler happily sharing suggestions on 'must-see' places from her organized travel files." Joyce Chapman, former director of West Bank and a 2017 Sage Over 70 
"Mary continues to give and mentor others, whether for nonprofit or business causes. She is the ultimate role model and sets the highest of standards for all to achieve." Rosalie Gallagher, community volunteer and Seidler's sister
Among Her Achievements 
Became one of the first female private bankers in Chicago and a vice president of Chicago's Harris Bank in 1976.

 

Board president of Des Moines Metro Opera in 1988 and 1989. Led the opera through a turbulent time after the managing director, Douglas Duncan, suddenly died.
Trustee of the Des Moines Art Center for 18 years; currently an honorary trustee.
Founded and manages the Seidler

 

Foundation with her husband, Stanley.
Donated $1 million for an endowment scholarship at Cornell College in

 

Mount Vernon. Served on the college's board of trustees and Alumni Association board of directors.
---
Build a 'Breadcrumb Legacy'
Writer: Jann E. Freed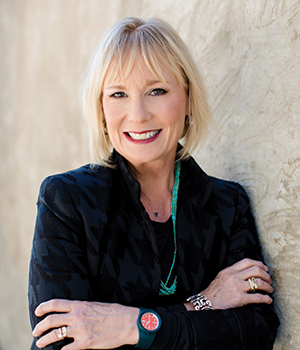 The Sages honored this year have created a legacy that should inspire us all. Our community benefits from their ongoing contributions.  
But what is really meant by legacy? Often, it's connected with fame, fortune or major accomplishments. Legacy has become a common expression associated with professional athletes since they tend to retire before most people as they "age out" of their profession. There are several common myths related to legacy:
It's for the rich and famous.
It's only for people who are accomplished and influence history.
It's only for people who have kids.
It happens at the end of life.
It's something we can't control because it is based on what other people think of us.
It's always favorable.
It represents a big win.
But if we live for the big wins, we often live with disappointment, disengagement and demotivation. Rather, our legacy is made up of small actions, decisions and behaviors that take place on a daily basis. I refer to this as "breadcrumb legacy" because these small actions add up to form a legacy that lasts and lives beyond ourselves. Breadcrumb legacy is the inverse of the myths we often believe:
It's for everyone.
It's based on the small everyday acts and decisions we often take for granted.
It's for people who have or do not have children.
It's something that happens daily whether we are aware of it or not.
It's something we can control, and we can influence what people think about us.
It's not always favorable!
As explained above, it's made up of small actions, not big wins.
One of the main myths of legacy is that it happens at the end of life—when we leave. But I like to ask: When we leave what? When we die? When we leave a profession? When we leave a job? With breadcrumb legacy, we are leaving an effect—our "breadcrumbs"—when we leave every conversation, interaction and meeting. I am leaving some of my breadcrumbs in this article.
The key is to be aware of the impact we are having on a daily basis, favorable or not. Breadcrumb legacy is for all of us now—right now. What are the crumbs we are leaving behind? When we engage breadcrumb legacy, we are thinking about the future. We are being intentional about how we want to be remembered on a daily basis with each "crumb" we leave. The crumbs add up, and we should want to leave a trail behind us that is valuable and long- lasting. Now is the time to think about the impact we are having on our family, colleagues, peers and friends through the breadcrumbs we leave along the way, each and every day.
Jann E. Freed, Ph.D., is a leadership development and change management consultant with the Genysys Group and the author of the book "Leading With Wisdom: Sage Advice From 100 Experts." She is certified as a Sage-ing Leader through Sage-ing International (sage-ing.org).