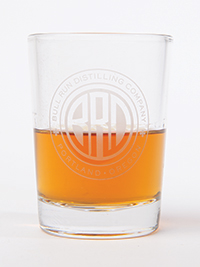 Here's news for cocktail and whiskey fans, and it's worth raising a glass to: You now have your own version of those deliver-to-your-door wine clubs—and the company making it all possible is headquartered right here in Des Moines.
"There's a burgeoning craft distillery movement across the U.S., and our mission … is to help those small-batch whiskey distilleries tell their stories and connect them with whiskey fans across the country," says Sam Hoyle, co-founder and chief communications officer of RackHouse Whiskey Club, which shipped its first box in June 2018.
Hoyle says he and co-founders Dannie Strable and Mick Fouts "scour the country to find the best stories and small-batch whiskeys." As a result, they have partnered with distilleries from several states, including Iowa Legendary Rye in Carroll, Buckshee Bourbon in Washington, D.C., Treaty Oak in Texas and Bull Run in Oregon. 
RackHouse offers two subscription options (select to receive one bottle or two bottles per distillery) and one gift box option, which ship free once you're a member. Slipped in with those bottles: a primer on the story of the featured distillery and some collectible merchandise like glassware, hats and coasters. 
"We also have a private Facebook group where members can share what they think about each delivery," Hoyle says, noting that fostering community is an important aspect of the overall experience.
"Every whiskey has a story, and that's what RackHouse Whiskey Club is all about," Hoyle says. "Iowa has a significant and interesting history with whiskey, and we're proud to keep that legacy going."
–Karla Walsh