Writer: Brianne Sanchez
Photographers: Karla Conrad and Duane Tinkey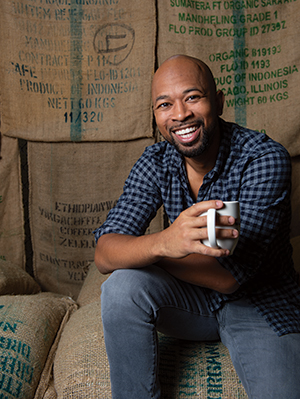 The first time Pernell Cezar Jr. had a cup of coffee, it was a punishment of sorts. He had dozed off in a sales meeting during an internship, and his supervisor sternly suggested to the University of Northern Iowa finance and marketing major that he find a way to make sure he never again fell asleep on the job. Coffee has fueled Cezar's career—one way or another—ever since. 
The path to founding BLK & Bold, a roastery and wholesaler of specialty coffee and loose-leaf tea, was more winding than the line for a latte at 8 a.m. And considering he grew up in poverty in a place that Business Insider magazine recently named No. 1 on its list of "most miserable cities in America," even Cezar's journey to college was unexpected.
"UNI was the first domino," says the 33-year-old Cezar, who graduated from the university in 2010. "I was not thinking of higher ed whatsoever." But the Gary, Indiana, native had the opportunity to skip school to go on a college visit, and he was impressed by the friendliness on the UNI campus. He felt comfortable with the fact that some of the students on a panel had graduated from high school with his sister. He applied and, once at UNI, dove into student government, intramurals—all aspects of the student experience.  
"I tell people all the time that I didn't have high expectations for myself until I realized how low my expectations actually were," Cezar says. "When you grow up low-income, disadvantaged in a marginalized community, it's [looked at as a] negative. But when you're raised in that, it's normal." 
He's always had hustle—as a kid, Cezar charged his schoolmates a quarter to play his hand-held Sega NBA Jam—but now he had professional goals. Cezar landed a job at Target's corporate headquarters out of college and ended up managing strategic partnerships in the health and beauty division. That's where he was introduced to Sundial brands, a Long Island-based, immigrant-owned company known for its sustainable, fair trade lines like SheaMoisture. After three years at Target, he left to help that company increase its retail distribution sales. 
"I wanted to flex more entrepreneurial muscle, and I kind of looked at [Sundial's founders] like business mentors," Cezar says. He spent five years leading sales for the brand with national retail chains, living in Houston but crisscrossing the country and working remotely from coffee shops. Soon, seeking out quality roasts became as essential as finding a cafe with a strong Wi-Fi connection. 
"I wanted to understand the intricacies of the industry—what it is exactly that I'm drinking," he says.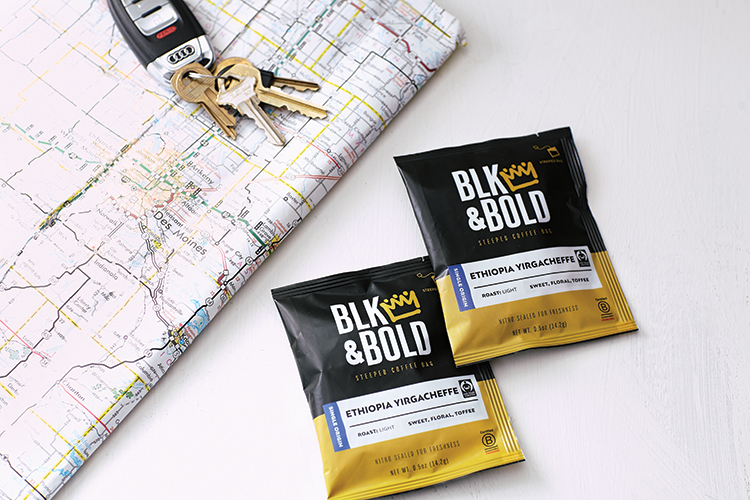 On the go? BLK & Bold's single-serve packs offer convenience; just steep and drink. Another perk: The packaging is compostable.
'Third Wave' Roasters
Specialty coffee begins with highly graded beans that are well-prepared, freshly roasted and then properly brewed. "Third wave" roasters—evolved from first wave commodity coffee (think Folgers) and darker roasted, goes-well-with-cream-and-sugar second wave (Starbucks and Caribou Coffee)—prefer a lighter roast to preserve the flavor of the beans. As Cezar and other specialty roasters analogize, it's treating coffee beans like you would a premium cut of meat. 
After he and his wife, Jessica, welcomed their first child in 2016, they moved back to Iowa and Pernell bought a sample coffee roaster that he set up in his garage. He started out roasting small batches, like homebrewers make beer, and learned the intricacies of the sourcing and roasting process. 
Sundial sold to Unilever at the end of 2017, and Cezar made the leap into launching his own business in June 2018. He collaborated with Fox Brewing on a coffee stout, and eventually moved out of his garage and installed a commercial-grade roaster at the West Des Moines brewery.
Cezar also brought in his best friend from Gary, Rod Johnson, who is now based in San Francisco as a partner. Together, they're committed not only to roasting high-quality, sustainably sourced and fairly traded coffee, but also to making a difference in the community. 
For Johnson, who handles marketing for BLK & Bold while also working in the Eberhardt School of Business at the University of the Pacific, being a minority-owned business based in the Midwest is seen as an advantage. He and Cezar recently attended a supplier diversity conference and shared their story. 
"It gives us another point of differentiation," Johnson says. "We're not apologizing for being from Des Moines, which is not known as a coffee epicenter. We're embracing it." 
Social Impact Model
Johnson and Cezar had long dreamed about going into business together, and it was centering the social impact model at the core of the business that cemented the partnership. They've set a mission to give 5% of their wholesale proceeds to charity—specifically focusing their giving on domestic programs that serve marginalized youths, such as the Boys & Girls Club of Northwest Indiana, which Cezar and Johnson felt was a second home to them growing up. Today, Cezar serves on the board of directors of the By Degrees Foundation in Des Moines. 
By Degrees is "everything I wish existed in Gary, but didn't," Cezar says of the local nonprofit that engages with families and kids from kindergarten through high school to prepare them for success in school and beyond. "To be on this side is a way for me to pay respect."  
A coffee shop at North High School that By Degrees plans to launch will employ students—and serve BLK & Bold. DSM Brew is a local coffee shop client, as are restaurants like Harbinger and businesses like Gravitate coworking. In addition, Price Chopper is stocking BLK & Bold in its metro locations. 
Robbie Gutierrez, assistant director with Price Chopper owner DGS Foods, says the charitable mission of the product made it a great fit. A former Harding Middle School student, Gutierrez says he understands the community By Degrees serves. "Price Chopper is trying to cement ourselves in the community and be involved," he says. 
Early this year, Target is expected to launch a national shelf distribution partnership with Cezar. 
BLK & Bold packaging features graffiti icons of coffee snob paraphernalia, like the iconic Chemex pour-over silhouette, but they're also selling single-serving coffee that steeps like tea.
"Our goal is to help the everyday consumer move forward with their coffee experience," Cezar says. 
When Cezar talks about his coffee—and expanding his business so that he can make a social impact through their business model—it's clear that there's no risk of him falling asleep on this job.
---
Local Small-Batch Roasters
As interest in specialty coffee grows, more and more local roasters are joining the scene. Des Moines has had handfuls of coffee shops featuring locally roasted beans for decades, and now a cottage industry of small-batch roasters is cropping up.  
"There's a lot of people trying to get into specialty coffee in Des Moines," says Matt McNeece, 36, who works full time as director of missions for Lutheran Church of Hope. He started Lightbrite Coffee Roasters with his wife, Megan, as a way to support small coffee farmers and their communities. It's a passion that grew after having memorable coffee experiences and witnessing the crop's potential for economies on his international travels to places like Kenya. 
McNeece participated in a commercial coffee roasting workshop this past summer that Minneapolis-based Mill City Roasters brought to Des Moines, where he met others here working to hone their craft. Some are set up in garages and basements, and others are renting downtime from other commercial roasters to create their own roasts without a huge investment. 
"It's interesting to see how this will develop in Des Moines," he saysIn addition to Lightbrite, other local roasters include Kingman Coffee; Happy Home Coffee Roasters; Corazon Coffee Roasters; Iowa Coffee Co.; and Black Silo Roasting.