Writer: Karla Walsh
While cleaning out your pantry of canned and boxed foods is a start, you can make an even bigger difference in other ways to support hunger-related causes.
"Food donations are great, and I don't ever want to discount the importance of traditional food drives," says Dylan Lampe, senior manager for marketing and communications at the Food Bank of Iowa. But, he adds, the organization can maximize its impact through monetary donations ($50 funds 200 meals once the Food Bank taps into its cost-efficient food supply streams) or time (in the form of volunteering).
Here are some other ways you can help combat food insecurity across Iowa.
1. Sponsor a backpack buddy.
The Iowa Food Bank Association's BackPack Program provides a bag of family-friendly, well-balanced food items to kids every Friday. Delivered free to partner schools, these weekend and school holiday meals allow kids to focus on learning in the classroom, rather than their growling stomachs, come Monday morning.
Each of the association's food banks—the Food Bank of Iowa, Northeast Iowa Food Bank, Food Bank of the Siouxland, Food Bank for the Heartland, River Bend Food Bank and Hawkeye Area Community Action Program—offers the program. The food banks provide opportunities for volunteers to assemble the packs, and you also can make a donation at any level through the Iowa Food Bank Association (iowafba.org) or through any of the individual food banks to support students in your community. At the Food Bank of Iowa, for example, it costs $165 to sponsor a child for a full year.
2. Find a local hunger-related volunteer opportunity.
Volunteeriowa.org offers many hunger-alleviating activities you can do from the comfort of your own home, including making T-shirt bags to hold deliveries. You also can sign up to deliver food, which is vital since moving food from a food bank or pantry to homes takes a substantial amount of time and gas.
Visit the Volunteer Iowa website and sort by "Food Distribution Opportunities" to find options such as delivering Meals on Wheels, packing food boxes, or planting a garden in your neighborhood to grow food for those in need.
3. Track your food spending, set a budget, then donate the rest.
Even if you're not at risk for food insecurity, you can benefit from getting a better handle on your food budget. Take a peek at your food costs for the previous month, write that number down, then visit the website Spend Smart Eat Smart.
The site can "help Iowans make the most of [their] food resources," says Christine Hradek, program manager for Iowa State University's Human Sciences Extension and Outreach. "Skills like meal planning can really help you stretch your food dollar and avoid wasting food."
The site's free resources help you find new ways to use staple items (such as beans, rice, pasta or tortillas), learn how to cook once and eat twice, and plan to give leftovers new life so you can reduce food waste. Then take note of your food spending for the next four weeks. Consider donating the money you've saved to your favorite Iowa hunger-related relief organization.
4. Hire catering from the Justice League of Food.
This organization trains at-risk high school and college-aged youths, teaching them culinary and life skills that lead to employment opportunities in Central Iowa kitchens. As they go through a curriculum that covers knife skills, financial literacy, and making deadlines, the students are paid to help create food for orders from diners at the Hall, a beer hall and casual restaurant in West Des Moines.
You also can hire the students and their leaders to create a catered spread for your holiday feast, with all proceeds going back into the program. Learn more here.
5. Rescue food for Table to Table.
Based in Iowa City, Table to Table "rescues" food from places such as Panera Bread, University of Iowa Catering and local farmers' markets. The food, which otherwise would go to waste, is then given to those in need.
Since its launch in April 1996, Table to Table volunteers have delivered more than 20 million pounds of wholesome food to agencies that feed hungry, homeless and at-risk populations. Check out the organization's website to learn more about opportunities, including transporting food, packing boxes and facilitating logistics with donor and recipient groups.
6. Participate in "Christmas Packs" for Meals from the Heartland.
Since 2008, this program has provided more than 150 million meals to food-insecure people in Iowa and around the world. This year, get into the true spirit of the holiday season Dec. 21-30 by joining other volunteers for a two-hour shift to build "Christmas Packs" at the Patty Cownie Packaging Center (357 Lincoln St., West Des Moines). With family and friends, you'll box up thousands of meals.
"We love to finish strong with these packs as we set benchmarks on a calendar-year basis, so that's the opportunity for our community to rally and help us hit our goal," says Mike Schneider, director of development for Meals from the Heartland.
Visit the website to sign up. Kids can get in on the act, as well.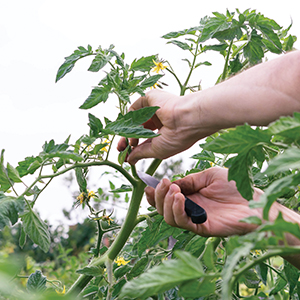 7. Garden for Good
Located on a farm near Madrid, Iowa, Gardening for Good grew more than 180,000 pounds of food to donate to local food banks in 2019. It makes for a safe, nature-based way to volunteer if you're not quite ready to convene in enclosed spaces. Take the time this winter to get comfortable garden apparel and tools so you can dig in come spring.
Visit the website to learn more about volunteer opportunities, including planting, harvesting and delivering produce. Or if you live too far to make the trip frequently, you can also donate through the site. Each dollar leads to about 5 pounds of locally grown produce that will be delivered directly to area food pantries.
---
Share your actions!
Post pics of your volunteerism (and other ways to get fellow Iowans involved) at #IowaStopsHunger.