What are some of the basics that people need to know before building their home?
We start with their budget, as that helps define the project. Then we focus on the lot and location. We are a developer, too, not only a builder, so we utilize the lots we own and work with clients to find the lot they really want. Or, sometimes they already have a lot in the country or on family property, so we work with that.
As for choosing a design, it's important to know that we never force a design or style on clients. However, we want to make sure the one they have chosen fits into the development they choose and that it doesn't stick out unfavorably in the development or neighborhood.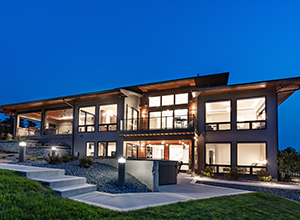 How can I make my design or build stand out?
This is a tricky balance. Details such as trim or millwork bring life and detail to a home. Showcasing craftsmanship, such as wainscot, shiplap, or molding can create beauty and interest. For example, if there is an open kitchen with a huge quartz island taking up great room space, perhaps the focal point might be the floor-to-ceiling fireplace surround. That's where the design focus goes.
Right now, many homeowners are taking a minimalistic approach to design, so it's important not to have overkill with too many details. We encourage focusing on two or three details, so they stand out and draw the eye and the interest. These "wow" factors act as jewelry or accessories in homes. People see these factors in different ways. As the builder, we talk with the clients and discern what they see as must-have details that are important to accentuate. It is their vision. It is our job to help bring it to life in their dream home.
What are some common tips you give clients for a new design or build?
In helping clients to visualize what their new home will look like when it's completed, we have a number of tools. We can show them 3-D demonstrations so they can get a true spatial picture of what rooms will look like. We encourage them to look for photos of details they like on sites such as Pinterest and Houzz. It's also important to know what they don't like. Plus, we ask them to prioritize their want/wish list to help in the overall planning.
And, yes, occasionally couples don't agree 100% on what they want. She may like a minimalist approach, and he wants a bit of rustic. When that happens and they can't come to a consensus, we encourage them to consider a space to please each other. She may focus on a sleek kitchen, and he may put some rustic touches in an office space or bar area.
We also caution clients not to get too trendy in their design. Timeless and classic are pleasing for longer times. A neutral approach will last. Zebra prints, for example, will date a home's space in a hurry. Adding shiplap to one wall will be more pleasing in the long run than doing all walls. Matchy-matchy no longer applies. It's OK to mix metal finishes with wood and not have an all-chrome house, for example. That adds depth to design. Different textures also add interest throughout the home. For example, if you have a gray-white color palette, you can add texture easily by wallpapering one wall. As long as it's in the same color family, it will work.
What are some of the unique ways you tackle new construction designs?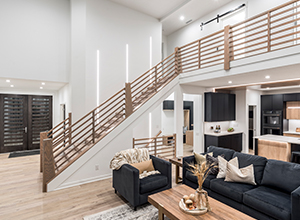 We treat each new build as its own separate project. We consider each one as a work of art and give it our full attention from start to finish. With clients, we find focal points in the home, assessing where people spend their time and gather. It comes down to finding a balance of natural light, floor plan and overall uniqueness.
Some clients know what they want, and others do not. We'll ask questions to extract information. With 42 years in business, we have a vast collection of floor plans. Often clients just "click" with plans they pick. Design is hard for some, so our interior designer helps with choosing flooring, paint colors, and hardware details in our on-site showroom, which makes for a simplified and stress-free environment to create their dream home.
Learn more about Kimberley Development here. You can also call 515-963-8335 or email info@kimdev.com.