A touch of lavender oil helps induce sleep, something many of us struggled with last year. Winter is the perfect time to start planning your garden. Click here for tips for setting the groundwork for a successful spring.
Editor's note: This story was published in early January along with our January/February 2021 issue, but the advice still stands—set goals that add to your life, rather than restrict it. 
Writer: Karla Walsh
It's January, and that means that nearly half of us have a renewed mission, and drive, to reach our goals.
Although New Year's resolutions can be motivating in some ways, they also can quickly zap the joy in our lives if they're restrictive, rather than additive. (For example, "I'm going to stop eating chocolate," or "No carbs after noon.")
"It seems that people end up being disappointed as few resolutions are actually achieved," says Jami Haberl, executive director of the Iowa Healthiest State Initiative. "It's almost like we all know that we are going to fail, so the minute we get off course of that resolution, it's a lost cause from day one."
To set yourself up for resolution success, Haberl recommends starting with one small change you can ace in January. If you master it for four weeks, it's more likely to become a habit.
"And instead of beating yourself up if you have an off day, shake it off and remember tomorrow is a new day and you can start again," she says.
Above all, Haberl says, "find something that is fun. You'll be more likely to actually achieve that resolution if you don't pick something you hate. Being healthy shouldn't be punishment; it should be positive."
With that in mind, here are three ideas for resolutions that don't suck—and that actually add abundance and goodness to your life. And remember: If you fall off track, you don't lack discipline. You're human.
1. Eat and drink more produce.
Rather than cutting out a whole macronutrient or food group such as fat or carbs, focus on adding more positive elements into your menu, advises Jessica Schroeder, a registered and licensed dietitian and the owner of Expedition Wellness in West Des Moines. Since only 12% of adults meet daily fruit intake recommendations and just 9% hit their daily vegetable quota, she suggests eating and drinking more produce throughout the day. (Reminder: That's 3 cups of veggies and 2 cups of fruit.)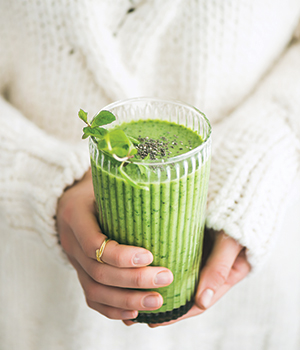 "Fruits and vegetables are filled with phytonutrients that can help prevent disease and improve overall health," she says.
Here are five simple ways to pump up the produce:
Eat in season. "Fruits and vegetables are best enjoyed in season when they are at peak flavor, texture and the best price," Schroeder says. Winter options include citrus, Brussels sprouts, winter squash, potatoes and kale.
Shop locally. Support your neighbors and score super-fresh finds by purchasing produce grown nearby. Winter farmers markets and Dogpatch Urban Gardens are Schroeder's go-tos.
Fill half your plate with vegetables at lunch and dinner. If you're the measuring type, this should be about 2 cups per meal. Vary the food temperature (cold vegetables in a salad at lunch, hot vegetables roasted as a side or main course at dinner) to keep your menu feeling fresh, Schroeder suggests.
If you're in a hurry, drink your produce. Goodie Bowl (300 E. Grand Ave., Suite 160), Lifestyle Juices (2418 University Ave.) and the Juice Company (845 42nd St.) are all locally owned cafes that offer vitamin-rich juices and smoothies you can enjoy on the go.
Try one new fruit or vegetable each week. Get the family involved in choosing a new cooking method ("zoodling" your squash, roasting radishes) or item (passionfruit or pomegranates). In addition to mixing up your routine, this will diversify the vitamins and minerals your body can use.
2. Mix up your self-care routine.
"Self-care" doesn't have to be a New Age concept. It's not self-indulgent, either. It's downright necessary—especially when things are as unpredictable as they have been over the last 12 months.
Jill Andersen, an Ankeny-based life coach and host of the podcast "Stop Shoulding Yourself," recommends these ways to recharge and make selfcare a priority: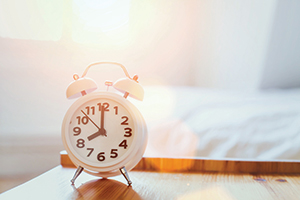 Establish a solid wake-up routine. "If you rise even 10 minutes earlier than usual, you'll start the day ahead of the game," she says. "Those anxious 'I'm late!' freakouts will stop." Use this time to eat breakfast, take a different route to work, or step outside to breathe some fresh air.
Chill out before bed. Set your bedtime alarm function as a way to parent yourself. "Don't ignore it; when it's time to go to bed, get your pajamas on and make like a toddler," Andersen says. Then try the Calm app to slow your racing thoughts and apply lavender essential oil to ease you into slumber. If possible, leave your phone in another room.
Choose mental breaks instead of breakdowns. Set the alarm on your phone and walk away from work midmorning and midafternoon. "Take 10 minutes to walk outside, sit in a quiet place and meditate, or write in a journal. Or call your best friend or your mom," Andersen suggests.
Expand your horizons. Try an art class, attend a virtual networking coffee event, start or join a book club, or give breathwork sessions a go. Andersen suggests checking out the event calendar at Inner Space.
Practice gratitude. This helps put everything into perspective, Andersen says: "News flash: I am not the center of the universe. Neither are you. … Perk up your perspective by jotting down what you're grateful for. From having food to nourish your body and a bed to fall into at night, create awareness around the little things that bring you joy."
3. Set up an affordable home gym.
During a typical resolution season, gyms see more than 12% of their total yearly membership purchases within January. By the end of the month, about 80% of those people have stopped going or rarely attend.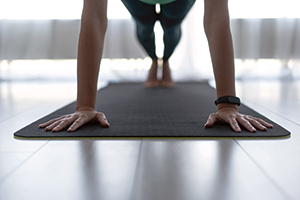 But 2021 will likely still be far from normal. Plus, exercising at home can be more affordable and easier to stick with, says Annie Brees, a West Des Moines-based personal trainer and co-founder of the wellness company Balance365. This way, you have more control over whom you share the space with, the air you breathe, and when you sweat. And the commute is pretty tough to beat.
The key is to "invest in appropriately challenging weights," Brees says. "Assuming form and technique have been refined, making sure exercise is appropriately challenging is key to maintaining and improving strength and conditioning."
If you have $50: Invest in a kettlebell that challenges you. One around 20 to 35 pounds is ideal for strength movements like squats, rows and presses, and can also transition to training cardiovascular and power movements with swings, cleans and snatches, Brees explains. (Google video demos by trainers of all those moves if you're new to them.)
If you have $100: Add a yoga mat for flexibility and cushioning. Plus, "invest in as many dumbbells as you can," Brees says. "But note the heavier the dumbbells, the higher the price. Dumbbells typically are priced per pound."
If you have $250: Set up a virtual session with a trainer. Search "fitness trainers" or "strength coaches." They can walk you through how to ace that form and perhaps design a program that will accelerate your gains.