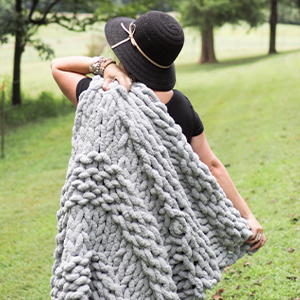 To prep you for what's left of winter, we put together ways you can home school as a grown-up. Check out other stories on off-campus coursework, boosting your artist acumen and upping your game in the kitchen. 
Producer and writer: Beth Eslinger
The Ultimate Handiwork
As we students were sitting at our wheels, a pottery teacher once mused about people who need to keep their hands busy. You know the types—those friends who are gourmet home cooks, expert gardeners, master woodworkers, compulsive decorators, etc. I definitely fall into this "no idle hands" camp.
About a decade ago, I picked up bamboo needles and colorful yarn in somewhat of a knitting obsession. I scoured YouTube for tutorials, learned how to read stitch charts, and even sold a few pieces to friends and family. While I tackled mainly simple projects, I did find my early morning routine of coffee, local news and knitting stitches a relaxing and grounding habit to start the day. Call it knitting meditation, if you will.
Like every fleeting obsession, this one passed after I'd gotten bored making hats and fingerless gloves. But when researching this story, I rekindled my love affair with knitting. I found this chunky knit blanket kit through AR Workshop in Ankeny and had to have it to cozy up for winter Netflix binging.
Part of a national franchise, the company offers crafting parties, kits and virtual courses. Inside the Prairie Trail boutique, safe social distancing allows friends and families to create together in person. I opted for at-home work, watching an easy-to-follow Vimeo video (you receive a password and link along with the soft chenille yarn).
To my surprise, this project required no knitting needles—it's created just with your hands. All you need is a large work surface as the blanket ends up measuring about 40×50 inches. The project was fast and forgiving (as the video describes) and a good reintroduction to working with yarn.
After the project, I'm brainstorming new ways to keep my hands busy this winter. Maybe even my hat projects will come back to show off in my dsm Zoom calls. (arworkshop.com)
Grow Your Garden Skills
The Greater Des Moines Botanical Garden is shifting to online education this year. "Our biggest initiative is taking our signature HortEcology Design Workshop course digital, making it self-paced, available year-round, and accessible from anywhere," says Sydney Algreen-Hunter, assistant director of education. The series helps gardeners make beautiful and ecologically functional plantings using the techniques perfected at the Botanical Garden.
The organization's winterlong Learn on Saturdays lecture series will also go virtual this year, "enabling us to keep this popular program alive and bring in new speakers from farther away," Algreen-Hunter says. Additionally, terrarium kits with how-to videos will be available for hands-on planting from home. (dmbotanicalgarden.com)
For more garden goodness, check out Winterset's Pepper Harrow Farm, which is known for its gorgeous cut blooms. This year, the flower farm is producing a seed-starting online class, with kits shipping in March. The farm is also providing CSA (community-supported agriculture) for its bouquets as well as plants for sale in spring. (pepperharrow.com)
Ted Lare in Cumming is also engaging gardeners with virtual classes and project kits for living wreaths, herb gardens, growing citrus and more. January and February offerings include taking care of houseplants and several how-to projects with accompanying kits. (tedlare.com)
Grow Some Goodness
It's not too early to start thinking about embracing your green thumb come summer. If you don't have a large yard (or sun), join the Des Moines Parks and Recreation community garden program, where you'll be able to take care of city land at a low cost ($25 per plot), plus water, tools and compost provided by the city. Or try a container garden you can place in a sunny space. Since container gardening—which is done in a pot or above-ground vessel of some kind—is an easy way to ease in, that's what many pro gardeners suggest starting with.
Benjamin Gardner, who tends two Franklin Avenue community garden plots with his family, offers advice for setting the groundwork for a successful spring.
If you have $50: Seek out seeds, containers and soil. "Make sure you have plants that do well in your situation," Gardner says. There are a lot of great heirloom seeds out there, he adds, including from Decorah-based Seed Savers Exchange (seedsavers.org).
If you have $100: Consider a larger container so you can grow more vegetables, herbs or flowers. Then use any extra money to stock up on new seeds or plants to put this new space to great use.
If you have $250: Gather materials to build a raised bed in a sunny spot in your yard. "Your plants will love it and you'll probably have more produce than you know what to do with," Gardner says.