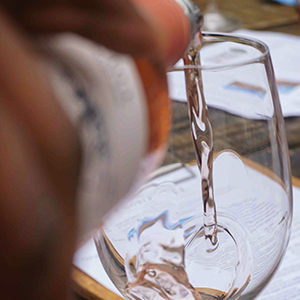 To prep you for what's left of winter, we put together ways you can home school as a grown-up. Check out other stories on off-campus coursework, DIY projects around the home and boosting your artist acumen. 
Producer: Beth Eslinger
Wine and Cheese 2.0
Writer: Karla Walsh
Along with face mask-sewing, sourdough-baking and puzzle-assembling, virtual happy hours were among the biggest trends of 2020. And they're showing no signs of slowing as we head into 2021—especially if Winefest and the Cheese Shop have anything to say about it.
Both local brands pivoted during the pandemic, leading several Facebook Live or Zoom classes that took their events to the next level. That's because they were not restricted to culinary pros in our geographic location.
Coordinated by Winefest executive director Natasha Sayles and Cheese Shop owner C.J. Bienert, the wine and cheese class I Zoomed showcased a world of knowledge. The $60 ticket also included a bottle of red and white wine as well as Spanish and Italian cheeses.
Our own fromage phenom, Bienert, shared his insights alongside Brian Jewell, a St. Louis-based wine pro. The event included deep dives into how the wines and cheeses were made.
Ash Ratcliffe, the South Australian owner of Ricca Terra Vintners, explained his obscure varietals and how his processes might change as the climate warms. Then Lydia Burns, a cheese educator for Rogers Collection importers, coached us on all things Mediterranean cheese. All the while, attendees could chime in via the comment box with questions.
Both Winefest and the Cheese Shop plan to continue hosting online events in early 2021, so follow both on Facebook to be among the first to know about their upcoming events. (winefestdesmoines.com; thecheeseshopdsm.com)
Other food and wine experiences to dig into:
For Alessandra Meschini, cooking is an art to share. And through her Cooking with Alessandra classes, she passes on the craft to others. Meschini was born in Italy, hence her intricate knowledge of Mediterranean cuisine. In addition to private and corporate classes, Meschini hosts various public classes every week, teaching participants homemade tiramisu or how to set up a romantic Italian-themed date night.
Classes are held socially distanced at Cooking with Alessandra's space or online via Zoom. Times usually fall in the evenings on weekdays and during the day on weekends. Act fast—many of her classes sell out weeks in advance. (cookingwithalessandra.com)
When it's safe to gather again, impress your friends with a new and improved wine palate. WineStyles of Des Moines hosts weekly virtual events that include tastings, education courses and workshops. Tastings feature wineries from all over the country—and sometimes beyond—and you'll receive sage advice from WineStyles experts. Tickets are $25. Classes usually take place at 6 p.m. on Tuesdays or Wednesdays. (winestyles.com/westdesmoines)
With additional reporting from Luke Manderfeld.