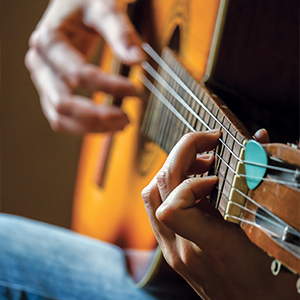 To prep you for what's left of winter, we put together ways you can home school as a grown-up. Check out other stories on off-campus coursework, DIY projects around the home and upping your game in the kitchen. 
Producer: Beth Eslinger
Music Lessons From Afar
Writer: Allaire Nuss
"For adults that are looking for a new way to challenge themselves … music is a really fantastic avenue," says Sophia Ahmad, owner and founder of Mobile Music Lessons, a Des Moines-based business with students across the country. Her business connects those seeking music lessons with experienced instructors. Though the idea for Mobile Music was inspired by families wanting lessons, many clients are adults.
Mobile Music Lessons helps students begin with a new instrument or perfect their music education. Instructors teach piano, guitar, cello, violin, percussion and more, and lessons are available in person and online.
Ahmad believes learning music teaches you much more than just how to play an instrument. "Research shows that playing an instrument is really a great workout for your brain," she says. "And it's a gift that you'll have for your entire lifetime, like any sort of educational endeavor." (mobilemusiclessons.com)
For those wanting to release their inner rock star, West Des Moines' School of Rock Adult Program groups students into bands (though we can't promise Jack Black as your instructor). The program includes one private and one group lesson every week, all leading up to performing a live show. (locations.schoolofrock.com/westdesmoines)
Through Rieman Music's extensive music video library, you can play Grateful Dead classics, the blues guitar, the mandolin (watch out, Chris Thile) and more. Videos are available for instant download after paying a small fee. The music store continues to offer in-person classes for those looking to get out. (riemanmusic.com)
And at Roosevelt Shopping Center's Central Iowa Music Lab, local musicians pair with students just starting out or wanting to perfect existing skills. The teachers cover numerous instruments, instructing students age 5 to 70. "We welcome everybody," says owner and instructor James Biehn. Currently about 95% of the offerings are virtual, Biehn says. (centraliowamusiclab.com)
Embrace Your Inner Artist
The Des Moines Art Center is famed for its in-person, hands-on classes for adults and kids. While it will continue to offer select in-person classes such as ceramics, stained glass and printmaking, hands-on classes through Zoom are part of the curriculum this winter (details weren't available at press time). Kits will be available with all the supplies needed for classes. (They'll also provide a supply list for those who want to shop.) Several one-day virtual classes and family workshops also will be available. (desmoinesartcenter.org)
For additional art options, check out Amy O'Brien Art, located at Mainframe Studios, for her virtual Sip & Paint classes. You can join single-day and multiday courses, and the business provides supplies including paint, brushes, easels and canvas. (amyobrienart.com)
Downtown's Bottle & Bottega also presents painting kits to its customers. (The wine is on you.) Artists follow printed instructions—many have how-to videos. Paintings feature scences such as ocean views and the Eiffel Tower. (paintingwithatwist.com)