A monogram by Joanne Roth lends a touch of elegance to this J. Wilkinson chair. Photo courtesy of Amanda Reynal: Style Sketchbook Blog.
Writer: Karla Walsh
Joanne Roth believes monograms aren't just for your mother or grandmother. That being said, it is all in the family for the Des Moines maker.
"I grew up in a home where my parents were always working on creative projects," Roth recalls. "While I've never been much of an artist myself, I love color, design and the symbolism I found in books and poems. My mom taught me to sew, knit and hand-embroider when I was little."
At Smith College in Northampton, Massachusetts, she studied semiotics and linguistics and became fascinated by the ways symbols can imbue meaning. With these influences nudging her toward her present-day career, she launched Modern Monogramming in 2017 after years of embroidering as a hobby, competing at the Iowa State Fair—where she has won 60 ribbons and counting—and blogging.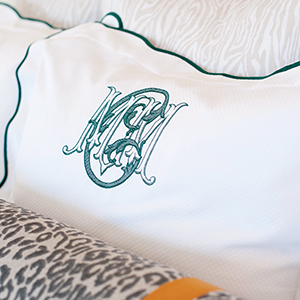 She decided to transition Modern Monogramming to a business when "I realized I couldn't find what I was looking for—monograms that reflected different personalities— elsewhere," Roth says.
The name Modern Monogramming reflects the intersection of traditional art with modern colors, proportions and combinations. The quality materials and the customizability of her monogram products (including napkins, towels, pajamas, pillows and more) make them keepsakes.
Up next, Roth is partnering with J. Wilkinson Chair Co. to create monograms for their chairs. She's also continuing collaborations with Blond Genius, Amanda Reynal Interiors and local nonprofits, including the Food Bank of Iowa.
Roth says her best design ideas come from collaborating with other designers and customers and by taking quiet time to explore visual inspirations. "It could be the shape of a vase in the Art Center, the colors on an Hermes scarf, the architectural details on a building or a piece of vintage typography," she explains. "I like to dream up designs and letters that are not available anywhere else."