Sanjita Pradhan, director of diversity and inclusion at the Greater Des Moines Partnership. Photographer: Duane Tinkey.
Writer: Miss Keenan
Earlier this year, dsm hosted a conversation with three local leaders who specialize in diversity, equity and inclusion (DEI): Rich Salas, chief diversity officer at Des Moines University; Sanjita Pradhan, director of diversity and inclusion at the Greater Des Moines Partnership; and Miriam Lewis, chief inclusion officer at Principal. In the wide-ranging discussion, condensed here for publication, they reflected on last summer's national focus on racial equity, the business case for DEI, the inevitability of making mistakes, the power of extending grace, and why you should diversify your Facebook friends list.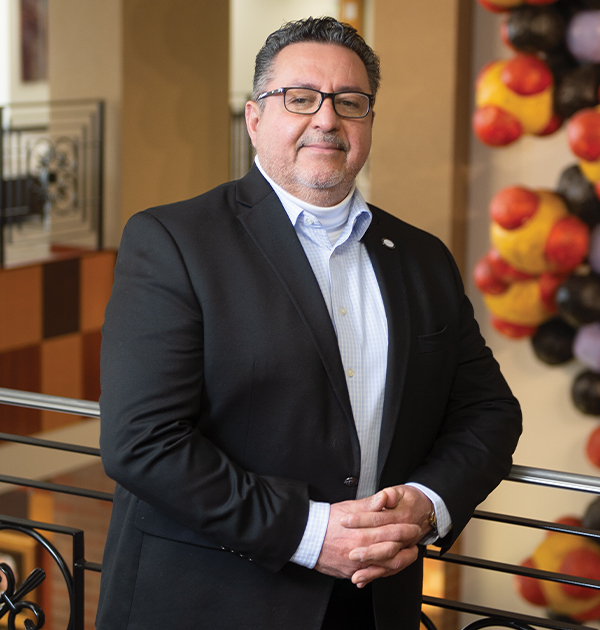 ---
What inspired you to get into diversity, equity and inclusion work?
Rich Salas: I grew up poor in rural Texas, and I'm the first in my family of 11 to go to college. My experiences help me understand the needs of students and families I've worked with. The additional layers of poverty or being first in a family to pursue higher education can be daunting for even the brightest individuals.
Sanjita Pradhan: I came to Iowa from Nepal with my family in 2006. I have a master's degree in business administration from the Indian Institute of Technology, but the first few years of my job search were challenging as people didn't understand the quality of my education. As a person of color and a first-generation immigrant, I've experienced marginalization and exclusion. This helps me understand the challenges of other marginalized groups and to be a better advocate.
Miriam Lewis: Back when I ran business units for manufacturing companies, employees were getting stuck in roles for too long and needed professional development. That frustrated me, but my frustration revealed a passion for helping people. I moved into HR, where I developed talent, created career mobility and [helped foster] a more engaged workforce. This equipped me for my current DEI work. Helping employees, cultivating ideas and empowering divergent opinions is my mission. Inclusion is linked to everything I do.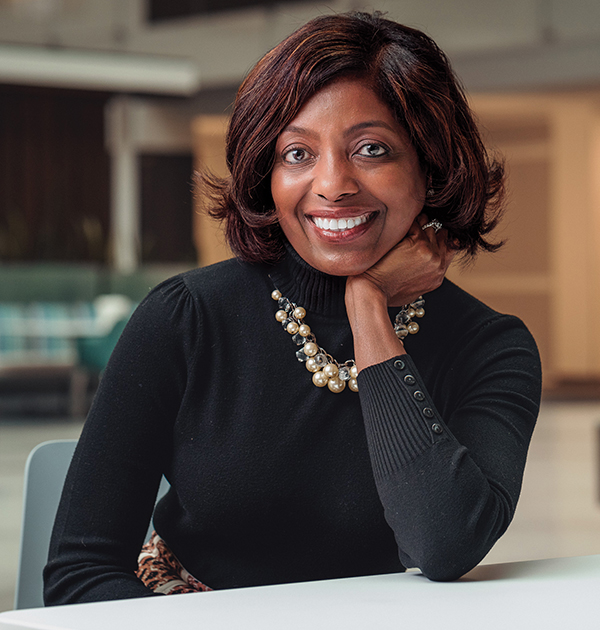 ---
Tell us about your organization's DEI program.
Lewis: Our DEI goals are woven into all areas of the company. Those goals are part of our corporate scorecard—one of 12 measures that drive and monitor success and determine employee bonuses.
Pradhan: The Partnership has been doing DEI work for many years. Our Inclusion Council is made up of representatives from about 45 local employers who share DEI best practices, celebrate success through our Inclusion Award, and inspire action to be the change they want to see in the world.
Last year we created an internal DEI strategy in addition to our existing external strategy. We created an internal plan weaving DEI goals into our strategic plans focused on attraction and retention of a diverse workforce, building an inclusive workplace, and building an inclusive community in Greater Des Moines to be a global competitor.
Salas: When I started here nine years ago, DMU didn't have a DEI plan beyond hosting speakers and other tip-of-the-iceberg efforts. At the request of our president, Dr. Angela Franklin, I developed a DEI plan tying into strategies across the university.
I'm especially proud that we're one of only a few medical institutions nationally embedding culturally responsive care into our curriculum. We address implicit bias, anti-racism, cultural differences, and skills our future health care providers will need in a rapidly changing society, providing compassionate, respectful, culturally responsive care.
---
After George Floyd and Breonna Taylor were killed last year and as the Black LivesMatter movement gained strength and prominence, DEI came into sharp focus in organizations across the country. How did those events affect your organizations?
Pradhan: Last summer we had an uptick in local organizations wanting to start or ramp up DEI efforts. Organizations who were doing diversity and inclusion work also started focusing on equity, particularly racial equity.
We partnered with United Way to conclude a 21-Day Equity Challenge with our annual summit, which this year focused on equity and had more than 700 participants. We rallied more than 200 CEOs to sign a Commitment to Racial Equity. We hope these actions will help our corporate partners do more to move the needle on racial equity.
Lewis: These are tough times that just hit you in the heart. Over the summer, we were already implementing our new global inclusion strategy. In addition, we pivoted to respond to the moment. First, we made it crystal clear that diversity and inclusion are core values for Principal, so we reaffirmed our commitment internally and externally.
We supported our employees by encouraging them to use our employee assistance program; we provided a group employee assistance program for members of the African American Black Employee Resource Group to go through a healing process together; and we provided an EAP for our leaders to help them know how to support employees during these times.
We also offered free new tools to our small- to medium-sized customers who don't have the resources to do this work on their own.
Salas: The summer's events were of course concerning to many students, faculty and staff. After talking to students and DMU leadership, we came up with "DMU Stands in Solidarity with White Coats for Black Lives." We had more than 300 students standing in front of the university together in their white coats. Our president, a member of our board of trustees, and a couple of students spoke—one who grew up near where George Floyd was murdered.
We also created an "8:46 challenge" representing how long the officer's knee was on Mr. Floyd's neck. The challenge was to do eight things to learn more about racial justice, take four actions to make a difference, and find six opportunities to discuss these issues with others.
These events have helped embolden our campus not to be neutral on these issues, brought our campus together in solidarity, and helped us engage in tough conversations, especially regarding racial disparities in health care.
---
Focusing on DEI not only is the right thing to do, it's also key to serving a diverse customer base in today's marketplace. Can you speak to that?
Salas: Research shows that building a strong, diverse team improves performance and provides a return on investment. Sometimes students wonder whether they need to understand culturally responsive care if they plan to practice in Iowa. I remind my students that kids at our local schools speak more than 80 languages. Our students don't need to learn to speak 80 languages, but they need to understand both their own implicit biases and their future patients' cultural nuances.
Lewis: We need our employee base to mirror our customer base so employees understand how customers think and can proactively meet their needs. To be competitive in this global marketplace, our employees need to be as fluent in DEI as they are in our business.
When competing for business and all else is equal between us and a competitor, DEI is often the jump ball. We were recently awarded a customer's business because of our commitment to and continuous progress in diversity and inclusion.
Pradhan: The U.S. is predicted to be minority white by 2045. Our workforce will look different and have different needs, and so will our customers. Investing time and resources on DEI helps attract and retain diverse talent, tap into new markets, make companies more profitable, and create an inclusive environment of innovation and growth. This hard and long journey of DEI work has great benefits.
We have a program to work with the country's 2 million highly skilled, foreign-born individuals who are under- or unemployed. We help employers understand foreign credentials so they can find highly educated talent ready to work right in our backyard.
---
What tips would you suggest to organizations wanting to expand their DEI work?
Salas: The DMU president is supportive of DEI work, which is ideal. If you don't have support from your top person, DEI work can be challenging, but it still must be done. Try to find other executive champions to support you. Then soon your CEO should see the value of your efforts.
Pradhan: Often companies come at DEI from one angle—usually training. Training is good, but if it's stand-alone instead of part of your strategy, it's less likely to be successful and it can lead to "diversity fatigue."
To be successful, you should identify your business case for DEI, create a diversity statement or include DEI in your core values, and tie DEI into your strategic plan, including your workforce, workplace and marketplace or community. Then communicate your business case and plan to employees and stakeholders, engage them to help implement the plan, and review it annually. You should have a dedicated person leading DEI to be most successful.
---
What do you recommend for small businesses that aren't sure how to get started with DEI work—or don't have the resources for everything you've described?
Pradhan: Smaller businesses can't always have full-time staff to lead DEI, so the Partnership supports them with resources on our website, events and consulting.
Salas: Don't worry about being perfect. Start somewhere with one or two objectives and do what you can. Are people using language at work that isn't inclusive? Are there populations you should reach out to? Then revisit your goals periodically. Things change—situations, challenges, relationships, laws. But start somewhere. You don't have to walk on eggshells; you're going to make mistakes. I've been doing this work for 30 years, and I still make mistakes. Acknowledge mistakes, learn and move forward.
Lewis: The late tennis player Arthur Ashe said, "Start where you are. Use what you have. Do what you can." Networking is important. Just reach out and ask questions. It's a two-way relationship, and there's always opportunity to learn and grow. Often today people are looking for a debate. This work isn't about debating; it's about dialogue, extending grace, and listening and learning from each other's experiences and perspectives.
---
What suggestions do you have for individuals who want to keep learning, growing and creating a more equitable and inclusive world?
Lewis: I have two practical tips. First, pull out your phone or scroll down your social media feed. If you scroll more than three times and everyone looks like you, expand your network.
Secondly, drive change within your areas of passion or sphere of influence. If you work in marketing, look for opportunities to make your materials more inclusive. If you work in government affairs, drive progress for groups you haven't focused on before. If you work in talent acquisition, look for opportunities to expand your candidate slate. It takes all of us doing this work to make meaningful change.
Pradhan: I present on these topics a lot, and people can feel overwhelmed—like they need to learn about every culture. You don't have to do a Ph.D. on every culture, but you can learn five new things about one culture. When I worked with refugees, I learned to say hello and thank you in my clients' languages. When I welcomed a family to the U.S. in their language, their eyes would light up and they trusted me as someone who cared.
Just do one small thing at a time. Diversify your network. Read an article or watch a movie on DEI topics. Read a book from an author who is different from you. Have an open mind, ask questions and engage in civil conversations. These things go a long way.