Above: Dr. Brenton Koch of Koch Plastic Surgery & Spa says 20 percent of his cosmetic surgery patients are men.
Writer: Laurel Lund
Photographer: Duane Tinkey
"Vanity," thy name is woman?
No longer. Men are getting in on the act.
The male of the species is looking younger, more fit and more fabulous than ever. Is it because of his fitness trainer? His Pilates instructor? His diet guru?
Or is it because of his plastic surgeon?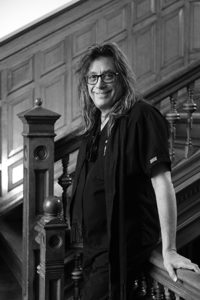 Today's men think nothing of flexing their pecs, amping their abs and lifting their lids. According to the American Society of Aesthetic Plastic Surgery, there has been a 325 percent increase in male plastic surgery over the past 20 years. In 2015 alone, men accounted for 1.2 million cosmetic surgery procedures, 10 percent of the total number of all procedures performed. That number shows no signs of abating—even in Iowa.
"Cosmetic surgery for men was rare if not unheard of in the Midwest 16 years ago," says Dr. Brenton Koch of Koch Facial Plastic Surgery & Spa. "Today, one in five of our clients are men."
Dr. Ronald Bergman of BergmanFolkers Plastic Surgery agrees: "Fifteen to 20 percent of our clients are male, a 10 percent increase over the past 10 years."
Triple Threat
Are men becoming high "man"-tenance? Not necessarily. Men get cosmetic surgery for three reasons, surgeons say: to look good, to remain healthy and to stay competitive in the workplace.
Men have noticed how women look and feel after even the most minor cosmetic procedures, and they're following suit. The typical age range of males undergoing procedures is 45 to 65.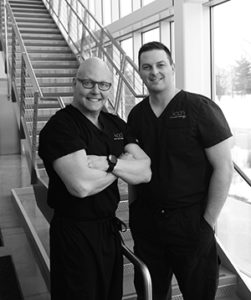 "Men, like women, want to look better, but they also want to look as young as they feel," says Koch's nephew and business partner, Dr. Cody Koch. "They're taking care of themselves. Opting for cosmetic procedures is no different than going to the gym or eating a healthy diet."
What man doesn't want to look rested, vital and dynamic? The senior Koch likens cosmetic improvements to "remodeling a home to increase its value and curb appeal."
Growing old gracefully is not always an option for the 40-something man who may find himself back in the dating scene midlife, according to Dr. David Robbins of Des Moines Plastic Surgery. "Men want to look their best, but they also want to look natural," he says. That's why they may opt for a noninvasive pick-me-up like a pinch of Botox or soft tissue fillers to smooth out the wrinkles and
rough spots.
Here's to Your Health
Men may be choosing to be sculpted, chiseled and contoured, but it's not always about vanity. Good health plays a part.
When Andreas Wilz of Ottumwa contacted Robbins, he weighed 230 pounds. "No matter how many trips to the gym I made or how many weight loss pills I took, I could not lose weight," he says. "I wasn't concerned about vanity. I just wanted to look and feel healthy." After undergoing noninvasive liposuction to remove exercise-resistant fat from his chest, abdomen and thighs, he not only lost weight but he gained new confidence.
Scott B. Nelson of Des Moines underwent a similar procedure. "Not only do I have the six-pack I haven't seen since I was a boy," he says, "but I'm living a healthier lifestyle because of it."
The Competitive Edge
In this high-tech, social-media based culture, youthful looks are de rigueur. Seniority is no longer as important as energy, productivity and tech savvy, all of which are associated with youth. The younger and more fit a man appears, the better his chance of ascending or maintaining his rung on the corporate ladder, experts say.
And the competition is stiff. In 2016 almost 18.8 percent of Americans age 65 and older reported being employed full or part time, compared with 12.8 percent in 2000, according to a recent Pew Research Center study.
More men than ever are fighting ageism in the workplace by going under the needle, laser and knife. Many opt for the "Forbes Face-Lift," which consists of a neck-lift, eye-lift, jawline contour and liposuction. But it's not just execs, metrosexuals and models who are getting nipped and tucked; men from all walks of life are choosing daddy do-overs, according to Brenton Koch.
Surgical procedures such as face-lifts, chin-lifts, nose jobs and hair transplants—even pec implants, ab sculpting and buttock-lifts—can shave years off a man's age. But skin care regimens also provide men with youthful fodder for the face, according to Bergman. "They're experimenting with moisturizers, collagen boosters, wrinkle creams and anti-aging potions" to maintain their boyish looks, he says.
"My No. 1 skin care client is a man," says Robbins, who uses the unique VISIA skin analysis machine to personalize skin care regimens.
Secret Service
Iowa men may be getting more nips and snips, but most are still keeping them under wraps. "There's less of a stigma for men to discuss their cosmetic procedures because they are more commonly performed [than in the past], but they're still not talking openly about them," Robbins says. For those high-profile men who prefer to keep their maintenance work private, Robbins has an on-site surgical suite with a private exit so clients don't run into colleagues.
"Men tend to keep quiet about their cosmetic work," Bergman agrees. "They may be competing with younger men for the executive suite, running for office or simply dreaming about rock-star abs, but they're not sharing their secrets."
After all, secret weapons don't work if the secret gets out. And in the Midwest, most lips are still sealed.
---
TOP FIVE
(each category in order of popularity)
Most popular male cosmetic surgical procedures in the United States in 2016:
Nose reshaping
Eyelid surgery
Breast reduction
Liposuction
Face-lift
Most popular male cosmetic procedures in the United States in 2016: 
Botox
Laser hair removal
Microdermabrasion
Chemical peel
Soft tissue filler