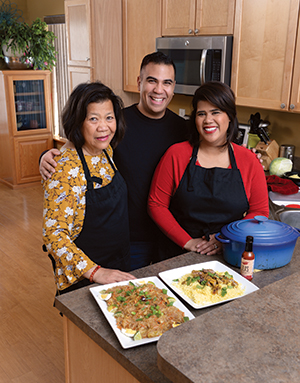 Writer: Jody Gifford
Photographer: Duane Tinkey
When entrepreneur Taufeek Shah cuts the ribbon at his restaurant opening in April, like any good son would do, he'll thank his mom for all her support.
But Carmelita Shah—also known as "Lola," meaning "grandmother" in Filipino—is more than Taufeek's biggest fan. She's also the name behind the condiment that made him such a success—Lola's Fine Hot Sauce.
It was in August 2015 when Taufeek—then in corporate sales at Principal—brought in a few jars of his mother's hot sauce for a department potluck. In less than 30 minutes, it was gone and soon after, his inbox was flooded with requests for more.
"I knew it was delicious, but I didn't know what the public thought of it," Taufeek recalls. "Honestly, whatever Lola makes, people love. I just never really thought about it being an entrepreneurial idea."
Just days after the potluck, Taufeek began exploring the idea of selling sauce made from Lola's family recipe. He rented a commercial kitchen and, under Lola's watchful eye, began bottling and selling Lola's Fine Hot Sauce at local farmers markets.
Made entirely of fresh ingredients like chili peppers, garlic, lime and vinegar, Lola's Fine Hot Sauce comes in four flavors and can now be found in more than 1,200 retail stores and 500 restaurants across the United States and Canada.
In April, Taufeek and his sister, Hannah Elliott, expect to take the Lola's brand to the next level with the opening of Lola's Fine Kitchen in Ankeny's Prairie Trail District. The eatery will offer quick-service Southeast Asian- and Filipino-inspired meals made with fresh ingredients. Hannah says the recipes are all inspired by her mother's cooking.
"I've been cooking my whole life," she says. "My mom always cooked from scratch even before it was a 'thing,' and we just picked it up. Lola's will be a reflection of that. It will be a kind of Asian cuisine infused with Filipino and Pakistani flavors. While it may not make sense on paper, it makes sense on the table. Or it did in my mom's kitchen."
Born and raised in Iowa, both Taufeek, 31, and Hannah, 39, admit that Lola's wouldn't exist without their mother.
"Everything our mom did was for our family. She always believed in us," Hannah says. "We always had ideas and it was always in your head that if you worked hard, you could work for yourself. It's a different mindset, but it runs in our family."
Carmelita, on the other hand, gives all the credit to Taufeek and Hannah: "I owe all the success to my children. Taufeek's passion for business and Hannah's love of cooking … have been the basis of that. I still don't know how to express my feeling over the success that the Lola's brand has achieved.
I keep thinking that this hot sauce started in my kitchen and it's now in so many kitchens nationwide."
Taufeek and Hannah, both with children of their own, say building on the Lola's brand is a labor of love. "It's not just a job, it's a passion," Taufeek says. "We're not doing this for money or exposure. It's all about family."
LOLA'S FINE KITCHEN
(expected to open April 1, 2018)
1615 S.W. Main St., Suite 106
Ankeny, Iowa
lolasfinekitchen.com
lolasfinehotsauce.com