Above: A combination of French, Italian and American influences distinguish Django's spinach and goat cheese macaroni.
Writer: Wini Moranville
Photographer: Duane Tinkey
The food of France has been greatly influenced by its neighboring countries, and recipes in which French and Italian flavors mingle especially steal my heart. The spinach and goat cheese macaroni gratin from Django is a case in point: It melds plenty of France, by way of soft unripened goat cheese, shallots, thyme and tarragon, with robust Italian touches—hearty pasta and bold Parmesan cheese.
The sauce swings both ways: It's a cross between a French béchamel (white sauce) and an Italian Alfredo sauce. Meanwhile, the tricolore hues of the dish—green spinach, white cheese-draped pasta and red tomatoes—make a subtle nod to the Italian flag.
Yet America, too, is woven into the fabric of this recipe's ancestry: The first mac-and-cheese as we know it is said to have been served in the home of Thomas Jefferson. Consider Django's creation a Franco-Italian-American dish that unites three great food cultures into one rich, bubbly casserole.
As this issue was going to press, Django announced it would be closing Feb. 17, with plans to reopen in a new downtown location at a later date. In the meantime, I'm glad I have this recipe in hand to enjoy while I'm waiting (and hoping) that the endearingly easy-going French restaurant reappears on our dining scene soon.
Django's Spinach and Goat Cheese Macaroni Gratin
8 ounces packaged dried pipette or other medium-sized ridged pasta
(see "Tips from the Chefs," page 38)
1 minced garlic clove
1 tablespoon minced shallots
1 1/2  teaspoons snipped fresh thyme
1 1/2 tablespoons cooking oil
3/4  cup diced tomatoes
4 ounces baby spinach
Béchamel sauce (see recipe at right)
4 ounces herbed fresh goat cheese
(see recipe at right)
1 cup grated Parmesan cheese
Salt and pepper to taste
1/3 cup toasted bread crumbs
1 1/2  tablespoons melted butter
1. Cook pasta according to package directions to the al dente stage (test near the end of the cooking time—it should have a firm, chewy texture). Drain well; set aside.
2. In a large saucepan, briefly sauté the garlic, shallots and thyme in hot cooking oil until the ingredients are aromatic. Add the tomatoes; cook briefly. Add the baby spinach. Cook until spinach is
just wilted.
3. Add béchamel, herbed goat cheese and the Parmesan cheese; cook and stir until cheeses are melted. Add salt and pepper to taste. Combine pasta and cheese sauce. Turn mixture into a 2-quart casserole dish.
4. Combine the bread crumbs and melted butter. Top the pasta with bread crumb mixture. Bake in a 350-degree oven until lightly browned and bubbly, about 20 to 25 minutes. Let stand
5 minutes before serving. Makes
4 generous servings.
Béchamel Sauce: In a medium saucepan, cook 1 minced garlic clove in 1 tablespoon hot cooking oil just until the garlic releases its fragrance, about 30 seconds. Add 1/2 cup dry white wine. Cook until the wine is reduced by half. Stir in 2 cups heavy cream. In a small bowl, stir together 1 tablespoon cornstarch and 1 tablespoon water until cornstarch is dissolved. Add this mixture to the cream. Cook and stir until thickened and bubbly. Cook and stir
2 minutes more. Add 1/2 cup grated Parmesan cheese and stir until melted. Set aside.
Django's Herbed Goat Cheese: Stir together one 4-ounce log fresh goat cheese, 1 tablespoon snipped fresh parsley, 1 1/2 teaspoons snipped fresh thyme, 1 1/2 teaspoons snipped fresh tarragon, 1 minced garlic clove and
2 teaspoons minced shallots.
---
Tips From the Chefs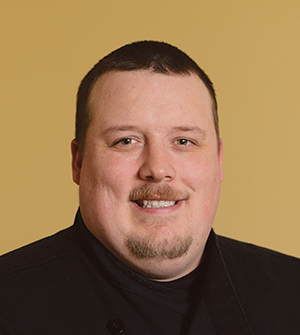 As chef Troy Deaton made the recipe in Django's kitchen, I gleaned the following tips from Deaton as well as from executive chef George Formaro:
Season in layers:
I watched Deaton sprinkle salt into the dish at many stages throughout the recipe: after the tomatoes were added, after the spinach wilted, and after the cheese was melted into the sauce. "Good seasoning is essential, and in this case it's especially needed to enhance the flavor of the goat cheese," Deaton explained.
Create in stages, but combine à la minute: If you wish to prep this casserole in advance, you can make the béchamel, cook the pasta and get the tomato-spinach mixture ready to go an hour before baking. However, wait to combine these three components until you're ready to put the dish in the oven. Otherwise, the pasta will absorb too much of the sauce, resulting in a dry dish.
Use ridged pasta: Django uses pipette, a curved, pipe-shaped, medium-sized pasta with ridges.
I found it easily at Hy-Vee. You can substitute other pasta shapes, but make sure they're ridged. "Those ridges grip the sauce," Formaro explained. Other choices include penne rigate, medium shells (as long as they're ridged) and rigatoni.
Use fresh herbs: Dried herbs simply will not add the vibrant color and flavor that fresh herbs bring to the dish.
Don't get hung up on rules: As I watched Deaton add cream and a scoop of grated Parmesan cheese into his béchamel sauce, I raised an eyebrow (a béchamel is basically a white sauce made with milk, no cheese). He laughed and said, "Yeah, this is kind of an Alfredo sauce. There are worse things, you know." (That was an understatement, for sure.)