Writer: Michael Morain
Photographer: Duane Tinkey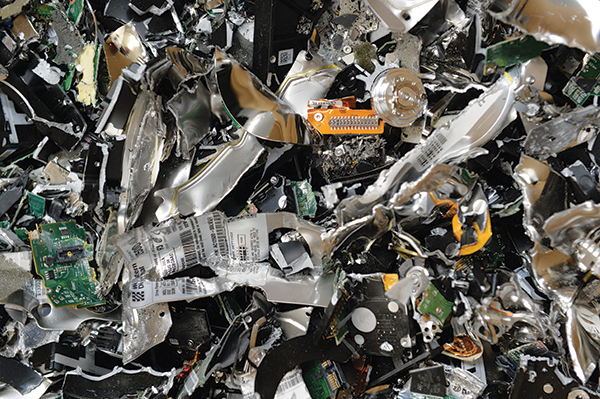 Above: Pulverized bits of computer guts take their secrets to their techno graves.
In a corner of a spotless warehouse on East Euclid Avenue, a painting hides within a wooden crate that bears stickers from Germany, Italy and France. Its past is a secret, at least to me, but its immediate future is pretty clear: It will stay here in this vault, safe and sound.
If a fire breaks out, a mix of inert gases automatically will pump into the room to extinguish any flames without the soggy mess of a sprinkler. If a tornado strikes, it would have to rip through the warehouse's outer walls—designed to withstand EF3 winds up to 165 miles per hour—before hitting the inner walls of the vault itself.
Even if a nuclear war threatens to erupt, the painting could be whisked away within 48 hours to a bomb-proof bunker. The business consultant Paul Kirpes wouldn't tell me exactly where, but "it's nearer than you'd think."
Over the past few years, Kirpes and his colleagues at TPG Companies—which help their clients "Transform, Perform and Grow"—have helped MDS Records Management expand into the business of storing fine art and antiques. MDS quietly unveiled Dickinson Vaults in the summer of 2016 and has since opened its many, many locked doors to usher in artwork like the crated painting
I saw during my tour.
Another painting, which briefly passed through the vaults last fall, was worth tens of millions of dollars. "Just to be able to stand next to it was a privilege," Matt Dickinson says of the famous work. Dickinson manages the vaults with his uncle, Eric Dickinson.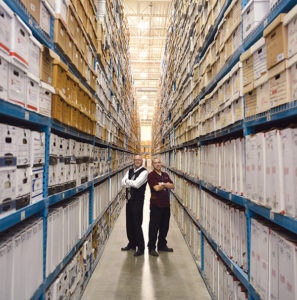 Museum-Quality Storage
The Dickinson family owns a local storage and shipping empire called Merchants Distribution Service, which dates back to 1880.
Eric Dickinson helped launched MDS Records Management in 1984 and has guided it through several waves of shrinking technology. Today, a stack of corporate tax files or medical records that once required a dozen digital tapes can be stored on just one.
So the company had to figure out what do with its empty space—or "unused capacity," as Eric Dickinson puts it. They considered storing all kinds of things, including wine and cheese, but market research led them to art.
"I had no idea," the consultant, Kirpes, says. "People would tell us, 'Oh, I have an art collection in my closet or my basement or my garage, and I know it shouldn't be there.' "
Since the closest museum-quality storage facilities are in the Twin Cities and Chicago, the Dickinsons figured a Des Moines site would appeal to collectors across Iowa. But the company has received calls from as far as California, where people worry about earthquakes and forest fires, like the one that threatened the Getty Museum in Los Angeles in December.
Climate Control
When I visited Dickinson Vaults, I parked my car in the smallish lot—in full view of the security cameras—and spoke through the front-door intercom to be let in. I signed the guestbook, showed my driver's license to Eric Dickinson's daughter, Heather, at the front desk, and received a visitor's badge before Eric and Matt Dickinson led me through several more doors to the 7,000-square-foot warehouse.
A forklift rumbled by on an errand in the main room, where 300,000 boxes of files fill 24-foot-tall shelves labeled from A to Z and then AA to NN.
The monthly rate for a cubic foot of space in the main warehouse is 22 cents. That price climbs to $4 for the prime
territory within the climate-controlled vaults, where the temperature hovers within two degrees of 65° Fahrenheit and the humidity within two points of 45 percent. A backup generator can kick in during emergencies.
"If the whole East Side or the whole city loses power, we'll still be up and running," Matt Dickinson says.
Strong Security
There are 62 "contact points" throughout the building that alert employees and local authorities whenever anything goes amiss. Once, when a door didn't lock properly, the police showed up in eight minutes. When a sprinkler malfunctioned in the main warehouse (not the vaults), firefighters arrived in four.
When I asked if there were any of those webs of green lasers that burglars have to crawl through in the movies, Matt Dickinson said no, but there are motion sensors. Some are set up near the room where the staff "shred master" destroys files according to protocols established by the National Association of Information Destruction.
The Dickinsons showed me the boxy red machine they use to grind computer hard drives into crumpled metal bits, and the truck they use to visit clients across the state. An image of a green dragon named the Paper Predator crawls across the truck's side next to an admonition: "Don't just shred it, PULVERIZE it."
It's unlikely the Dickinsons will ever be asked to get rid of artwork, but they certainly have the tools to do it. To everything there is a season and a time to every purpose under heaven: a time to keep and to throw away, a time to box up and to unpack. And a time to pulverize.