Writer: Karla Walsh
Photographer: Duane Tinkey
Craving a trip to Paris? We're right there with you. Luckily, we can all now get a taste of a similar cafe and bistro lifestyle at the Cave DSM (1437 Walnut St.), one of the metro's newest spirit-focused shops.
"Our model is a popular type of shop in Paris called a cave à manger—a wine bar that also sells bottles for retail or for on-site consumption, along with a limited food menu," says Nick Leo, the Cave's co-owner and manager. "They tend to be informal, warm and intimate."
Nick and his wife, Heather (both pictured above)—an avid home baker and cook who spent a year living in northwest Spain, where she developed a new appreciation for food and vino—originally planned to open their wine shop in March. But due to pandemic-related delays, they opened for retail sales in late August.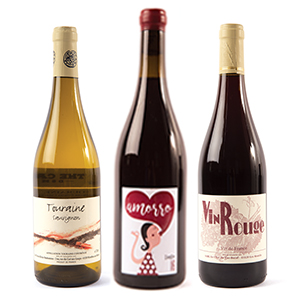 So what sets the Cave DSM apart from other wine shops in town, besides the Parisian vibe? "The primary difference is our selection and the philosophy behind how we curate our inventory," Nick says. "We're completely devoted to natural wines and celebrate the diversity and variety of styles that exist within the category. We want to be a place that encourages curiosity in a casual and unpretentious manner."
Natural wine is "more a philosophy of farming and winemaking rather than a prescriptive set of rules or definitions," he explains. Typically, it means the grapes were organically farmed and fermented with native yeast. The wines are free of additives, chemicals, pesticides or technical manipulations.
"The common thread of natural wines is that they tend to have a greater freshness and vitality compared to wines that are adjusted to match a predetermined flavor profile," he says. "Some styles are meant to be young and refreshing, and others are completely age-worthy."
They source wine—currently more than 60 different varietals—from around the globe. Organic farming practices and small production vineyards take more resources than typical production methods, but the Leos make it a priority to offer value-minded (less than $20) bottles.
Watch for a small food menu and a constantly evolving wine selection to keep things fresh all winter, spring and beyond.