Sample a small plate of Filet Mignon Wellington at Aura, a new take on American cuisine through the Wasabi restaurant group.
Writer: Karla Walsh
Photographer: Duane Tinkey
When we caught up with Jay Wang, owner of the Wasabi restaurants located throughout the metro, we thought the discussion was going to revolve around Aura, which at press time was expected to open in mid-February in the space once occupied by Trostel's Dish in Clive. But during the conversation, we learned Wang had quietly been hustling on another project just down the street: Papaya Asian Street Food.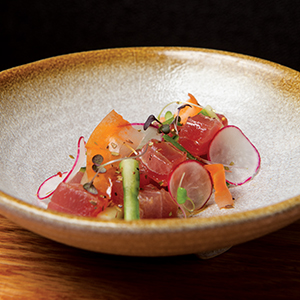 Wang says the pandemic affected the timing of the openings: "It was hard to find people to do the construction work, and many things we wanted for each space was back-ordered." Channeling the meaning of "aura," which Wang defines as good vibe or good energy, he forged ahead with both brands.
At press time, Aura was planning to offer new American cuisine; think Ahi tuna tartar, oysters from both coasts, American Wagyu beef tataki and beef Wellington. "The dishes blend lots of Asian spices with European cooking techniques," Wang explains.
The kitchen is led by Jake Kim, a Korean-born chef who went to culinary school in Sydney, Australia, and specializes in Korean and European cuisine.
Wang and his team flipped the former Pieology space into the fast-casual Papaya Asian Street Food, which opened in mid-January. "We call it 'Cali-Asian cuisine' featuring Southeast Asian cuisine with a California twist," Wang says.
Gluten-free options abound on the health-focused menu, including sandwiches, noodle bowls, salads and rice bowls. (Aura: 12851 University Ave., #400, Clive; auradsm.com. Papaya Asian Street Food: 255 N.W. 128th St., #100, Clive; papayastreetfood.com)
---
More Dining Scene News
Last December, Whitney and Alex Hall, owners of the St. Kilda restaurant group, transformed their East Village Surf & Turf eatery into Franka Pizzeria, which specializes in classic Neapolitan pies. The crust is thin, soft, and cooked quickly at a very high temp to get bubbly and a bit charred. The housemade dough includes a gluten-free option. Weekend brunch also is available. (111 E. Grand Ave., Suite 101; frankapizzeria.com)
Des Fresh Foods, which has operated as a food truck since 2018, has taken over the former Mamma Mia's Pizza location south of Martin Luther King Jr. Parkway. The all-vegetarian menu includes the Chick Stack (a crispy, seasoned chickpea patty with aioli), the Hot Waffle Stack (a battered chickpea-based slider tucked inside a waffle "bun"), and Sweet 'n' Sour Flowers (crispy fried cauliflower tossed in a pineapple sweet and sour sauce served over jasmine rice). As of press time, the restaurant is focused on takeout due to the pandemic, but eventually will have dine-in. (550 S.W. Ninth St., Suite 4108; desfreshfoods.business.site)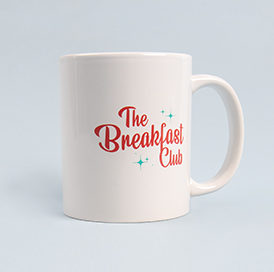 The Breakfast Club opened Feb. 8 in the East Village. The menu, created by co-owner Joe McConville, is sizable, featuring vegan offerings (avocado-tomato jam toast), sweet treats (cinnamon roll pancakes) and savory classics with a twist (the Notorious B&G, a jalapeno biscuit with a fried egg, crispy bacon, and a sausage, bacon and ham gravy). Housed in the renovated Dumpling Darling space, the dining room is "energetic and upbeat," co-owner Josh Holderness says. (212 E. Third St.; facebook.com/breakfastclubusa)
Gursha Ethiopian Grill in the Drake neighborhood opened in mid-January. Specialties include Doro Wot, a chicken stew with hard-boiled egg served with homemade flatbread; and Kitko, lean ground beef sautéed with special Ethiopian spices and homemade butter. (2316 University Ave.; facebook.com/GurshaEthiopianGrill)