Central Academy's pottery coursework caters to beginner, intermediate and advanced throwers. The new studio opened before the start of the school year.
Writer: Kelly Roberson
Photographer: Duane Tinkey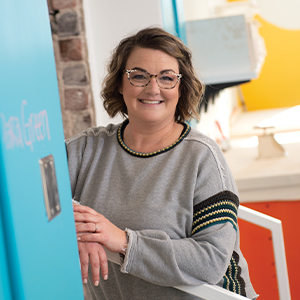 Think about raising $500,000. Where would you start? How would you keep going, dollar after dollar? How long would it take?
It would be a herculean challenge for anyone, much less some scrappy Des Moines high school students and an art teacher. But raise a half-million dollars is just what Dara Green and Central Academy pottery students did. Their six-year-long dedication paid off in the fall of 2020 when the W.T. and Edna M. Dahl Studio opened its doors to beginning, intermediate and advanced high school potters.
A Vision for More
A lump of clay is as modest a material as one can find. But dug up from the soil, pulverized and mixed with water, clay can be cut into slabs, thrown on a wheel and molded into shapes such as plates, teapots, vases, bowls and more.
For years, Green guided pottery students from a light-filled, smallish corner studio in the Central Academy building at 1912 Grand Ave. In 2008 when she joined the staff, there was a kiln and several wheels, and year after year Green would add more students and wheels. By 2012, she had more students than she had space, with students switching off days to share a wheel.
For Green, the concrete floors and peeling brick walls of the empty 1,200-square-foot space that would become the new pottery studio were perfect. All she needed was the money. "I showed administrators the space and explained my vision," Green says. "They said they wouldn't have the funding for years, but if I could get the funding, they could get it done."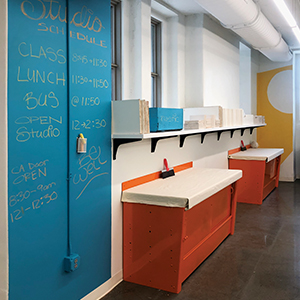 Slingshot Architecture worked on the design of the bright, contemporary space. Bold pops of color help inspire an artful mood. 
Green and her students—many of whom would graduate without ever setting foot in the finished studio—began brainstorming. They held a fundraiser in the 2016-2017 school year, called Art and Soul, setting up committees, gathering names, hand-delivering invitations with tiny thrown pots. The night of the event, they turned off the lights, hung up string lights and took attendees to tour the space. They also raised $8,000, a drop in the bucket—but a start nonetheless.
Quinn Johnson, now a sophomore at the University of Vermont and a Roosevelt High School alumna, was a three-year student of Green's; she worked on fundraising as well as community promotion. "In the old studio, we produced a lot of pottery, and there was never enough space. I wanted to help with the new studio because the arts programs at our home schools did not have the resources to really inspire students," Johnson says. "Pottery teaches you to never give up. I have had countless projects that have failed for one reason or the other, but I learned from my mistakes."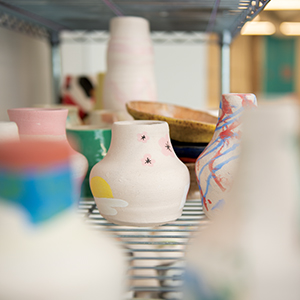 Students experiment with a variety of glazing techniques. Open shelves showcase the students' finished and in-the-works projects.
Persistence Pays
Green and her students kept holding a yearly event, eventually renamed Renovate to Innovate and Clay for a Cause. And every chance she got, the pottery teacher talked up the studio dreams to everyone and anyone who would listen. That is where kismet kicked in: One student had a mom who was friends with someone on the W.T. and Edna M. Dahl Trust board. A 2018 presentation and grant request to the trust later, and Green was suddenly $400,000 closer to her goal.
Construction began in March 2020, and the studio opened its doors to a limited cohort of students in September, the only Central Academy class to meet in person. There's now display space, two kilns and a photo room, as well as wheels enough for 30 students at a time. Post-COVID, Green has plans for the studio to be much more than just a space for teenage students.
"We didn't build it just for high school," says Green, a Chicago native. "We are slated to start community ed classes this spring and hope to do some teaching-mentoring experience. We want to host professional potters and bring this community together with the ceramic community at the Des Moines Art Center."
Noah Clark, a senior at Roosevelt, threw pots in the old studio and now in the new space. "It's so organized and efficient," he says. "Pottery takes time, focus and determination. It never ceases to amaze me. The end product reminds me why I am a potter and tells me that it is something I want to do for the rest of my life."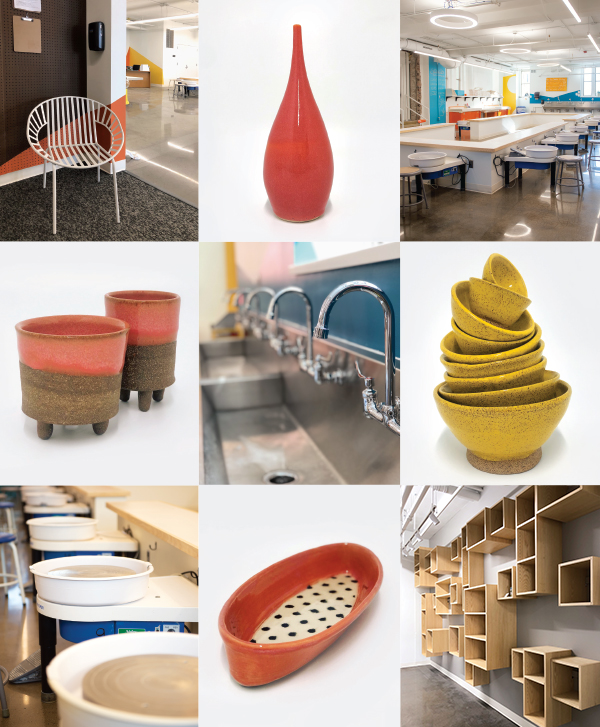 Pottery projects include works by Talia Carson (top row), Grace Zugg and Lydia Lawler (middle row from left), and Autumn Tiedens (bottom row). Silent Rivers Design+Build also participated in the project, including the display shelves at the studio's entrance.