Above: Set in a sugar cane field, this scene portrays elements of Jamaican folklore, among them a black magic priestess, a three-legged cow "with flames in its eyes that would turn you into ash," and dark trees with African masks, Clarke says. The girl with a bird attached to her head "is a recurring character in my early works that married the idea of people being like children of the Earth, dependent on the natural world like the birds of the air," he explains. "While I drew this piece, I was deeply focused on how the stories of my homeland were so intimately intertwined with history."
Tales of Home
Writer: Kelly Roberson
Photographer: Duane Tinkey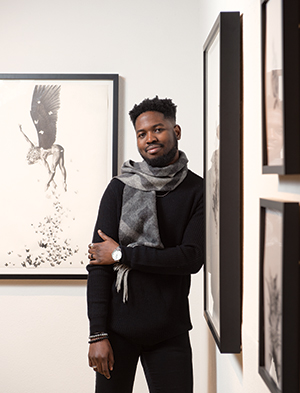 Mythological creatures and events of Jamaican folklore engage the mind and enchant the artwork of Antwain Clarke. The Kingston native lives in Des Moines now, but revives his homeland's duppy, or ghost stories, through his elaborate illustrations.
"These stories may seem so infantile, yet they contain such potent wisdom, important history and beauty," says the 25-year-old Clarke. "I particularly love the dichotomy of grimness and fancifulness each story offers."
For Clarke, the Jamaica of his youth lures and guides his burgeoning career as an artist, even as he has left its geography behind. In 2016, fresh out of college with a degree in urban planning, Clarke chose the Midwest—a place he had never visited—for his future, thanks to a work and travel program offered by his university.
"I didn't even know Iowa was a state, much less what Des Moines was like," Clarke says. "I remember stepping off the plane and a gust of frigid wind greeted me. Almost by reflex, I spun around and tried making my way back into the aircraft." He would spend his first night lugging his suitcase down Fleur at midnight, "trying to figure out where to go before hypothermia kicked in."
To an outside observer, Clarke's talent seems unbounded, which can be both a gift and a struggle. His mother insists that he has been drawing since he could hold a pencil, Clarke says, but his parents wanted more than just art school for him. He spent seven years at Wolmer's Boys' School, an institution he credits for shaping him: "I remember my headmaster beating the podium, passionately crying, 'Excellence, gentlemen, excellence! Only your best is good enough!' Then he would point to the emblem of the golden sun bursting through the clouds of ignorance. … It was awesome."
After graduating from Wolmer's, he attended the University of Technology-Jamaica. There, he pursued urban planning but never let go of his artistic interests, placing third in a competition run by the Jamaica Cultural Development Commission and wondering where art would fit into his future.
In Des Moines, Clarke continues to unite his heritage with his creative pursuits. The most visible examples are his immensely detailed and otherworldly graphite drawings. 
"I like the simplicity and grit of the media. The versatility makes nearly anything possible," Clarke says. "It's also poetic in that it's such a humble media that is easily overlooked, much like the stories on which many of my drawings are based. Yet in the right hands, it can create something beautiful. The visual textures of a tree, the strands of hair … it all pulls you in."
Recently, Clarke's work has expanded to water-focused terrariums and aquariums, small, self-sustaining, and on display at flower studio Wildflower, where he works with owner Maya Boettcher. "I'm still surprised by his intuitive skill set, even though I had a hunch this might be the case given the range of his creative talents," says Boettcher, who also owns Plum Event and Design. "He is methodical and driven to understand and learn about his mediums, and that is so clear when you see a terrarium or drawing he's created."
There's no straight line for Clarke, but that's OK. There are ideas and creative pursuits to master, including sculpture and woodworking. There's inspiration, particularly from artists such as Japanese filmmaker Hayao Miyazaki. "His brilliant movies are one of my earliest sources of inspiration," Clarke says. "I love how he combines Japanese mythology with brilliant art and story. The depth of his characters and the beauty of the art are what I emulate. 
"Growing up, I never heard stories from Jamaica told in front of a large audience, which was a shame because there is no shortage of fantastic lore," he adds. "I can't help to think that if I were a young boy, how life-changing it would be to see such elaborately detailed illustrations about the stories of my home."