Writer: Karla Walsh
It takes an astonishing 440 billion cubic feet of water to produce enough coffee and tea to caffeinate the global population, according to research published in the journal Ecological Economics. Clearly, the impact of what's in your cup goes far beyond "straw or no straw?" (Although that's a great start!)
In honor of this year's Earth Day (April 22), we looked for ways local venues are minimizing their environmental impact. Here are three places where you can fill your cup without filling the landfill.
Tea at Gong Fu Tea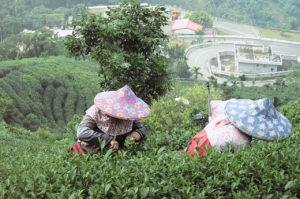 To build their repertoire of 150 teas, Mike Feller and Rusty Bishop, Gong Fu Tea co-owners, go to the motherlands. "We source our suppliers of tea leaves by traveling to the tea lands, comparing the suppliers and their practices, and sampling their offerings," Feller says. "This way, we can choose the teas we enjoy most while assuring the quality of the product, the working conditions for the employees and the purity of the manufacturing process.
Gong Fu partners are smaller-scale, chemical-free and biodynamic (think organic plus a focus on the link between the lunar cycle, plants and animals). "We focus on these factors less for marketing and more because they just make good, sustainable business sense," Feller says.
In-house beverages are served in ceramic cups, while on-the-go teas are steeped in recycled or recyclable paper cups and insulators. (414 E. Sixth St.; gongfu-tea.com)
Coffee at Horizon Line
At this downtown coffee shop, "we primarily source through three importers, and they share the same values and business philosophies that we do: quality and ethical sourcing," says Nam Ho, who owns Horizon Line with Brad Penna. "Our goal is to work directly with producers for 100 percent of our coffees." 
Penna and Ho pride themselves on more unique offerings than pumpkin spice lattes, with a focus on beans that have particular qualities, such as brightness or fruit-forwardness. All menu additions are based on seasonality, diversity and quality. 
"Currently, we offer coffees from Burundi, Costa Rica, Rwanda, Guatemala and Ethiopia," Ho says. "We receive samples from our importers, sample roast them, taste them, pick our favorites and see what coffee fits with what we want to showcase." 
Beyond the beans, Horizon Line serves its go-to brews in durable, compostable cups made by Coralville-based Ecocare Supply. If a customer asks for dairy milk, it's from cows that graze on chemical-free pastures at Picket Fence Creamery in Woodward. (1417 Walnut St.; horizonlinecoffee.com)
Cocktails at Proof
For Jared Giunta, the beverage director at Proof, and his team, being green is all about minimizing waste. "We utilize excess from garnishes for shrubs [sweetened vinegar syrups used to add complexity to drinks] and juice all zested fruit rather than tossing it," says Giunta, who crafts cocktails at the Western Gateway restaurant in partnership with Karli Sandos.
Come spring and summer, Giunta and Sandos lean into shrubs and fruit syrups to make the most of scraps. They also transform leftover red wine into vinegar and employ extra white wine in shrubs.
Even straws reflect the restaurant's eco mission. "We work with a local glass-blower so we can offer glass Pyrex straws that can be dish-washed and polished like a wine glass," Giunta says. 
Another eco-friendly practice: All empty bottles from the bar are cleaned and either recycled or used to dispense juices or bitters. (1301 Locust St. proofrestaurant.com)