Shrub roses dot Bob and Becky Shaw's garden, which is once again sunny after they removed a number of mature trees. This beauty is "Folksinger," a Griffith Buck rose bred in Iowa.
Writer: Veronica Lorson Fowler
Photographer: Duane Tinkey
In an era where HGTV makes a garden seem like something to be crashed and created in a weekend, Bob and Becky Shaw know better.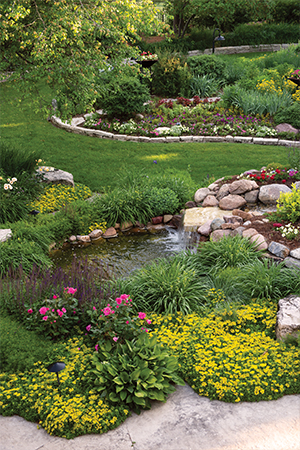 They've been tending their half-acre in Clive for nearly 30 years. Over time, they've guided their landscape through numerous phases, adjusting paths, decks and patios as their lifestyle changes; planting trees and cutting them down; and experimenting with plants that sometimes thrive, sometimes fail.
In 1991, the Shaws were living on a much smaller plot of land in West Des Moines. They had caught the gardening bug and were looking for more space to indulge their passion. "We came to increasingly enjoy our shared flower gardening experiences," Bob says. "Time spent in the garden provided a creative outlet and decompression [from the] demands of our careers." Both are doctors—Bob, now retired, worked in neonatology at Blank Children's Hospital, and Becky, an obstetrician-gynecologist, teaches at Des Moines University.
They found a lot in Clive, a new build, and purchased the empty lot next door to have plenty of gardening space. It "brought an opportunity to literally shape the landscape," Bob says.
The Shaws started with bare clay, since the topsoil had been removed during the subdivision's development. Under the supervision of Ted Lare Design Build, the soil was amended and improved with 43 truckloads of topsoil. It was then reshaped with two large berms and an elevated perimeter, which adds variety to the otherwise flat land. Five-foot wrought-iron fencing, supported with brick columns, further defined the borders and provided even more privacy. The perimeter was also extensively planted with a mix of some 70 trees, as well as a number of shrubs.
Cut limestone and granite boulders were used to line the perimeter and create edging for the berms. The entire property was planted in a mix of shrubs, ornamental grasses, perennials and annuals for color and texture.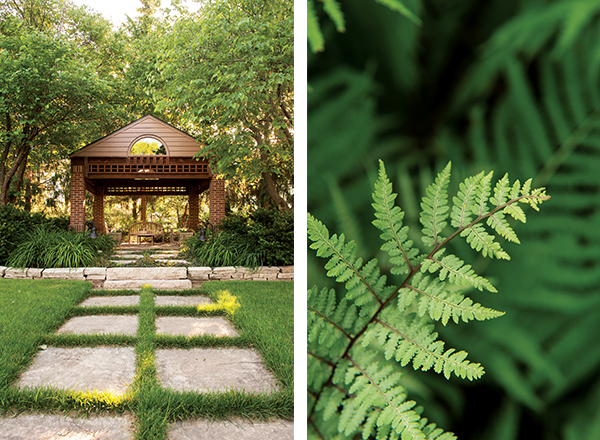 Left: An open-air pavilion anchors the east edge of the property; it's the perfect spot for enjoying a sunrise. The brick columns and shake shingles match the house. The Shaws love to entertain, so during the pandemic, the pavilion enabled them to host a few socially distanced gatherings with masks.
Right: In 1991, the garden started out with full sun. But as trees grew, the Shaws planted more shade-loving plants, like this ghost fern.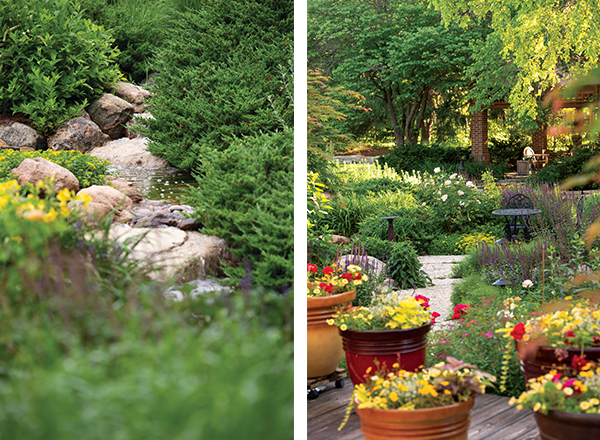 Left: The water garden is extensive, undulating through about a quarter of the property. Granite boulders artfully arranged throughout create elevation contrast.
Right: In 2003, the Shaws installed a network of paths and small stone patios with limestone slabs, accented with pots and seating. Here, spires of deep purple perennial salvia play off the bright red and pale pink shrub roses.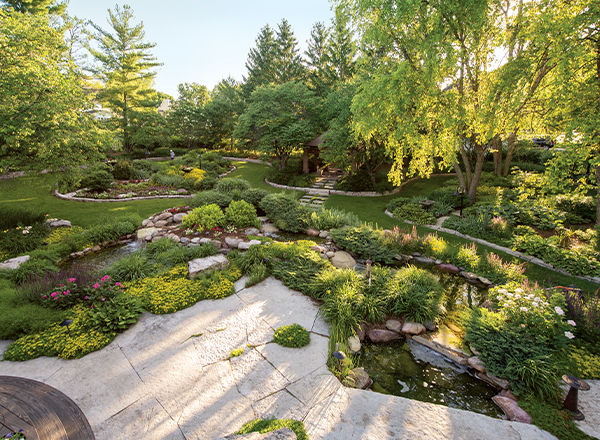 Over the past 30 years, the garden has changed immensely, going from plenty of sun to plenty of shade. Now it's primarily sunny once again. In 2003, the Shaws removed a pergola to make way for the large limestone slab patio and the water feature flowing throughout the property. Ground-level and underwater lighting extends the hours of enjoyment well into summer nights.
Even during the winter, the evergreens and ornamental grasses add interest and are beautiful with a dusting of snow, Bob says.
They named the place Shetland Run, which reflects their ancestry as well as their beloved Shetland sheepdogs (a total of five over the years), who have had the run of the garden.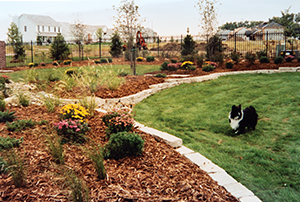 By 2000, the Shaws had a mature landscape on their hands. The trees that brought privacy weren't just keeping out prying eyes—they were blocking sunlight, too. "Increasingly, it became a challenge to grow all those colorful annuals, which need full sun," Bob says. And some of the crab apple trees were developing chronic fungal infections, causing them to drop leaves and become unsightly.
So in 2003 the Shaws made the tough call to remove a number of trees. While they were at it, they decided to also remove the pergola in the back to better accommodate an ambitious water feature.
Once again, the land was shaped—this time with large Wisconsin granite boulders to create the necessary elevation change for a 5,000-gallon water feature with three pumps. Two small decks were enlarged, and slabs of Iowa limestone were brought in to create a large patio and smaller pathways.
Bob retired the same year they installed the water feature, giving him more time to tend the garden. He also was able to go through master gardener training, which he'd wanted to do for years. That led to the garden being on the 2005 local master gardener tour, making the Shaws realize how much the larger public enjoyed their space.
That means that the garden, while remaining a private sanctuary for the couple, also evolved once more into a beautiful location for fundraising events for local nonprofits.
"The Shaws are a work in progress, so their garden needs to be as well," says Bob, reflecting on the many changes in their landscape. "It's a never-ending adventure."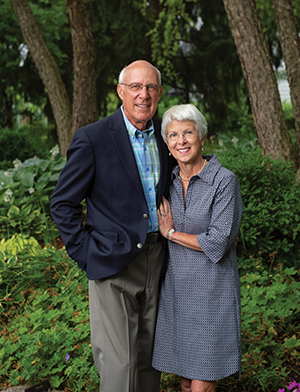 Bob Shaw is a retired doctor, a master gardener and an active community volunteer. Becky is also a physician and teaches at Des Moines University. She loves arranging flowers. You can read about Bob, who was honored as a 2020 Sages Over 70, here.