What details of home building bring the highest value in return? Is it finishes, windows, flooring, kitchens?
For 42-plus years, Kimberley Development has built livability into each home it builds. From modern to traditional, farmhouse to transitional, we work with clients to build their unique dream homes.
Most clients tend to choose timeless materials and finishes with a broad appeal. We follow continuing research, and always put the best choices into each home.
The overall effect of the home brings the top value, but specifics make the difference. Neutral choices go a long way, especially for potential resale. Quartz is the top finish pick with more color options, and clients don't have to select slabs like with granite. Cleanup and low maintenance are key factors.
With window packages, natural light is paramount in terms of choosing placement and style.
There are myriad choices for flooring. Clients need to consider the traffic—children and pets—when considering flooring types, colors, and scratch- and water-resistant aspects. Options include:
Hardwood, with a solid piece of wood.
Engineered wood flooring, which looks like real wood but at a more affordable price.
Luxury vinyl tile with wood and stone looks.
Engineered tile flooring, an alternative to natural stone.
Laminate, with no real wood layer.
Ceramic tile, versatile with many colors, shapes and textures, among other options.
When it comes to kitchens, white is still a primo choice, but it might be a softer, creamier white. Warmer choices are gaining in popularity, like a color on a kitchen island, different from other cabinets. Wood accents to warm the stark look also are gaining.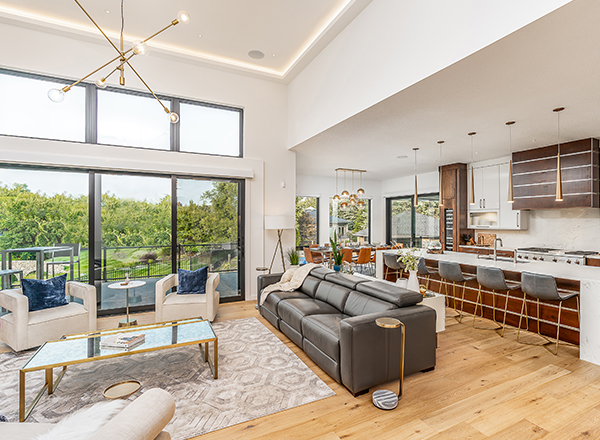 What factors do you suggest clients address when planning their new home?
The details of kitchen design are a big factor. Most of us want details for easier living. Do you want pull-out shelves in lower cabinets? Do you want deep drawers for easy placement of dinner plates and serving bowls, so you don't have to reach up high to place them in upper cabinets? Do you want the microwave oven placed over the range or down low on the kitchen island? Do you want the master suite in the front of the home or in the back? While dining rooms aren't so common these days in new homes, is the idea of a more formal place for family holidays important to you? Do you want any cabinets above the washer and dryer? Many people forget that.
Have you included enough storage? If you are left-handed, is the dishwasher placed in the right position near the sink for you to use it easily? It's important to think through details before your home is under construction.
What are home trends you are seeing emerge?
During the past year during the pandemic, families looked at their homes and needs more closely. Many who thought they no longer needed a dining room, now found it was a nice amenity. Families shared more meals together, and they spent more time together at home doing activities together.
In kitchens, two-tone cabinetry is gaining converts. Accents are coming in accessories for pops of color. Wood accents in ceiling beams or benches are also adding a soothing, soft look. Maple and light-stained cherry are adding rich but light tones. Clients want large pantries, if possible, depending on space—big enough for walk-in storage, please. Function with style is the preferred kitchen look because couples and families have shared more time cooking together.
And one thing that came out of the pandemic for those working remotely—the need for a dedicated home office. A card table might work for a short time, but certainly not for an extended period. For some, the need was for a small "pocket office" carved out of existing space.
Deep gray for interior walls is getting a reprieve, with warmer tones taking over. White, white everywhere, always comes back, and it's doing so now. Warm greens, shades of blue, and softer grays are making subtle statements.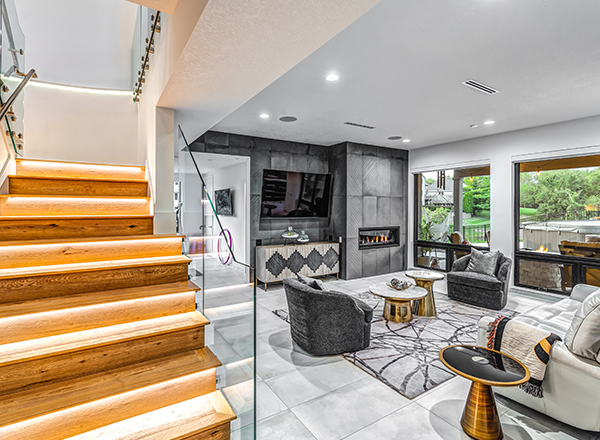 What kinds of technology make your job as a homebuilder easier and more efficient?
Efficiency in technology has helped Kimberley Development better serve its clients. Our Buildertrend app helps our internal staff stay organized. We calculate estimates, list various choices, and post construction schedules. Plus, all our superintendents carry iPads for easy access to information.
Through the app, which has proven to be an excellent marketing tool, clients can see the progress on their home being built, watching all phases of their building project. It saves calls, meetings and time. The portals include all documents, layouts, specifications and choices right at hand for everyone involved with the project. The builder, homeowners and sub-contractors all can check online to get the information they need when they need it.
Kimberley also has Matterport, a 360-degree camera so that homeowners and prospective clients can go through a virtual tour without having to actually visit the work site. We have had this capability for about 2 1/2 years, and it has proven to be an invaluable component.
Learn more about Kimberley Development here. You can also call 515-963-8335 or email info@kimdev.com.