Writer: Beth Eslinger
Photographer: Duane Tinkey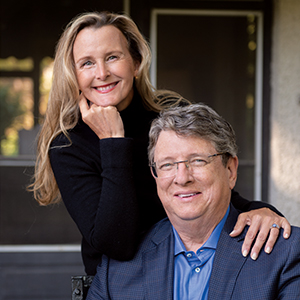 "It's got to have a story if it's coming in," says homeowner Libby Becker of the furnishings in the 105-year-old house she shares with her husband, Charles.
Stories are part of the home's legacy: of super-size strawberries grown by Henry Wallace; of a Russian astrologer who provided political advice to the vice president; of kids rappelling from a rope tied to an attic radiator and a mystery bullet hole in one of those attic windows; of toadstools growing in a bathtub—intentionally.
"The energy of this house is free spirit," Libby says. Just the fourth owners, the Beckers have carefully renovated the home over the past 22 years, most recently with a kitchen remodel and several other room upgrades.
That pristine shell has become an ideal vessel for the Beckers' extensive display of Iowa artists, antique furniture and eclectic collectibles—everything from stacks of shells plucked off a Florida beach to Austrian dirndls to silver snail knife rests. And so much more. The home is a fine museum of curiosities that reflect the passions, the persistence and the patience of the couple.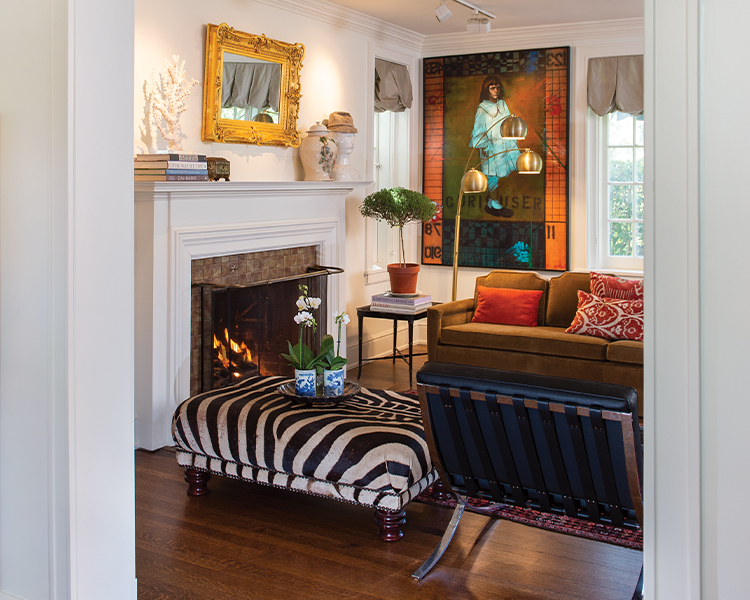 Libby and Charles Becker collect works by Iowa artists, including this acrylic by Mary Kline-Misol, part of her "Alice in Wonderland" series. She's the most represented painter in the home. "Buying art is an emotional experience for both of us," Libby says. "We like to know the artist—that plays a key role in our decisionmaking." Another Des Moines artisan, Zachary Bunkers, repaired the gold-leaf mirror, a family heirloom. Furniture in the living room reflects the couple's design aesthetics: The Eames chair is a nod to Charles' midcentury modern affinity, while the zebra ottoman and velvet mohair sofa are more traditional pieces from Libby's family. Of note, this is the first gas-burning fireplace in the city of Des Moines and is original to Henry A. Wallace.
Charles and Libby were both collectors when they met. "He was very disciplined," Libby says. "The pieces he had were quality and interesting: African masks and midcentury modern furniture," including some Scandinavian case goods. However, as newlyweds their first joint endeavor was a bit more modest—Pez dispensers. They admired the company's innovation and practical nature. Plus, the candy containers were budget-friendly.
On their honeymoon to Austria, they were treated to a private factory tour complete with warm, fresh candy from one of the machines and a special gift of unique-to- Europe dispensers, an "unbelievable gift," Libby says.
That same trip yielded fabrics, dirndls, ceramics, Black Forest antiques and cowbells. Today, the felt hat and red neckerchief she wore on the trip tops a frau vase in the dining room. "Switzerland and Austria have a strong influence on us," she says. "We both have an ancestry link."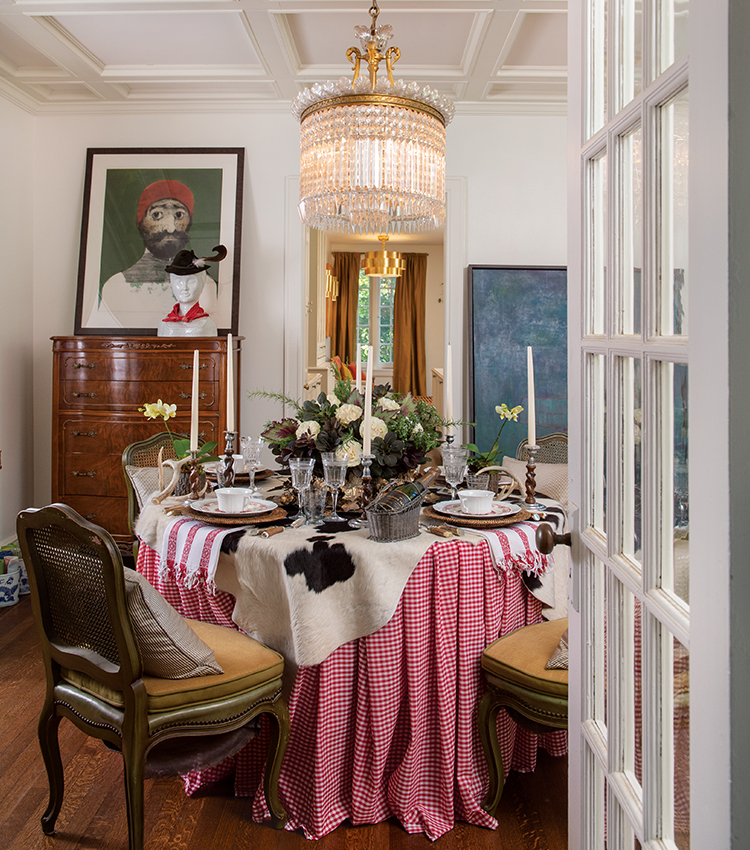 Adjacent to the living room, the dining room is a feast for the eyes, featuring artwork by Argentine artist Mauricio Lasansky and Karen Chesterman of Sioux City. The Beckers fell in love with identical Baccarat crystal chandeliers in Paris and in Halls department store in Kansas City. Through vigilant searching, Libby found the piece at an online auction that had closed; she was able to negotiate the price. Her takeaway: Persistence pays off. To dress the table, Libby (co-owner of Special Arrangements) mixes high and low, new and old. The red gingham tablecloth is fabric store yardage; she tops it seasonally such as with this cowhide for winter.
The Hunt is the Fun
Libby describes herself as an "undeniable shopper." She looks everywhere, and favorite Des Moines spots include Kitchen Collage, Olson-Larsen Galleries, First Fridays at Mainframe Studios and Indie House.
She developed her passion from her grandmother, Mimi Lambertus, a world traveler and collector. Many furnishings in the home came from her.
But Libby has reinterpreted many of those inherited pieces. A dresser from her grandmother's bedroom set, for example, is used in the dining room as office storage. The petticoat table at the upstairs landing serves as a foundation piece for that area. Antique fur coats drape across beds and sofas for winter warmth.
"Keep an open mind," she says. "And have a willingness to use in alternative [ways]."
For Libby, there are several constants—specifically great fabric. "I put my money in fabric once. It hurts sometimes to buy the fabric I covet," she says, noting she studied textiles at Miami University in Ohio. "And a really good upholsterer is your best friend." Her pick: Custom Upholstery in Beaverdale.
The home is in constant motion. Pieces move around. New finds come in the door, including a recent purchase of late-1700s china discovered in Kansas City. "Define what you have access to and what you can afford," Libby says, noting this complete set was less than $300.
And their grown children have picked up the passion. "It's interesting if children grow up in a home that displays good pieces that are thoughtful and unique and have a story. They take that with them," she says.
Perhaps the ultimate compliment: "You definitely know you hit the mark when the kids say, 'Dibs on that.'"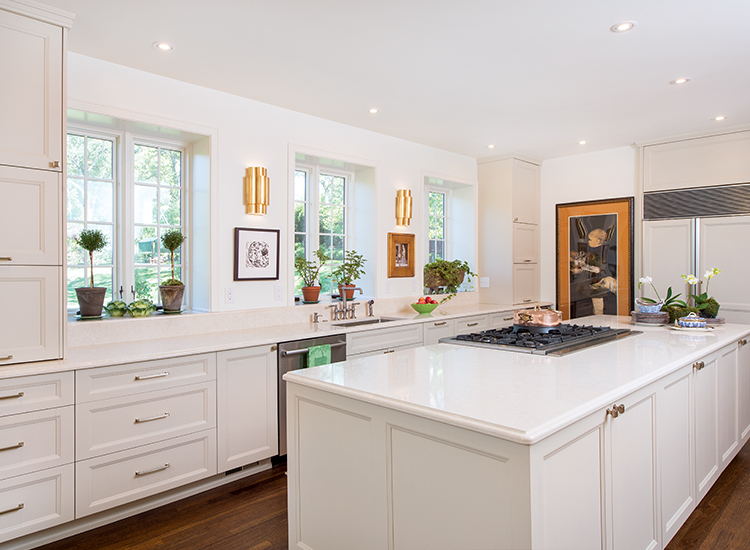 Remodeled in the 1960s, the space was broken up and darkened by upper cabinets over the island and additional cabinets fronting the windows. Oakwood Builders opened up the layout by removing cabinetry and working with a clean, seamless palette. A 1963 piece by Mauricio Lasansky adds color and complements the gold sconces and smaller artwork.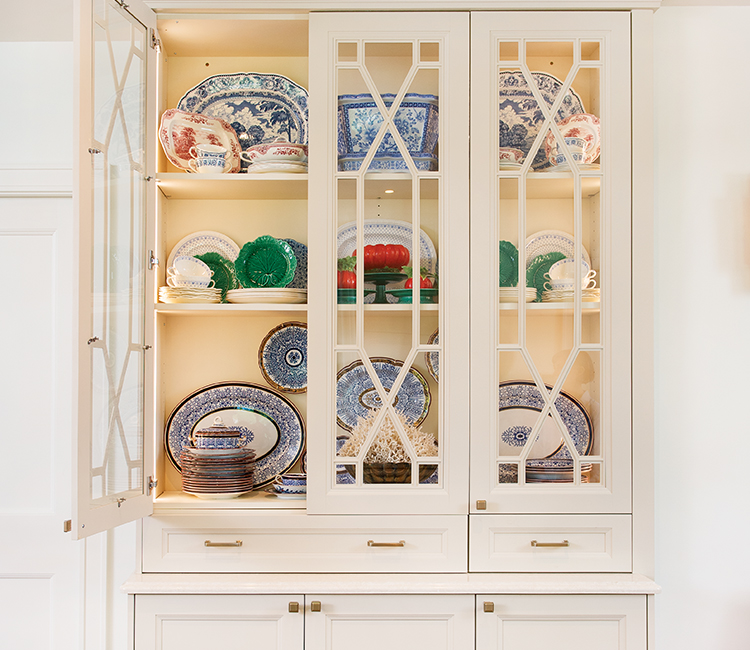 Custom-made chinoiserie-inspired cabinets display collections of Majolica andnblue-and-white transferware. Interior lighting on a dimmer is especially striking at night.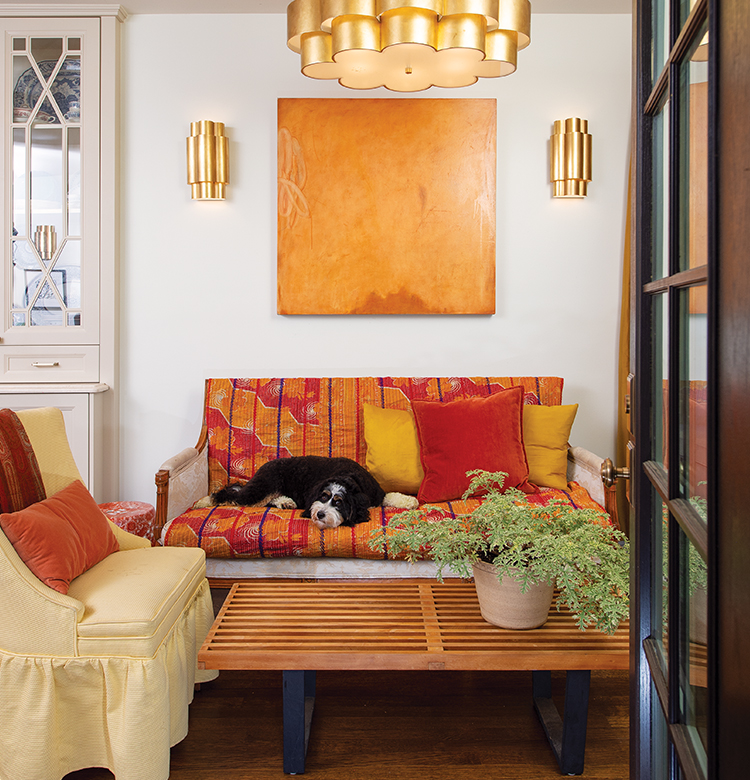 Adjacent to the side entry, a cozy sitting area at the end of the kitchen is a top perching spot for Ranger the bernedoodle. Striking fixtures from Circa Lighting repeat other gold tones used in the home and add a modern touch.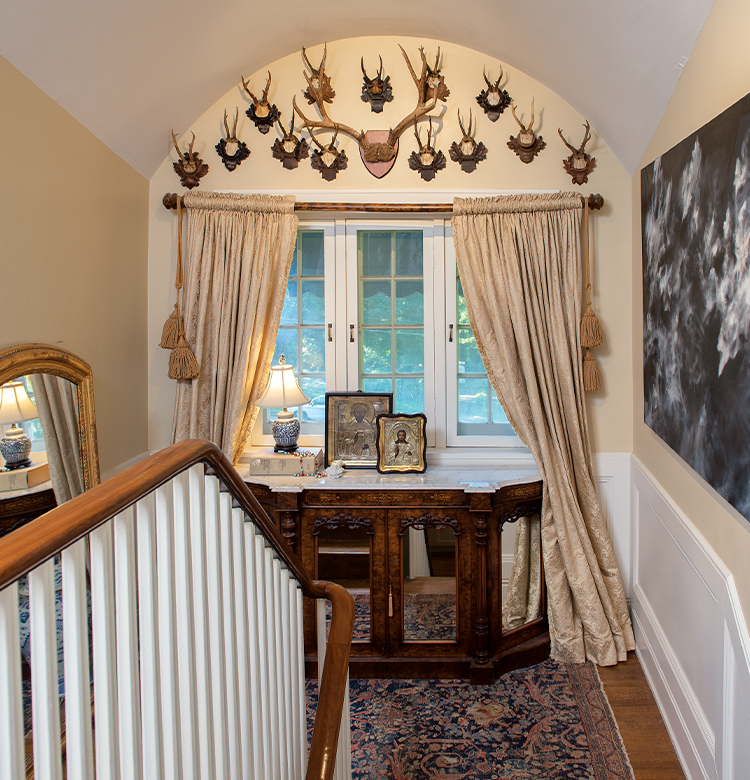 A collection of Rowe deer from Austria and Switzerland—almost all purchased on eBay from European Curiosities in Austria—accent the landing's arch. The mirrored cabinet was Libby's grandmother's and fits perfectly under the windows. It was used to check her petticoat hem before leaving the home.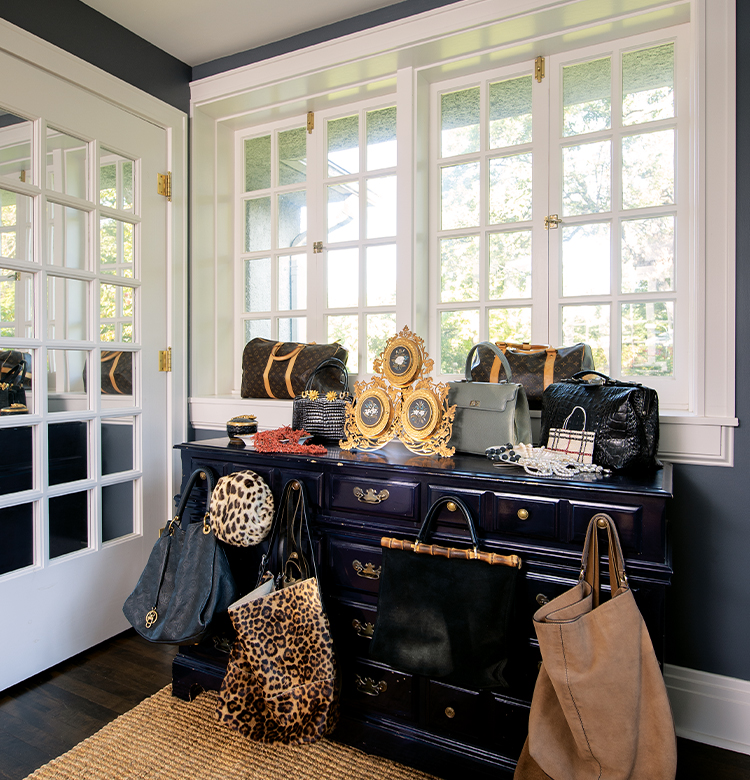 Originally the sleeping porch for the entire Wallace family, the space today is a dream dressing room. A vintage dresser is an ideal display vessel for favorite handbags and jewelry.
A photograph by Des Moines-based photographer Molly Wood adds a focal point to an upstairs hall.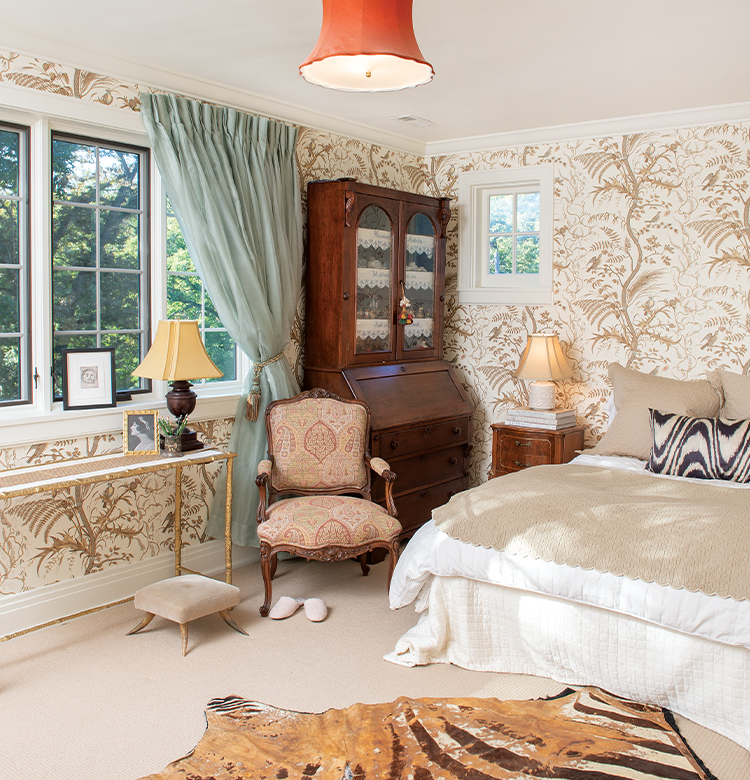 Newly remodeled, the guest bedroom features more family heirlooms, including a real zebra rug, a secretary and a needlepoint chair.
---
Curate Your Personal Style
"If you buy what you love and ignore trends, ultimately your home is a true reflection to you," Libby says. Here's how she recommends upping your style game, no matter what your budget.
Study Good Design
Invest in a few favorite coffee table books that speak your style while also functioning as home decor. Her three favorites include "Wanderlust" by Michelle Nussbaum, "The Way We Live" by Potter Publishing and "Timeless Elegance" by David Easton. Pull tear sheets of favorite looks and file by room. The lifestyle blogs quintessenceblog.com and fredericmagazine.com are other great inspiration sources. Collect business cards of galleries and artists for potential purchases. "It's fun to look through and prioritize," she says. Also look to design magazines such as Canvas.
Find Your Style Sources
Both high- and low-end sources can spark ideas. To see the finest, visit museums and retail stores in larger cities. In New York, for example, Bergdorf Goodman and ABC Carpet & Home are both must-visits for interesting looks, as are P.O.S.H. and Jayson Home in Chicago. Scour online auction sites, flea markets, junk jubilees, tag sales, antiques shops and your parents' and grandparents' homes. "Once out of context it's a different piece," Libby says.
Keep a Constant Lookout
Retail giant Target and local favorite Kitchen Collage provide constant sources. The underlying principle is that it needs to fit the look, and often it's possible to reinterpret the piece. A Chinese-inspired garden stool can become a table centerpiece, for example; vases of a German couple become sculpture when topped with vintage hats and handkerchiefs.