Strawberry cinnamon rolls from Baked Kind. Photographer: Duane Tinkey.
Writer: Karla Walsh
One of the biggest food trends to come out of the pandemic is an increase in plant-based eating. About 28% of individuals surveyed by the International Food Information Council say they're eating more plant proteins than they did in 2019. And Central Iowans are clearly following suit, as more meatless options are popping up (literally) and selling out across town. Sample wholesome bowls, rolls and other meat-free fare from these female-owned food businesses.
1. Baked Kind
This new kid in town—Brandi Ramus launched her plant-based bakery in November—is crazy-popular: Baked Kind's pop-up events often sell out long before preorders close on her site (bakedkind.square.site). Patrons pick up the goodies at the shared commercial kitchens where she bakes at Kitchen Spaces (1139 24th St.) or at her pop-ups around town that are often in partnership with other vegan or female-run businesses, such as Marnē—or the Collective. Ramus makes her vegan cinnamon rolls, baked doughnuts and other desserts with locally sourced ingredients and serves them in reusable containers. Learn more at bakedkind.com.
2. Nourished
Beth Jackson dreams of opening a vegan and vegetarian cafe someday, but for now, she's nourishing her passion for plants through her home-based business. After whipping up homemade hummus, salads, soups, chia puddings and more at a certified kitchen in Lucas (south of Indianola), she offers them at the Iowa Food Cooperative via online ordering at nourisheddsm.com. The pickup location is given at the time of purchase.
3. New World Kitchen
You might recognize the New World name as the East Village cafe that was Des Moines' first vegan restaurant. Open from 2012 to 2015, it's back as a pop-up, takeout-only brand featuring some fan favorites. Chef/owner Madeline Krantz's cashew queso and mushroom, bean and millet "bacon" (which she calls "ALT strips") are often part of the weekly rotating lineup, as are two-serving grain bowls, soups, and a vegetable- and nut-based "cheese" sauce for a plant-based mac dish. Preorders are available weekly for pickup at the shared commercial kitchens at Mickle Center (1620 Pleasant St.). Learn more and order online at newworldkitchendsm.com.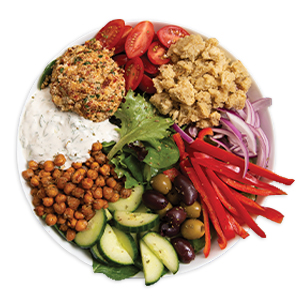 In addition to fresh vegetables, New World Kitchen's Mediterranean salad includes herbed cashew crumbles, sun-dried tomato cauliflower rice, roasted chickpeas, olives and cashew tzatziki.