Organizing can be a good way to give back, like getting a group together to cook food for those in need. 
Writer: Karla Walsh
Before the pandemic, Iowa was making strides in its fight against hunger. All that changed in March 2020. About 405,100 Iowans reported not having enough food in 2020, a staggering increase of 33% compared with 2019, according to the Iowa Department of Public Health. 
While this data might feel insurmountable, it isn't a reason to give up hope, notes Aubrey Alvarez, the executive director of the nonprofit Eat Greater Des Moines. 
"While the pandemic has been devastating in many ways, it has also inspired more individuals and groups to jump in and do what they can to make sure our neighbors are fed," Alvarez says. "No one entity or organization can solve hunger because there's not one way to do it. It's up to all of us doing what we can where we are." 
We spoke to hunger fighters across Iowa about the best ways each of us can help.
1. Organize
At its core, organizing starts with a conversation and grows from there, says Monika Owczarski, owner of Sweet Tooth Farm in Des Moines. She suggests starting in your own neighborhood. Find any hunger gaps that you can help fill. 
That's what Sue Honkamp, the owner of the Des Moines-based youth culinary education company Real Food 4 Kids, did. She tapped into her strengths to launch Cook For A Cause in 2020. Through the program, school-aged kids can help others by learning how to cook via Honkamp's instruction. 
"The benefit to the recipient is, of course, a meal, but there are so many benefits to the kids making the food," Honkamp says. "It helps them to become aware that kids their own age may be facing food insecurity, it empowers them to help, and it gives them the opportunity to hone their own cooking skills and develop confidence in the kitchen." 
You can also consider hosting a canned food drive or fresh produce drive for food banks so it can be distributed safely to the food bank network, says Linda Gorkow, the executive director of the Iowa Food Bank Association. More than 1,000 partner agencies and programs across Iowa will gladly accept donations, Gorkow says—find one near you at iowafba.org. 
2. Donate
If you don't have a lot of time to share but do have the financial means, "find an organization doing work that speaks to you and give," Alvarez suggests. 
From Hunger-Free Polk County to Meals From the Heartland, there are dozens of charities you can support financially—and possibly ask your employer to match. For a list of organizations, visit feedingamerica.org/hunger-in-america/iowa. 
Or you could consider the Food Bank of Iowa, which can make a lot out of a little donation—$1 can provide up to four meals, says Michelle Book, president and CEO of the organization. If you have extra nonperishable items, give them to your local food bank, emergency shelters, community pantries or even schools. Certain districts will accept groceries (be sure to check with the community service coordinator at each school first). 
You can even donate land. While you'd still own the parcel, gardeners could put it to good use growing crops, which would then be donated to those in need. 
"Patches smaller than one acre can be turned into community gardens so that members of the refugee and immigrant community can grow their own food, and unused land larger than an acre can be used by a farmer to expand their business and grow more food for themselves and the community," says Daniel Bowser, food hub and markets supervisor for Lutheran Services in Iowa, which runs Global Greens, a farm incubator program for refugees. Go to LSIowa.org/refugee for more details.
3. Volunteer
The Food Bank of Iowa is always looking for more volunteers to package and distribute as much food as possible across the state, and there are additional ways to volunteer from home. Learn more and sign up for a shift at foodbankiowa.org/volunteer. 
Volunteers are crucial to the success of food banks across the state. 
At River Bend Food Bank in Davenport, "we rely on the generosity of over 3,000 volunteers each year to help us fulfill our mission. Your time is so valuable," says Liz Dierolf, the food bank's marketing and strategic communications manager. "From sorting, packaging and delivering food to thanking donors and funders by phone or mail, there are many ways your talents can be put to good use." 
Volunteers also can help with food recovery (such as picking up baked goods from a supermarket at the end of the day) and delivery to nonprofit partners. Iowa City's nonprofit Table to Table, for instance, rescues more than 900,000 pounds of food per year, which is 60% of all the food available to Johnson County's hunger relief network. 
"About 40% of all food produced in the U.S. doesn't ever get eaten," says Anne Langebartels, communications and development coordinator for Table to Table. "So we partner with grocery stores, food processors, distribution centers, farms, restaurants, cafeterias and convenience stores to collect food and deliver it to food banks and pantries, shelters and centers that serve youth, mental health communities and seniors." 
Find more organizations through the Feeding America database or by searching "food recovery programs near me."
4. Advocate
When benefits increase from the United States Department of Agriculture's Supplemental Nutrition Assistance Program (SNAP), food pantry use declines. That's because more people have the ability to purchase food on their own, explains Dierolf of the River Bend Food Bank. 
Funding programs like SNAP (dhs.iowa.gov/food-assistance) and Women, Infants and Children (WIC) (idph.iowa.gov/wic) are effective and efficient ways to increase food security, she says. 
"Ask your local food bank what legislative challenges they're facing," Dierolf adds. 
One current initiative to consider supporting? A possible sales tax exemption. Bills making food banks exempt from sales tax were proposed in the Iowa Legislature in 2019 and 2020 but didn't make much headway. "Food banks are currently not tax-exempt as nonprofit organizations. Six food banks in Iowa paid close to $200,000 in sales tax last year, dollars that could have gone to feed more Iowans experiencing hunger," Dierolf says. 
The Iowa Hunger Coalition advocates for policies that work and keep Iowans fed. Sign up for email updates and action alerts, or become an individual or organizational member of the Iowa Hunger Coalition at iowahungercoalition.org/advocate/policy-priorities. 
5. Garden
A variety of volunteer-led groups harvest fresh produce to share with the community. Find one near you at unitedwaydm.org/giving-gardens. 
Sweet Tooth Farm's Monika Owczarski grows produce on her chemical-free urban plot in Des Moines to sell on a sliding scale at her farm stand, to package up in affordable seasonal vegetable boxes, and to stock the Sweet Tooth Community Fridge she launched in 2020. (Think of this fridge like a little free library: Leave what you can, take what you need—no questions asked.) 
If you're a gardener, or even if you simply have a few container gardens on a patio or balcony, you can follow Owczarski's lead and plant some extra to share with any organization that accepts fresh food.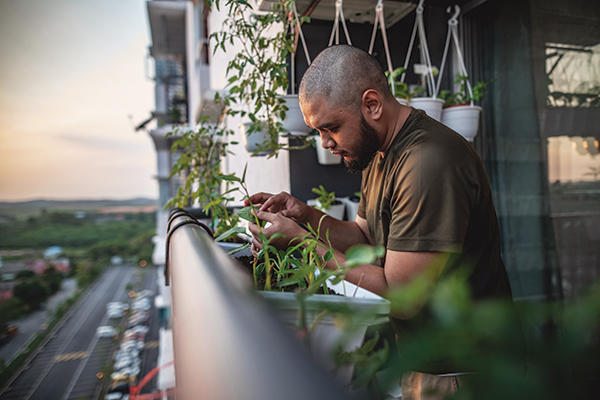 Fresh produce can go a long way to help food-insecure individuals. You can start your own garden and donate what you don't use.