This salad combines favorite late fall/early winter ingredients such as cranberries, Brussels sprouts, squash and cauliflower (using colorful varieties for visual pop). 
Writer: Karla Walsh
Photographer: Duane Tinkey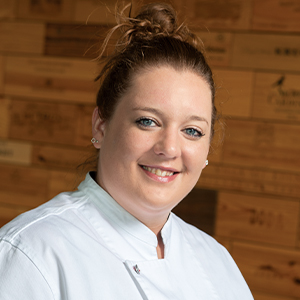 When my book club reserved a table last May for dinner at DMACC's Iowa Culinary Institute (ICI) in Ankeny, I had no idea what to expect. All we knew was that it was a five-course blind tasting with a menu by chef Katie Van Dyke and executed by the chef and her students at Des Moines Area Community College. Tickets sell out at a quick clip, so we were keeping a keen eye on the website (popupdinners.dmacc.edu) all spring. 
From the moment the first plate arrived—a locally sourced salad—we knew we were in for a treat. I followed up with Van Dyke soon after about her inspiration, background and proficiency with hearty proteins, flaky pastries, in-season plants and more. 
Van Dyke says she realized the "power of food" around age 8 during visits to her grandmother's home. "The intentionality she put into preparing a special meal for just the two of us meant the world," she says. "The ritual of choosing the ingredients, the smells that are created, the experience of tasting a variety of flavors and textures, and the conversations with the people you choose to share that meal with—it is all very spiritual to me."
After graduating from ICI in 2012, Van Dyke moved to Napa Valley to work at a Michelin-starred restaurant. While in California, she was exposed to fresh Asian ingredients as well as the bountiful West Coast produce, which inspires many of her recipes, including the one featured here. 
In fall 2019, Van Dyke returned to ICI as an adjunct instructor, and soon after launched the wine-pairing dinners that are open to the public. "This allows me to work closely with a few of the top students in the program to educate them on culinary techniques, service, discipline and teamwork," she says.
This holiday table-worthy salad recipe is reminiscent of how Van Dyke and her students might kick off one of those meals in the winter, and it's inspired by that teamwork concept, too. 
"The ingredients are one of my biggest inspirations," she says. "There are few moments more magical to me than biting into a perfect fruit or vegetable." And in this salad, the vibrant combination of sweet-tart cranberries with caramelized roasted veggies and an umami-rich homemade vinaigrette teams up to create one totally delicious bite. 
While some of the ingredients and flavors might be new to your repertoire—and far from the norm for your usual holiday menu—Van Dyke believes there's never been a better time to reframe your definition of "salad." 
"With Iowa winters being a time of yearning for warmth and comfort, I would recommend checking out your local grocery store's produce section in search of new ingredients," she says. "Creating recipes with diverse ingredients can be transportive, and the perfect remedy for a cold day."
---
Chef's Tips
Order online. "Crispy shallots are a super-common garnish sold at many Asian supermarkets," Van Dyke says, such as C Fresh (801 University Ave.). If you can't find those shallots or the shio koji (a fermented Japanese seasoning), instant dashi (also known as hon dashi, similar to Japanese bouillon), or golden balsamic vinegar in town, you can order all on Amazon.
Use almost any oil. For the dressing and for roasting, opt for any neutral oil such as canola or vegetable, Van Dyke suggests. Avoid olive oil, however, as its flavor profile doesn't fit this dish.
Prep ahead. Get a jump on this salad by simmering and blending the dressing up to seven days ahead. Store in the fridge to drizzle on this or any other salad throughout the week. 
Take your temperature. You can serve this salad warm or at room temperature, Van Dyke says.
---
Winter Vegetable Salad
Serves 4 to 6
Ingredients
1 cup cranberries (fresh or no-sugar-added frozen, thawed)
Canola or vegetable oil (see tips)
Salt
1 pound of Brussels sprouts, stemmed and sliced in half lengthwise
1 head purple cauliflower, sliced into medium florets (or use your favorite color—find options at Whole Foods and Trader Joe's)
2 medium delicata squash, stemmed, halved, seeded and sliced into 1/2-inch moons
3 radishes, stemmed and sliced thin
Crispy shallots (see tips)
3/4 to 1 cup golden balsamic vinaigrette (recipe below)
Directions
1. Fill a medium saucepan with 4 cups of water and bring to boil. 
2. Add cranberries and boil for 10 to 12 minutes, or until they begin to pop open.
3. Using a colander, strain the cranberries. Transfer to a bowl and refrigerate to chill.
4. Meanwhile, preheat the oven to 425 degrees.
5. On a foil-lined sheet pan, drizzle oil over Brussels sprouts and toss, season with salt and spread them into an even layer. Place sprouts in the oven to begin to roast and set a timer for 25 minutes.
6. While the sprouts cook, on a separate foil-lined sheet pan, toss the cauliflower florets with oil and salt. Spread out into an even layer. After the sprouts have been roasting for 10 minutes (timer should read 15 minutes left), add the cauliflower to the oven. 
7. While the sprouts and cauliflower continue to roast, on a final foil-lined sheet pan, toss the squash with oil and salt. Spread into an even layer. Five minutes after you added the cauliflower to the oven (timer should read 10 minutes), add the squash to the oven.
8. When the 25-minute timer rings, check the vegetables. Cook each pan until the vegetables on it are golden and fork-tender, then remove the pans to cool.
Golden Balsamic Vinaigrette
Yield: 1 1/2 cups
Note: You'll need to make a trip to an Asian market for the vinaigrette ingredients. 
Ingredients
1 cup shio koji*
1 cup mirin**
2 tablespoons instant dashi***
1 4-inch piece of ginger root, peeled and roughly chopped
1 medium shallot, peeled and roughly chopped
2 garlic cloves
1/4 cup golden balsamic vinegar
1/2 cup oil
Directions
1. In a medium saucepan over medium-high heat, add all of the ingredients except oil. Bring to a boil.
2. Reduce heat to a low simmer for 5 minutes. Remove pan from heat and allow to cool for 10 minutes. 
3. Pour into a blender. Turn the blender on low, then gradually work up to medium speed while slowly drizzling in the oil. Once the oil has been added, turn the blender on high to evenly combine.
4. Once everything is incorporated, place the vinaigrette in the refrigerator to chill fully. Refrigerate in an airtight container for up to seven days.
To assemble: Place the roasted vegetables in a large serving dish. Garnish with crispy shallots and radish. Toss with 1/2 cup of vinaigrette.
*Liquid shio koji is a traditional Japanese condiment that is salty, slightly sweet and lends a delicate rice fermentation flavor.
**Mirin is a lower-alcohol, higher-sugar sake that is sweet and savory all at once. Use the rest of the bottle in salad dressings or to toss with vegetables before cooking.
***Instant dashi is a smoky, salty, umami and sweet base that flavors broth. It's made with kombu (seaweed) and katsuobushi (dried bonito—tuna) flakes.