Mobile food trucks are used throughout the state to provide food to those in need in rural communities. This one is photographed at a site in North English, a town of a little over 1,000 people. 
Writer: Luke Manderfeld
Photographer: Joe Crimmings
Dawn Hamilton has been fighting food insecurity for more than a decade. It still breaks her heart when she sees her fellow citizens cry. She's the mayor of Malcom, a town of about 600 an hour east of Des Moines. These are her neighbors, her friends. And they need help. 
"There are some that come to us and say that we saved their life," Hamilton says. 
Hamilton isn't the only one who's witnessed the effect of food insecurity in rural communities, which typically don't have the same access to food and assistance as larger cities. 
Nationally, Feeding America found the country's rural counties had the highest percentage of food-insecure children—a staggering 84%—even though the poverty rates in Iowa's rural and urban counties are both about 11%. The pandemic exacerbated the issue. Feeding America projected that the percentage of food-insecure people in rural counties nationally rose nearly 2% last year (a higher rate than urban counties). 
Some of the need is served by brick-and-mortar food pantries around the state. But because of resource constraints—including a lack of money and volunteers—some communities don't have pantries. Or if they do, their access is limited. 
Mobile pantries are one of the solutions. For example, Hamilton partners with the Northeast Iowa Food Bank to deliver food from a large truck, branded with the food bank's logo and colors. While there is a brick-and-mortar food pantry in Malcom, it's only open on Thursdays. Hamilton's service, and others like it, helps fill that gap by setting up shop once a month. They offer everything from canned and dry goods to dairy products, stored in coolers set up in the back of the truck. 
"Our goal is that everyone looking for food has it," says Kim Guardado, director for the Hiawatha-based Food Reservoir at Hawkeye Area Community Action Program (HACAP), which serves eastern Iowa and also has a mobile food pantry program. "We would prefer that we set up brick-and-mortar pantries in every small town, but in some cases, there just aren't the resources to do that. So in those communities, that's where we'll step up and say we can do this." 
Barb Prather, executive director of the Northeast Iowa Food Bank in Waterloo, says the organization receives data from Feeding America and the University of Illinois, which pinpoint numbers down to a county level. But in the absence of quality data from 2020, much of the projections are based on 2019, Prather says. That has an obvious flaw. Prather said food banks have had to be ready for more-than-usual needs. 
"When you're used to seeing 150 families show up at your door, then there's 250 or 300, you have to be ready to react to that," she says.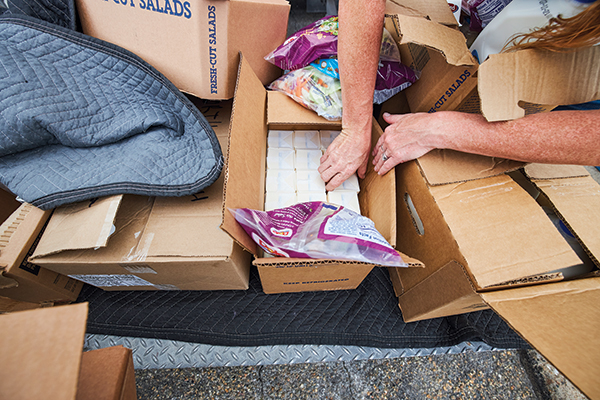 Volunteers are essential to the success of mobile food pantries. 
Rising to the Need 
According to Feeding America data from August 2020, 18.7% of Iowans struggled with hunger, up 7% pre-pandemic. Hamilton said the number of patrons who frequented her mobile food pantry jumped by about 30 or 40, significant considering the area's population. 
Some organizations had to change plans to serve those affected by the pandemic. That was the case for Olin, an eastern Iowa town of 800 people in Jones County (about 20 miles southeast of Anamosa). Because of low numbers before the pandemic—sometimes even as low as 10—HACAP decided to discontinue its mobile food pantry in 2019. 
But after Guardado communicated with the county's officials in spring 2020, it was clear there was a need. That was all Guardado needed to act. 
"I didn't need the data to prove it," Guardado says. "If there's a need in Olin, then we're going to figure out how to get it there." 
The mobile pantry launched in May 2020 and served 55 people, a number that spiked to 195 by July. The peak was January 2021, when 234 people used the pantry.
"We were just shocked by the number of people that were coming through," says Bob Andrlik, one of HACAP's mobile food pantry coordinators. "It had been so diminished [before the pandemic], almost down to single digits. So that showed the need was there, and the impact of the pandemic and how that struck rural communities." 
The number of users had eased a bit by this spring, Andrlik says, as vaccine rollout improved and the government provided more funds to programs like the Supplemental Nutrition Assistance Program (SNAP). 
A Humanizing Effort 
Mobile food pantries rely on volunteers, whether that's the local high school football team, a church congregation or a group of caring individuals. 
"We have a huge volunteer base in our community," Hamilton says about Malcolm. "Since the pandemic, we've had more people involved." 
In these communities, volunteers also help humanize food insecurity. There's still a stigma attached to hunger, particularly in towns where everyone knows everyone. But people like Andrlik and Hamilton go out of their way to make patrons feel comfortable. 
"Any time you have a mobile pantry, you build a relationship with the people coming through," Andrlik says. "We work with teachers to distribute food, and they [know] a lot of the people coming through. It was impactful for them to help families out." 
Hamilton added: "They're embarrassed, and they don't want to come here. We make them feel better. We laugh and joke with them. I don't make them feel any different. You don't know people's business. You need food, you're hungry. I'm going to give you food and keep you fed."