Available for $29.99 from The Foundry in West Des Moines, the Real Stuff has a silky smooth finish with notes of caramel and vanilla. 
Writer: Karla Walsh
Photographer: Duane Tinkey
If you think you can't handle spirits with stronger flavor profiles than vodka because you're familiar with Ron Swanson's super-peaty scotch from "Parks and Recreation" or can't keep up with the "Mad Men's" midday Manhattans, it's time to think again. 
"Brown spirits are somewhat of a mystery, mostly because there is a lot of noise in the industry related to marketing," explains Scott Bush, the founder of Foundry Distilling Co. in West Des Moines who is also the creator and former owner of Templeton Rye. "The underlying process is not exceedingly complex, though. It simply involves mashing grain, fermentation, distillation and barrel-aging." 
The spirits are surprisingly complex in terms of flavor profile and variety, however. Just as there are myriad grape flavors, growing regions and blends that produce a diverse array of wines, there are many different taste experiences and styles of brown spirits. To get a better sense of Des Moines' growing whiskey scene, we sat down with Bush, whiskey connoisseur and Bubba founding partner Chris Diebel, and Ziyad Rye founder and distiller Marquas Ashworth.
---
HAPPY HOUR WITH … THE PIONEER

Scott Bush
Founder of Foundry Distilling Co. in West Des Moines; creator and former owner of Templeton Rye
Tell us about how you first became involved with Templeton. 
My great-grandfather Frank Schroeder was born in Templeton and was one of the "not quite legal" producers of Templeton Rye during Prohibition. I had heard the family stories while I was growing up. After working at JPMorgan Chase in Chicago and New York after college, but feeling the itch to do something entrepreneurial, I started working on the legal version of Templeton Rye in 2002 when I was in business school at MIT Sloan.
What's your go-to whiskey drink?
I drink more wine than whiskey at home, actually, and typically only drink whiskey when we have guests. The beauty of brown spirits is introducing them to friends and enjoying them while catching up and having a conversation. There's no need to overthink it! When I'm out and about, there are some great cocktail bars in Des Moines, but I think we make the best cocktails in the city at our bar at the Foundry Distilling Co. My favorite drink is a glass of the Real Stuff (a smooth bourbon distilled at the Foundry with notes of caramel and vanilla and a silky smooth finish) with one ice cube.
I've heard from local businesses (like Bubba) and charities (like the Variety Club) that they're making custom bourbons with you. Can you tell us more about your make-your-own-barrel program? 
The Foundry Private Barrel Club is one of the most unique offerings in the industry. Individuals or groups work with our team and create around 200 bottles of their own special whiskey and learn a ton about how it is made along the way. One of our whiskey tastings is like auditing a college class, and joining our Private Barrel Club is like earning a degree in whiskey. We designed our distillery to be experiential. 
What has been the biggest lesson you've learned during your two decades of distilling?
It has been nearly 20 years since I started Templeton Rye, and I have seen thousands of new brands come about since. It can be overwhelming for consumers. I always tell people to just drink what they like. 
New Sip on the Scene
Foundry Distilling and Confluence Brewing are partnering to create a fusion of their flavors—Des Moines Malt Whiskey. Confluence is providing the wort from their popular Des Moines IPA, and the Foundry is distilling it into the hard stuff. Just a few hundred cases were produced; sample at release parties at both businesses Oct. 30 (check the businesses' websites for details). Find the product at the distillery; a limited amount is also available at retail outlets around the state.
---
HAPPY HOUR WITH … THE HOST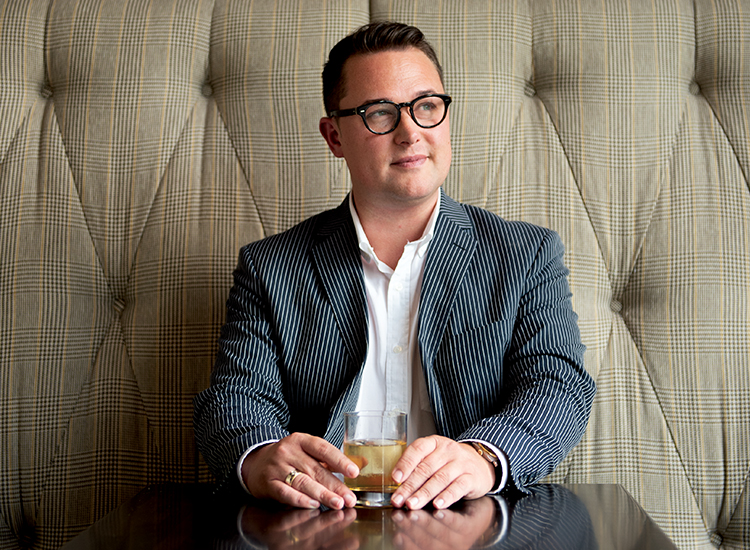 Chris Diebel
Founding partner of Bubba Southern Comforts 
You are incredible at introducing people to new whiskeys, and I've never been in a room with you when you didn't offer me a cool drink. Tell me a bit more about how your hospitality perspective and passion for whiskey coincide.
For me, whiskey and camaraderie are intertwined. Whether we are tasting the latest heirloom grains in a mash bill (the mix of grains used to make bourbon), or analyzing a new finishing technique, whiskey is most enjoyable when consumed with like-minded people who appreciate discussing the pros and cons of the latest bottle. 
When did you first fall in love with whiskey?
The first whiskey I gravitated towards was Maker's Mark. At 90 proof, it isn't as "hot" as many on the market. It has wheat in the mash bill, too, which adds to the smoothness. It remains a go-to for me throughout the year. Maker's is tasty neat or on the rocks, but affordable enough to mix in a cocktail. As I've learned more about the whiskey-making process, I've become more attentive to what I like and why. Over the years, I've grown to enjoy higher-proof whiskey that can stand up to an ice cube. In my opinion, lower-proofed whiskies quickly get overpowered by the dilution of ice.
So that's when you're drinking whiskey straight. How about your go-to cocktails?
I drink different cocktails seasonally. That might mean a lower-proof whiskey highball with a twist in the summer, compared to higher-proof Sazerac in the winter. If I were forced to choose just one, I'd probably go with a Black Manhattan. Instead of the sweet vermouth found in a classic Manhattan, it features Averna amaro (an Italian liqueur) for a less-sweet result that's more earthy and slightly bitter. Those who like their red wine to have hints of leather, tobacco and clove will enjoy this drink. At Bubba, our play on a Black Manhattan is called the Leather and Tobacco. We use house-made vanilla-tobacco bitters and finish it with an orange twist to add a little brightness. It's my go-to fall and winter drink. 
How much should we expect to invest in whiskey for our home bar?
I don't often keep whiskey in my house that costs more than $60 per bottle. I've been lucky to sample many three- and four-figure bottles, and I understand the thrill of the hunt that collectors experience. At Bubba, we work hard to offer a number of special-occasion offerings alongside everyday sippers. At home, I focus on purchasing whiskey that I feel comfortable drinking any day of the week. I love Basil Hayden, Eagle Rare and Russell's Reserve bourbons as well as Templeton Rye 6-Year, Pikesville, Sazerac and Whistle Pig ryes for sipping straight. For cocktails, there are plenty of great bottles under $30 that are ideal for mixing, like Bulleit, Elijah Craig and Four Roses.
Whiskey or whisky?
Whiskey and whisky are both correct, depending on where the spirit is made. Typically, brown spirits made in Scotland, Japan and Canada are "whisky" (no "e"), and Irish and U.S. versions are "whiskey."
---
HAPPY HOUR WITH … THE INNOVATOR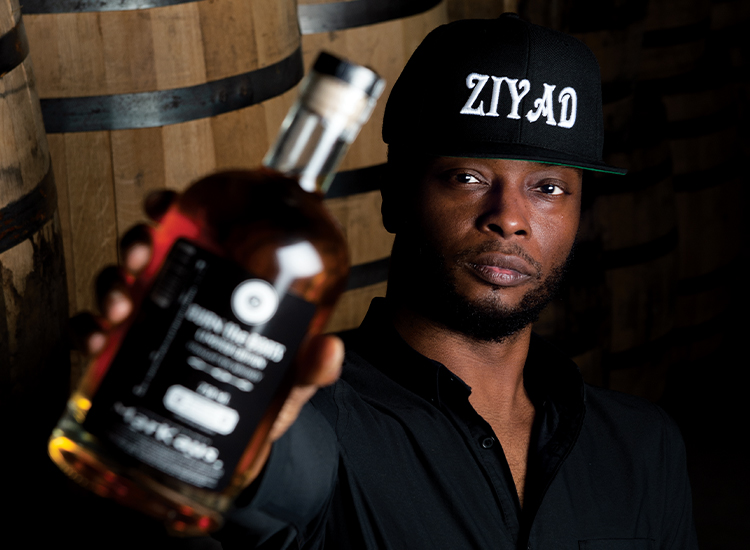 Marquas Ashworth
Ziyad Rye founder and musician who performs under the name Markaus
You founded Ziyad Rye in November 2017 as a nod to the historical mixture of music, spirits and community that Prohibition-era jazz speakeasies used to foster. Before that, you majored in marketing and sociology at Iowa State University and launched a record label, Media Fresh Records. In fact, I heard that you purchased the rights for your first rye recipe using money you earned from your first mixtape. Tell us more about this mashup.
Starting a rye company was something that I didn't expect, but it really goes hand in hand with my record label. As a musician, we're often selling the experience, story and essence of a good time—which is exactly what making good spirits is all about. My first product, White Rye, is the unaged version of the Burn the Boats straight rye whiskey we now sell. 
No wonder the label on each bottle of Ziyad Rye includes a download tag for a new song, video or private tasting. What a unique addition.
My brand, unlike a lot of others, is focused on culture. Our goal is to always provide an experience, rather than just a "drink." By making small batches, we can ensure every bottle gets the proper amount of love and attention. "Burn the Boats" is the name of one of my albums as well as one of our whiskey products. All of my albums and music will find a home on the bottles, and we definitely plan on doing tours and tastings of each product eventually. The pandemic hit during our biggest growth period, so we haven't been able to really move around the way we like, but do plan on hitting the road after things calm down.
"Ziyad" is named after a formerly enslaved North African man who later became a military general, which is said to embody cultural rebellion and revolution. What has it felt like as a fairly new and revolutionary player in the booming Iowa spirits market?
Rye is a great base for spirits; learning about the history of this state and whiskey led me to discover a lot about the uniqueness of the rye that's grown here. I've gotten some mixed reception for sure—there aren't many small-batch whiskey companies owned by Black people, especially without any major corporate co-signs or financial backing. I hope that the work I've put in inspires a new wave of entrepreneurs in this realm. The reality is more than just old white men like whiskey, and reaching those untapped markets has been a specialty of ours.
When you're not making music or mixing up a new batch of rye, what do you drink on your nights off? 
I prefer to drink our whiskey neat with one ice cube. My favorite cocktail is the "Immortal Surf Liner." In a shaker, add 2 ounces of Ziyad Rye Burn the Boats straight rye whiskey, 3/4 ounce orgeat (an almond-flavored syrup common in tiki drinks), 3/4 ounce lemon juice, 1 ounce pineapple juice, 2 dashes of cherry bitters and ice. Shake until frosty, then strain into a glass of crushed ice.
---
Whiskey or Whisky?
Whiskey and whiskey are both correct, depending on where the spirit it made. Typically, brown spirits made in Scotland, Japan and Canada are "whisky" (no "e"), and Irish and U.S. versions are "whiskey."
---
Find Your Perfect Pairing
With so many styles of whiskey available—and dozens to hundreds of brands on liquor store shelves—how do you even begin to narrow it down? 
Expert Chris Diebel, founding partner of Bubba Southern Comforts, encourages people to start with affordable products while they gain an understanding of their preferences and palate. For instance, visit a restaurant with a wide selection and try one or two. Next time, sample the next few. Take notes about what you do and don't enjoy, and snap photos of the blend percentages and ingredients listed on the bottles that you loved most. 
Think of qualities you enjoy in other foods and drinks, factor in the season, then use these tasting ideas to find your potential perfect match:
---
The Local Scoop
For whiskey by the bottle, these shops have stellar selections:
For a wide range of whiskey cocktails, pull up a chair at:
The next time you're in the neighborhood of any of these Iowa distilleries, stock up: