A "couples cake" from Dore Bakery combines a classic style with modern gold accents, plus a garnish of delicate macarons.
Writer: Karla Walsh
Photographer: Dera Burreson
Stylist: Sammy Mila
There was a lot of "something new" in the world of weddings in the past two years, but if you ask local bakers, a lot of their most popular requests are variations on themes that have already been en vogue. The mashup of retro and modern offers something unique, trendy and almost too beautiful to eat. But not quite. 
Read on for the inspiration behind these masterpieces and the trends that these cake aces (and pie, pastry and cookie pros) predict will continue to be big in 2022.
---
Doré Bakery
Requests for small "couples cakes" increased in 2020, says Nik Pugmire, executive pastry chef of Doré Bakery and the Port of Des Moines Event Group. He crafted the eye-catching cake (shown above) and its edible toppings from scratch. "Many couples are opting for a smaller, personal cake for display and for their pictures, then opting for a variety of different types of cake and desserts for their guests." 
Pugmire loves how intimate smaller-scale desserts can be: "A cake (shown above) like this is made specifically for the couple to celebrate their union. In the midst of a large celebration, it's one thing that is shared just between the two of them." 
The cake pictured above combines a classic style with modern gold accents (for a "sense of luxury, elegance and overall visual appeal," he says) plus a garnish of delicate macarons. The result is a vibrant fusion of classic culinary trends with aspects of modern art to offer "a nice balance between the past and the present, which I adore, knowing that a wedding is the start of a couple's future together," Pugmire says. 
---

Pie Bird Pies
"Pie is love, and pie is meant to be shared. Pride pies take that to a whole new level," says Kristen Daily, baker for Pie Bird Pies. She co-owns the business with her partner, Andrea Piekarczyk, who Daily declares is the crust queen. 
The couple began making these rainbow-hued pride pies (pictured above), a nod to the Progress Pride Flag designed by Daniel Quasar, during summer 2020 as a fundraiser for One Iowa's gala and silent auction. Beyond raising more than $7,000 to date for local LGBTQ nonprofits, these detailed lattice pies celebrate love of all kinds—and the fact that Iowa was among the first states to legalize same-sex marriage in 2009. 
"Sharing food has always been really important to Andrea and me," Daily says. "It's how we share love and connect to people, so being a part of and supporting our community through pie has quite literally been baked into our business since day one." 
The other two pies they share here are also flying out of their kitchen for wedding parties: "Hand pies were and continue to be a very popular wedding choice, especially during the pandemic, as they are individually packaged and easy to divvy up," Daily says. 
For the final, amazingly intricate pie that's stuffed with cardamom-scented cherries and apples, Piekarczyk flexed her artistic skills, which she loves doing for clients: "I think we could all use a little more care and beauty in our lives. An intricate pie like this is perfect for a wedding dessert centerpiece." 
---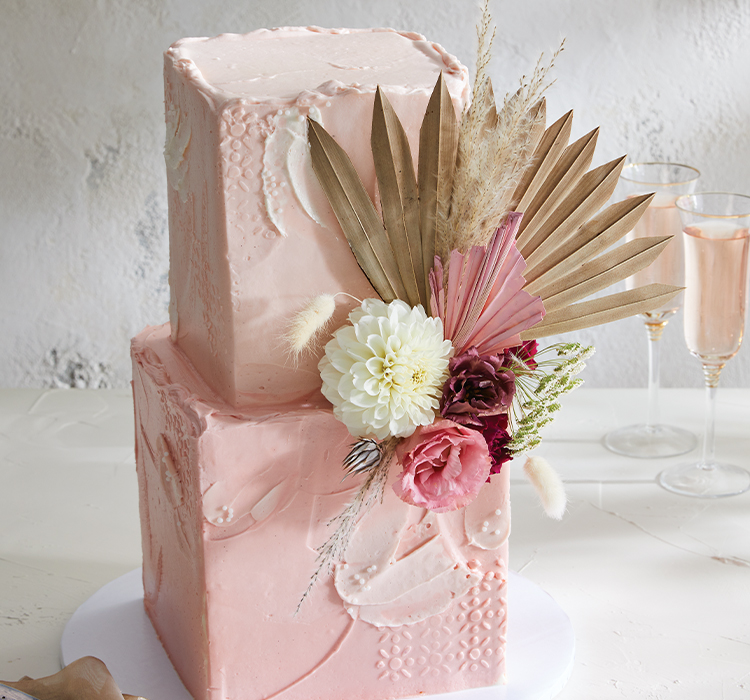 Crème Cupcake
"Blush tones have always gone in and out of popularity, and we love it when they come back around. The last two years, we have seen so many variations of the color, and every time it just looks so beautiful, romantic and warm," says Whitney Peter, head decorator and wedding coordinator at Crème Cupcake, who used florals from their Ingersoll Avenue neighbor, Wildflower, to give the cake shown above an all-natural flair. 
Beyond the hue, this creation is all about the details. First, the shape. "Square cakes gained popularity through social media in the last year and give a more modern feel. We especially love when the modern shape is paired with a more rustic and boho style," Peter explains. 
Modern wedding cakes are also about adding texture, she says: "I see it everywhere, whether it be the classic striped texture known as spatula round or a rough spoon texture. Our clients just can't get enough of it, and neither can we."
---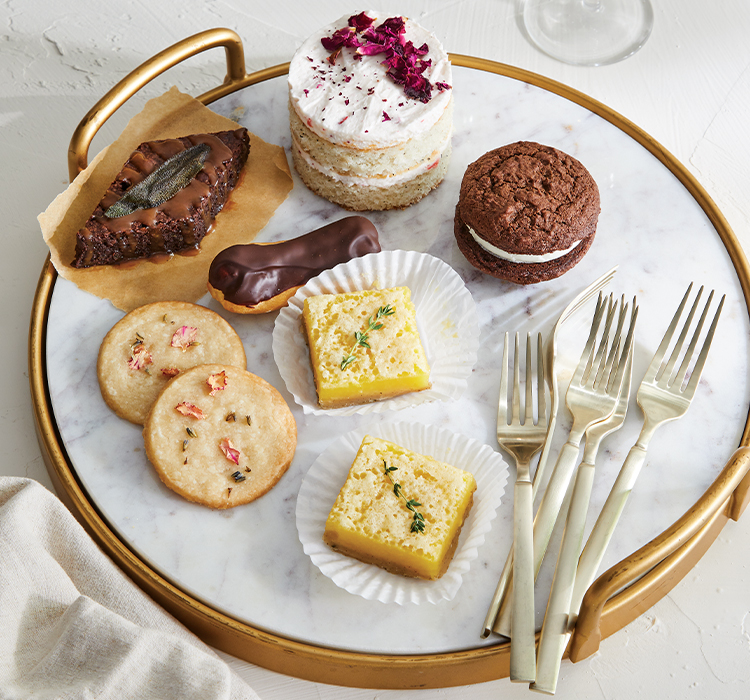 Bay Laurel Baking Co.
On its own or in tandem with a couples cake like the Doré design, mini dessert bars will continue to grow in popularity throughout 2022, predicts Rebekah Stuber, owner of Bay Laurel Baking Co. "Growing up in farm country in the Midwest, this is an idea dating back to church potluck weddings," she says. "Now it's become much more a part of the higher-end wedding culture, with fancier, manicured desserts, a sharp focus on presentation, and more interesting flavors. The pandemic really thrust this trend forward, and I don't see it going away anytime soon." 
Single-serving desserts can allow for beyond-cake options that accommodate a wide variety of food allergies and preferences, plus "it's more convenient for guests and catering staff than cutting and serving a large wedding cake," Stuber says. "It's also just super cute. What's not to love?" 
Just be sure to offer enough, Stuber says. Most people dance up such an appetite they'll want to try multiple items—especially if they're this layered with flavor. On Stuber's stunning spread (show above), you'll spot: 
A 2 1/2-inch round naked black rose tea cake filled with a raspberry-rose buttercream (Stuber's No. 1 bestseller).

 

A mini eclair stuffed with vanilla pastry cream and dipped in chocolate.

 

A chocolate whoopie pie, featuring cream filling sandwiched between two chocolate brownie cookies.

 

A browned butter-thyme lemon bar.

 

An edible flower-adorned orange blossom shortbread cookie.

 

A salted-sage caramel brownie.