Mindful walks on area bike trails are part of Julie Rice's routine. Here she's soaking in nature on the Clive Greenbelt Trail.
Writer: Rachel Vogel Quinn
Photographer: Duane Tinkey
If you're like many Americans, you may have the detritus of discarded habits stashed away somewhere—barely used running shoes, yoga mats, self-help books or vision boards that failed to change your life.
That's nothing to be ashamed of. When our to-do list starts reaching the length of a medieval scroll, where do we find the time—and the motivation—to start something new, no matter how good it might be for us?
These three women have the answer. In different life stages, they've all found ways to insert self-care smoothly into their daily routines. The benefits have transformed the way they think, feel and show up in the world.
Starting Small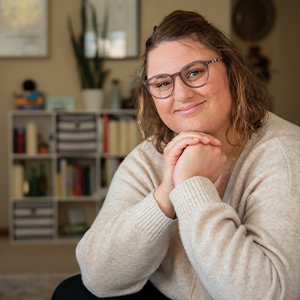 When McKenzie Kielman, 25, transitioned from college to the workplace a few years ago, she could tell it was time to commit to self-care. Part of a generation that was introduced to a mental health and wellness curriculum in middle and high school, Kielman wasn't stymied by the stigma surrounding such topics.
While reading "Atomic Habits" by James Clear, which she discovered through the Young Professionals Connection book club, Kielman learned that setting easy targets was the best strategy for success. She settled on three daily goals: Walk once around the block, write one word in her journal, and read one word from a book.
Nearly two years later, Kielman gets up every morning, stretches and throws on her tennis shoes for a walk around her Beaverdale neighborhood in what she calls her "kind of embarrassing pajamas." Some days she stays out for 15 minutes, other days for 45. Later, she sits down to read, followed by a journaling session to record the last thoughts on her mind before going to sleep.
Although she normally reads and writes much more than one word, the accommodating nature of her rules takes the pressure off, allowing Kielman to adapt the habits to the natural highs and lows of life.
"There's nothing that can really affect it," she says. "There's always going to be a page to write one sentence down, a book to read a bit of, and a place where I can walk for a minute."
Kielman says the habits add a consistency to her life that allows her to "show up in the best possible way" in her role as program manager with SPPG + Essman Research.
"It provides a framework to help me excel and keep moving forward every single day," she says.
Her new daily foundation offered reinforcement when the pandemic hit. Kielman started working remotely and moved back in with her parents for a few months, but the upheaval didn't faze her. While her friends struggled emotionally, Kielman was surprised by her peace of mind just three months into the routine.
Kielman's recommendation for those trudging through the first difficult weeks of a new habit: Keep reminding yourself why you're doing it—and how it aligns with your personal values. She theorizes that Midwestern humility and selflessness can sometimes get in the way of self-care.
"You have to fill your own cup, too. That's hard to admit. And it's hard to do," Kielman says. "Find the smallest possible way to do it. Then double down on it, and it will continue from there."
Sips of Self-Care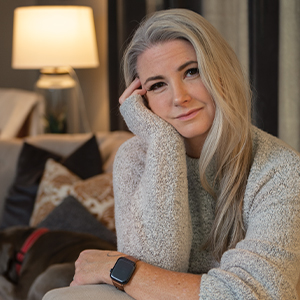 As a psychiatrist in the fourth year of her residency program at MercyOne, Dr. Tyler Van Milligen needs to be invested in what her patients are feeling, a commitment she calls both rewarding and exhausting. She sometimes works 24-hour on-call shifts, missing out on bedtime in Urbandale with her young daughters.
After having her third child during the pandemic and returning to work, Van Milligen, 37, says she felt she was "ramming tasks into an impossible timeline." She sat down with her husband to distribute the household workload more evenly. According to the Institute for Women's Policy Research, women in the United States spend 5.7 hours per day on unpaid household and care work—37% more than men.
"Because of our culture in America," Van Milligen explains, "women so often end up being the 'she-fault' parent."
The discussion gave Van Milligen's husband more insight into everything that's required to run a household. The shift improved the couple's communication and productivity at home. Van Milligen recommends that everyone, no matter their gender or relationship status, have a similar conversation with the person who is their biggest support system.
"Finding balance where you can and true connectedness with your partner, with whoever you share your life with, is so helpful and wonderful," she says.
Although the adjusted household routine eased some of her stress, Van Milligen still felt pulled in "a thousand different directions." Since her schedule itself couldn't change, she wanted to make use of the limited time she had to care for her mental health.
The result is a practice Van Milligen calls "time confetti" and "sips of self-care." Whenever she has a few extra minutes in her day—between Zoom meetings or before starting her car for her commute—she does something for herself, even if it's just a few deep breaths. Somedays, she has time to fit in a five-minute meditation, a quick chat with a friend, or a short scroll through Pinterest to get fun ideas for the kids.
Although she hasn't cut back on other priorities, Van Milligen now feels there's more time in her day. Rather than thinking about everything she has to do, she's able to be more fully present in each moment, whether it's playing with her daughters or working with a patient.
Van Milligen says mental health is often seen as a luxury in our society. But, as a psychiatrist, she knows it's just as important as any other realm of health care.
"The brain is an organ," she says. "It needs to be cared for like we would any other part of our body."
Walking With Purpose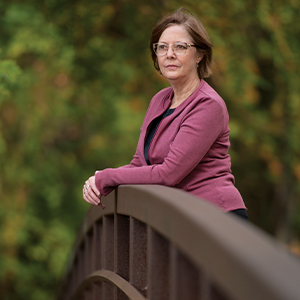 Julie Rice, 54, started practicing yoga more than two decades ago to deal with the stress of being a parent. But she wanted to feel the same way off the mat as she did while she was on it. After talking to her teacher, she began practicing moments of mindfulness throughout the day, closing her eyes to take a breath and be physically present in the moment.
The strategy was especially helpful over the past few years, as Rice earned a graduate degree and a temporary licensed mental health counselor credential. She was hired as an outpatient behavioral health therapist at Broadlawns Medical Center in June.
The transition to her new career was eased by daily mindfulness walks along the bike path near her Des Moines home. For the first half of the walk, Rice releases stress with each step, paying attention to her thoughts and feelings without judging them. During the second half, she soaks up the nature around her.
"It's intentional and purposeful," Rice says. "I use it for the purpose of creating a change rather than going on a walk and hoping for the best."
The walks are an extension of Rice's daily meditation habit. When she started the practice 18 years ago, she was easily distracted and kept checking the clock. She would repeat quotes, positive statements and mantras to stay focused on the moment. Now Rice can slip into meditation in as little as two minutes, "coming into that zone of quiet and allowing thoughts to float," as she describes it.
The National Institutes of Health reports that meditation may reduce blood pressure, anxiety, depression and insomnia. Rice says the practice has helped her "respond rather than react to the world." She has more compassion for herself and others, including her patients.
Self-criticism contributes to the cycle of stress, Rice explains. But mindfulness is an "invitation to look at ourselves in a different way."
"We're all doing the best we can," she adds. "And sometimes 'good enough' is really OK."
Other Positive Habits for Mental Health
If you're ready to start a mental wellness routine, consider one of the practices below. Remember to start small, be patient and give yourself grace. A 2009 study by University College London researcher Phillippa Lally found that it takes an average of 66 days for a new behavior to become automatic.
List the moments, people and things you are grateful for each day.
Question whether negative thoughts about yourself are actually true.
Set aside a specific place and time to worry, rather than letting it happen throughout the day.
Maintain regular social connection with friends and loved ones.
Take care of your body with consistent sleep, exercise and a healthy diet.