Beer-braised short ribs with Kolsch risotto.
Writer: Karla Walsh
Photographer: Duane Tinkey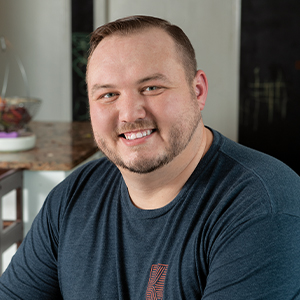 The photos Grant Gillon shares on his Instagram account, @dsmhomecook, might make it look like he's been cooking his entire life. But he didn't start until his late 20s, when a popular YouTube cooking channel, "Binging With Babish," came into his life.
"I was going through a divorce … and found myself tossing and turning all night with a million different things running through my head. I was struggling to sleep and scrolling through YouTube when I discovered 'Binging With Babish,'" Gillon recalls. "His storytelling teaching style, and overall vibe, absolutely sucked me in."
Gillon credits host Andrew Rea (Babish) "with saving me from what could have been a devastating spiral, and giving me a new avenue to express myself," he says. Then, after months of sharing food photos on social media, his now wife, Emily, talked him into creating his food-focused Instagram account.
"This new love of cooking allowed me to connect more deeply with my friends and even helped me make new ones along the way," he says.
It's also allowed him to land his dream job after being laid off from his sales position early in the pandemic. The Kinship Brewing Co. team sent him a direct message after "liking" several of his food posts and asked if he had an interest in being the on-staff chef.
While Gillon enjoyed cooking as a hobby, "I wasn't super interested in making a career out of it," he says. Still he met with Kinship owner Zach Dobeck, and they talked about Gillon's background in sales and the relationships he had developed in the restaurant/bar industry. Dobeck told Gillon, "I don't know exactly where we will fit you in here, but I want you to be a part of this team," Gillon recalls.
Instead of being Kinship's chef, Gillon focuses on sales and marketing; since November 2020, he has been selling Kinship beers to local retailers and restaurants. When he's off the clock, he combines all of his passions by cooking with Kinship—as he does in the succulent braised short ribs pictured above. Find the recipe below.
---
Secrets for Success
Before trying the recipe for these beer-braised ribs, consider Gillon's tips.
Go Dutch. A Dutch oven—Gillon prefers an enameled version like Le Creuset or Lodge—will aid in heat retention as the ribs cook and as you enjoy the meal.
Don't skip the sear. This step adds depth to the finished product.
Clean that leek. "These vegetables are generally grown in silty, sandy soil and that will get trapped between the leaves. Before cooking with leeks, I pull back each layer of the stalk and run under cold water," Gillon says. "You can also soak in water for about 10 minutes, agitating every couple minutes."
Mix it up. Swap in any fresh herbs and sturdy seasonal vegetables you like; think of the quantities as a foundation for you to build on.
Love your leftovers. If you're lucky enough to have extra ribs, "they're great as tacos. Reheat the meat, chop or shred it, then stuff inside tortillas with your favorite taco toppings," Gillon suggests.
---
Beer-Braised Short Ribs
Serves: 4 to 6
4 pounds bone-in beef short ribs
Salt and freshly ground pepper
2 tablespoons vegetable oil
1 large onion, chopped
4 to 6 cloves garlic, minced
1 leek, cleaned and chopped
2 carrots, peeled and chopped
2 celery stalks, chopped
1 tablespoon all-purpose flour
2 cups Kinship Dark Lager
3 cups beef broth
2 tablespoons brown sugar
2 bay leaves
2 sprigs rosemary
4 to 5 sprigs fresh sage
5 sprigs fresh thyme
1 tablespoon Dijon mustard
1. Preheat oven to 300 degrees.
2. Pat the short ribs dry with a paper towel and season generously with salt and pepper.
3. Add oil to a Dutch oven over medium heat. Brown the short ribs on all sides, about 2 to 3 minutes per side. Remove browned short ribs to a plate and discard most of the fat, leaving about 2 tablespoons in the pot.
4. Lower heat to medium, then add the onions, garlic, carrots, celery and leeks. Cook until soft and fragrant, about 3 minutes. Add the flour and cook, stirring constantly.
5. Deglaze the pot with the dark lager and broth. Scrape up the bits on the bottom of the pot.
6. Stir in the brown sugar, bay leaves, sage, rosemary and thyme sprigs. Add the short ribs and bring to a boil. Once boiling, cover and transfer to oven.
7. Cook until the short ribs are tender, about 3 hours. To test for doneness, insert a fork into the top of a rib and turn it. If it starts to shred, the beef is done. Serve over Kolsch Risotto (see recipe below), polenta or mashed potatoes.
---
Kolsch Risotto
Serves: 6
Ingredients
4 cups chicken stock
1 tablespoon olive oil
1 small shallot, finely diced
2 cups of arborio or carnaroli rice
1/2 cup Kinship Kolsch
1/4 cup Parmesan cheese, shredded
Directions
1. To a large pot or Dutch oven over medium-low heat, add chicken stock.
2. To a high-walled stainless steel saucepan over medium heat, add olive oil and shallot. Once translucent, add rice and "toast" it for 1 to 2 minutes, stirring constantly with a wooden spoon or spatula.
3. Add Kinship Kolsch to the pan to deglaze, scraping up any bits at the bottom of the pan.
4. Add one or two ladles of warm chicken stock to rice mixture, stirring constantly until the risotto is thick enough you can drag a wooden spoon across the bottom of the pot and no liquid escapes into the trail of the spoon.
5. Add one or two ladles more and repeat until the risotto is al dente, or "with a bite," and the stock is mostly used up.
6. Remove from the heat and use a spatula to fold in Parmesan cheese.