What are you most excited about in your industry?
As supply issues start to ease and lumber prices re-level, we're excited to see homeowners return to renovation mode. Not only does the ReStore provide high-quality flooring, appliances, paint and materials for DIYers, but donations from those undertaking home renovations are key to our work. Homeowners can keep their gently-used appliances, cabinets and other home goods out of a landfill and help support Habitat's mission to build homes, communities and hope.
Our donation truck can help make large item donations easy, and our kitchen cabinet removal program makes a kitchen renovation a snap! Our staff and skilled volunteers will remove qualifying cabinet sets quickly, safely and cleanly, leaving a blank canvas for homeowner updates. Those cabinets are then sold at the ReStore, with every dollar returning to Habitat's mission.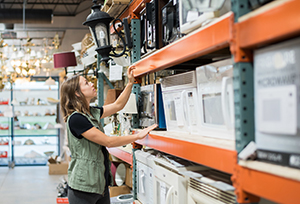 What is something you love to implement in your projects but may be overlooked?
There are two things that homeowners often overlook when they're working on an exciting home project. First, what's going to happen with the stuff you're replacing? For example, if you're overhauling a kitchen, you're likely to replace everything from your refrigerator to your cabinets. Waste disposal or recycling can be costly and cumbersome, but there's another way: donation! At the Habitat for Humanity ReStore, we will take your gently-used appliances, cabinets, building materials and more. We sell those products to customers working on their own homes, giving those items new life.
The second thing that renovators sometimes overlook is how a vintage or upcycled piece can add a "wow factor" and a conversation piece to their project. What warmth could an antique cast iron stove bring to your new living room? How could you light up your new dining room with a vintage midcentury modern chandelier? You never know what you'll find at the ReStore, but you know you'll find a treasure.
What are some common tips you give clients for a remodel, landscape, design or build?
When a homeowner is starting a kitchen remodel, they should call us first! Our kitchen cabinet deconstruction program can save them money, time, and trouble. If a cabinet set is approved for the program, we will send a crew of trained, skilled volunteers led by GDM Habitat for Humanity staff to remove the cabinets. They work quickly, cleanly and safely, and once the cabinets have been removed, they're taken to one of our ReStore locations for resale.
The deconstruction program saves homeowners the time, hassle and hard work of demolition within their kitchen, and sends their cabinets to be used in another homeowner's home. This program feeds Habitat for Humanity's mission to create and maintain affordable homeownership, allowing homeowners to purchase gently used cabinet sets at affordable prices and driving revenue toward our homeownership, home repair and homebuyer counseling programs. It really is a win-win-win opportunity!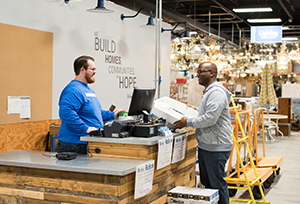 How can I make my design, remodel, build or landscape stand out?
We're still weathering the storm of supply chain delays, persistent "out of stock" notices, and inventory gaps, so it's a great time to focus on an old adage: reduce, reuse, recycle! Updating your home doesn't have to mean a total overhaul—some fresh paint, new tile or flooring, and a new rug can give a whole new vibe to a room. Simple changes can also mean simple work for a DIYer. At the ReStore, we stock all kinds of products that can help homeowners give their home a glow up without the headaches of a do-over.
If a homeowner does undertake a more comprehensive update, though, the ReStore can be a perfect resource to stretch a budget further. We carry new, name-brand appliances with factory warranties—for hundreds or even thousands of dollars off of normal retail price. Once a new, ReStore-purchased fridge, oven, or washer is in place, you can donate your old appliances to give them a new life and help create affordable homeownership for others.
Find out more information about the Greater Des Moines Habitat for Humanity ReStore online at gdmhabitat.org/restore.