The Hotel San Jose in Austin. Photography courtesy of Visit Austin: Hannah Koehler.
Writer: Patrick Beach
Two things about Austin: Someone famously said the city likes to think of itself as Paris in the 1920s, and is that ever true. At the same time people will tell you Austin stopped being special about three days before you got to town. Austin is boastful because it's in Texas but pines for an idealized and nonexistent past when everyone was prettier and the Shiner Bock was colder. 
The summers here feel like you're trapped under a wet serape and the traffic will always be hideous, but the city still has its charms. Plus, there are affordable twice-weekly flights from Des Moines to Austin on Allegiant. Here's how to make the most of your time during a long weekend in the state's capital city.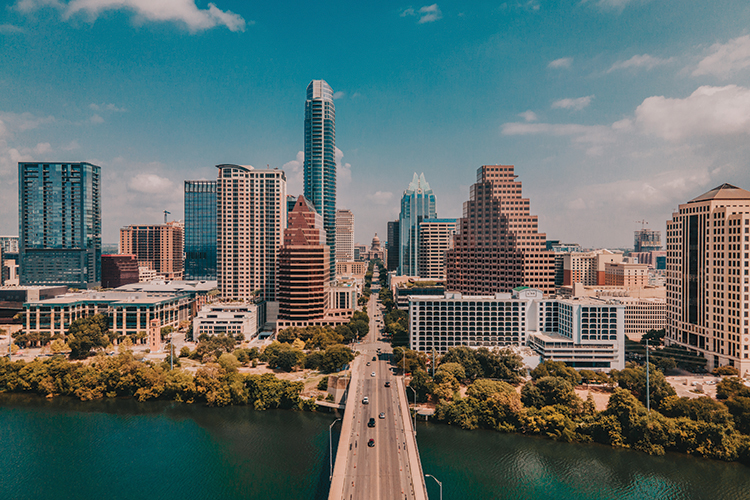 The Congress Avenue Bridge crosses the Colorado River in Austin, leading into downtown and to the Capitol. Just south of the river, the vibrant and walkable South Congress district is a popular visitor draw, full of boutiques, restaurants, art galleries and more. Photography courtesy of Visit Austin: Chase Daniel.
Thursday
Make your hub South Congress Avenue, located across the Colorado River from the downtown business district and the Capitol building. Check into the Hotel San Jose (pictured above) in the heart of the walkable area. It's got a small pool, a shady courtyard, custom-made kimonos in the rooms, and typewriters and Polaroid cameras you can borrow. It's also next door to Jo's Hot Coffee Good Food, which is known for its "I Love You So Much" graffiti on the north-facing exterior wall. Fine coffee and casual cuisine, too. 
South Congress used to be little more than muffler shops and a handful of sketchy beer joints. These days it's loaded with high-end boutiques, fine and casual dining, art galleries and curiosity shops. Save yourself the headache of hunting for parking and just stroll. 
For lunch, try Home Slice Pizza for New York-style pie. Better yet, if you can stand to wait potentially for hours, Franklin Barbecue (about 2 miles northeast of the South Congress district) really is that good, particularly the brisket and pulled pork. Get there early. 
Strictly speaking, the river separating North and South Austin is a lake because it's dammed. Depending on what time of year you're here, it's possible to see the sundown bat emergence under the Ann Richards Congress Avenue Bridge. The bridge is basically a maternity ward, with some 750,000 Mexican freetail bats. You can see columns of bats flying downriver to feed each night. 
For dinner, stroll up Congress toward the state Capitol to Cooper's Old Time Pit Bar-B-Que for a huge pork chop. Running counter to the canonical low-and-slow barbecue method, Cooper's cooks relatively hot and fast. It's also the only barbecue joint I've been to that offers valet parking. 
For a Thursday night hang, check out the storied Continental Club, across the street from Hotel San Jose. It's authentically retro (translation: it's old) in a non-kitschy way. You won't hear many electronic beats and bleeps pulsing from the stage, but pretty much anything else goes. Touring acts like Jason Isbell and Robert Plant have been known to stop by to sit in with whoever's onstage.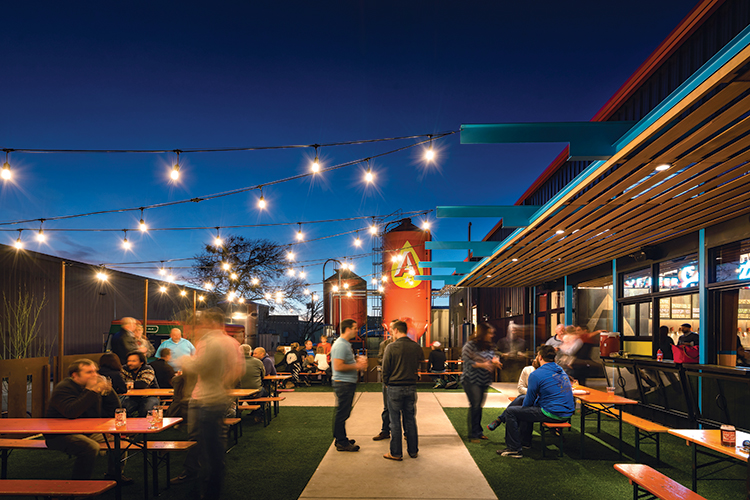 Austin Beerworks. Photography courtesy of Visit Austin: Chase Daniel.
Friday
Step over to Jo's for coffee and a migas breakfast taco. Stroll to the south bank of the river and head west on the hike-and-bike trail at Vic Mathias Shores, a spacious park. Check out the Stevie Ray Vaughan statue, Stratocaster at the ready, and then head to Austin's most storied swimming hole, Barton Springs, where the water is close to a constant 68 degrees—glorious relief in the dead of summer. The walk is maybe a mile from the shore. You'll also be right by the Umlauf Sculpture Garden, where you can view nearly 60 works by American sculptor Charles Umlauf. 
For lunch you could grab a Mighty Cone from their trailer on Barton Springs Road. It's a tortilla cone coated in corn flakes and filled with chicken, avocado or more barbecue.
Thirsty yet? Like much of the country, Austin has no shortage of breweries popping up all over town. To sample the scene, start in North Austin. The area has become essentially a second downtown, one of the hubs of the city's tech economy and home to loads of breweries. Adelbert's, Austin Beerworks and Celis are within blocks of each other. Celis' legacy is especially storied: Christine Celis runs the brand her late father, Belgian immigrant Pierre Celis, founded. In his home country he's revered for single-handedly saving the Belgian white style. 
At the southwest edge of town, the most scenic brewery by far is Jester King, which sits on 165 acres near Texas Hill Country. They make tremendous Belgian farmhouse ales and other beers, food is available, and if you time your visit right, you might see the goats moving from one pasture to the other. They also run cattle. It's a relaxing, mostly outdoor spot and they sell potables to go. Their Death Metal imperial stout is the best I've ever had. 
You can also visit the countless breweries, wineries and distilleries just a few miles west of town toward Johnson City and Fredericksburg, which is roughly two hours away. Chartered bus tours are available if you plan ahead. Tours of Garrison Bros.—the first legal post-Prohibition bourbon distillery in Texas—almost always sell out. 
Consider two options for dinner—one high, one middle. The acclaimed Fonda San Miguel on North Loop Boulevard specializes in refined specialties from the interior of Mexico. Start with the huitlacoche (corn smut; it's delicious, trust me) quesadillas, and order the duck enchiladas in a poblano-spinach sauce next. The other option is Maudie's Tex-Mex, which has six locations. Try the Enchiladas Perfecto, three cheese enchiladas topped with chili con carne and diced onion. 
For a true honky tonk/Texas dance hall experience, scoot your boot into the Broken Spoke in South Austin and see who's playing. (Mick Jagger stopped in when the Rolling Stones were in town last November.) As you step through the front door, there's a small museum to your left before you enter the low-ceilinged dance hall, where cowboys and cowgirls in their weekend night finery will be dancing as if they've practiced, which they have. If you go early you can get free line dancing classes. Even if you don't care about country music, this isn't a place you'll want to miss.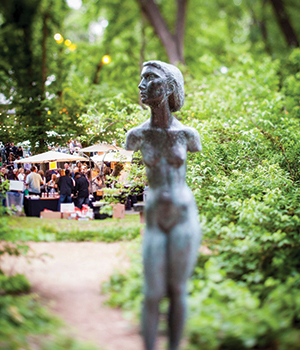 Saturday
Make it an arts and culture day. For a taste of how proud Texans are of their state, take a guided tour of the Capitol. Even the door hinges are stamped with the Lone Star. Weekend tours start at 12:30 and the last one begins at 3:30. 
In the "more of the same" department, you're just a bit south of the Bob Bullock Texas State History Museum, which hosts special exhibits and has an Imax theater. From there you're right across the street from the University of Texas Blanton Museum of Art, known for its contemporary American and Latin works, European paintings, and prints and drawings. 
In the afternoon, head to what's arguably the best view of downtown and the Hill Country to the west: Mount Bonnell in Northwest Austin. Be prepared to climb 106 steps. It's worth it, particularly around sundown. 
Back near South Congress for dinner, you can't go wrong with Curra's Grill Oltorf for ceviche, cochinita pibil and an avocado margarita. When in Rome… 
Sixth Street east of Congress is going to be hopping, but honestly it's mostly cover bands, shot bars and frat boys. See who's playing at Antone's Nightclub on East Fifth, the city's storied "home of the blues" just a block away. Or check out Red River Street, which intersects with Sixth. 
Sunday
Time to repent for Saturday night, sinner. Head over to Stubb's Bar-B-Q downtown for their gospel brunch. It's a buffet and kind of pricey (about $30 before drinks) but they have amazing bands on the inside stage. 
Off to the airport. Check out the huge guitars around baggage claim, all decorated by local artists. Listen to the music, all by local artists. Maybe grab something to go for your flight; almost all the food is local. 
Hope y'all had a good time. 
Iowa native Patrick Beach is a former Des Moines Register reporter who now lives in Austin.