Left: Boonie Boone fabricates modern furniture, architectual elements and more in his Des Moines workshop. Right: This new patented chair from Factor Fabrication is designed in eight parts and named DS-8 in honor of the Dutch art movement "De Stijl," which was founded by Piet Mondrian and Theo van Doesberg. 
Writer: James Augustus Baggett
Photographer: Bethany Kohoutek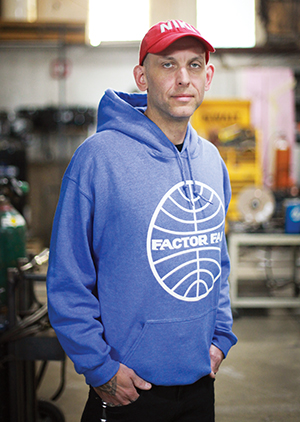 Artisan welder Boonie Boone knows a thing or two about thriving when life throws you a curveball. Boone, 42, is the owner and visionary behind Factor Fabrication, a company that creates simple, significant furniture and architectural pieces built to be handed down for generations. 
He named the company he launched with his wife, Bethany Kohoutek, in recognition of a life-changing event he experienced in 2008 at age 29, when he was hospitalized with a pulmonary embolism caused by a mutation called Factor 20210, a rare genetic predisposition to blood clots. 
"I was sitting at home in Boone with what was first diagnosed as pneumonia," he says. "I had a few restless nights where I just couldn't get comfortable lying down due to chest pains. One afternoon while on the phone with a colleague, I fell short of breath and had to get off the phone. My folks lived just down the road and luckily my mother rushed me up to the emergency room. I flatlined for a bit and woke up in a daze to about a dozen people over me." 
Once he was fully awake, he was flown to Iowa Methodist Medical Center in Des Moines. "A day in the ICU, a few more in the hospital, and they were able to break up the blood clot in my lung," he says.
Start in Music
A native of Madrid, Iowa, Nathaniel "Boonie" Boone studied journalism at Iowa State University, where he says he "conned" his way into the local band Why Make Clocks. "I was a sound engineer at the Maintenance Shop while at ISU and answered yes when one of the other techs asked, 'Don't you play bass?' I did, in fact, own a bass, but to say I was accomplished was an absolute lie," he recalls. "But, within a year or so, I recorded with them and found myself traveling the country in a Ford Econoline, gigging and seeing what true freedom really could be." 
While at Iowa State, Boone did catering and eventually started working in hospitality at concert venues backstage, stocking dressing rooms and icing down bus wells at the end of shows. "The hours were long and laborious, but the excitement of working backstage as a teenager wasn't lost on me," he says. "In fact, I was flown to Chicago to work a big two-night The Who show at the United Center over Halloween in 1996." After graduation, Boone realized that the earnings potential of his dream job as a music critic wouldn't be very promising.
"Taking a position in Des Moines as a fabricator was meant to be short-term employment, but it turned into a full-fledged career," he says. Today, his company specializes in furniture, staircases, railings, fencing, gates, doors and custom wood-and-steel environments; each piece is hand-built in their Des Moines shop. The business works closely with homeowners, architects, interior designers, landscape designers, builders and contractors to bring a project's creative vision to life. 
Custom Work
Boone's custom work can be seen all around Central Iowa. Recent commercial and builder clients include Raygun, Planet Fitness, Orton Homes, Oakwood Builders Group, Pure Style Homes, the Stelter Co., Walmart and Lowe's, as well as notable restaurants such as Alba, Harbinger, Americana and Eatery A.
"When we were building the new Raygun in [the] East Village, we noticed the space had stairs and a mezzanine," says owner Mike Draper. "People falling off those can be bad for business, so we decided to put in a railing that would not only stop people from falling but would also look good. I called Boonie and he took care of it. Easy to work with, phenomenal design and welding, installation went great. It looks awesome." 
In 2015, after four years of development, Factor Fabrication launched its first furniture collection. Boone and Kohoutek created a line of steel table legs that allow customers to easily add the tabletop of their own choice. The line has expanded to include chairs, benches and more. 
"We source all of our salvaged wood regionally and strive to support area businesses, artists and craftspeople to help create a more vibrant and sustainable local economy," Boone says. This year, he will introduce his first patented design for a decidedly Modernist chair that evokes two of his design inspirations, Piet Mondrian and Le Corbusier.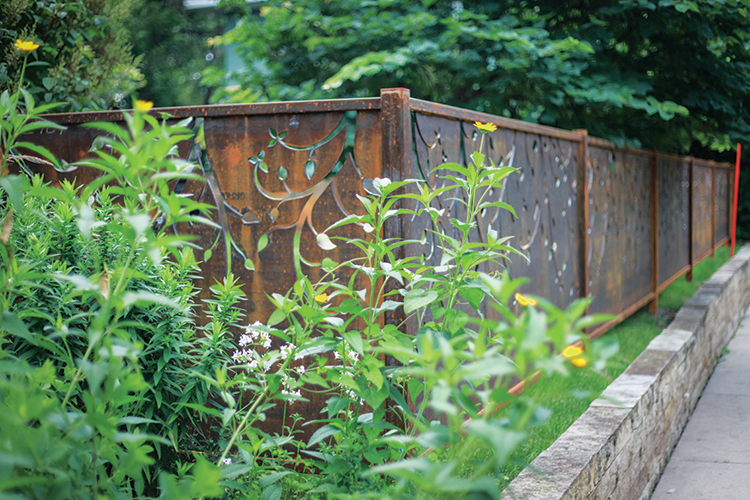 The custom-built Corten perimeter fence creates a dramatic backdrop for a Des Moines residence.
Client Focus
Boone thrives working with clients. "Boonie and I have collaborated to bring a design project to life in my home," says horticulturist and garden book author Kelly Norris. "My fascination with the patterns and shapes of iris leaves led to me tracing pressed specimens that would become a steel railing around the second-floor stairwell of my home. 
"His craftsmanship and eye for details elevated the finished product," Norris adds. "While it may have started with my idea, it became reality because of Boonie's talents, blurring the line between art and craft. He's one of my favorite collaborators." 
When he's not driving his kids Lola, 8, and Strummer, 11, to music and swimming lessons, Boone is likely to be practicing martial arts (Brazilian jiujitsu), playing and recording music with his former bandmates, and indulging in his passion for fast cars. 
"I'm obsessed with Formula 1 and sports car racing," he says. "There's no such thing as 'free time,' but when I am able to choose what I'd like to do, it's either working on our endurance car, planning for an upcoming race, reading about racing history, delving into a technical aspect of a certain car or watching a race." 
Boone finds satisfaction in his work when he sees the reaction of his clients. "The appeal is being able to perform processes and build items not everybody is able to do," he says. "The challenge is meeting or beating expectations; that's never been the easiest of tasks. But the reward, when a client is overwhelmed with joy, truly is a tremendous feeling."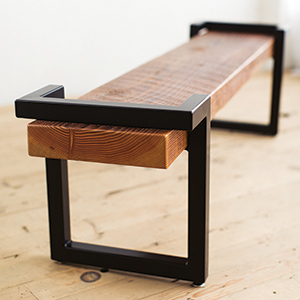 Reclaimed barn wood contrasts with steel legs on this midcentury-inspired bench.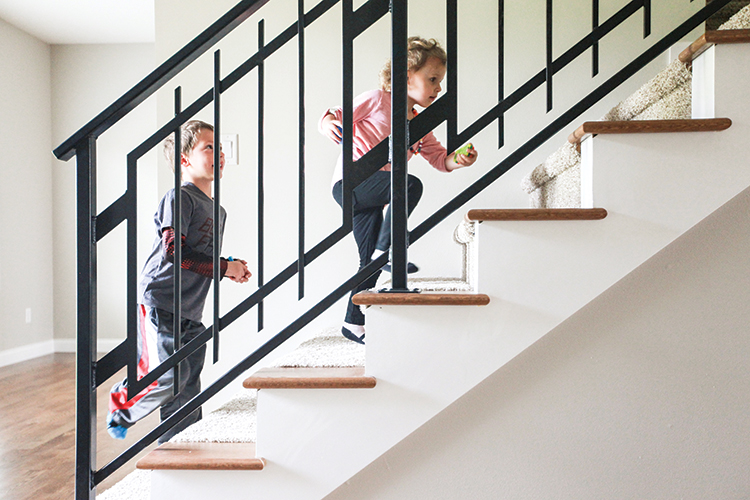 Railings such as in this Cedar Rapids residence are part of Boone's repertoire.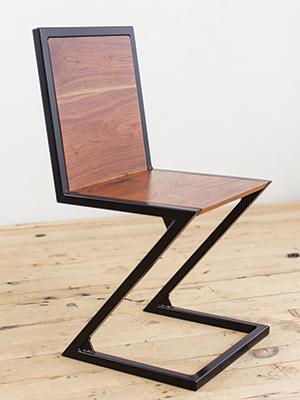 Boone's take on Dutch designer Gerrit Rietveld's Zig Zag chair.