The Old Capitol on the Pentacrest. Photography courtesy of thinkiowacity.com.
Writer: Beth Eslinger
If you're a Hawkeye fan—and even if you're not—Iowa City has a lot going on. Hosting the big Cy-Hawk football game Sept. 10 and an additional five home games this season, the city is not only a magnet for fans of the gridiron and other sports but also for those who love food and dining, arts and entertainment, and boutique stays and shops. Here's our guide for an action-packed weekend.
Stay Your Way
If you're looking to park it downtown, the Graduate Iowa City hotel is our favorite option for a walkable weekend, and it's just 20 minutes from Kinnick. The space is decked in Hawkeye regalia, including vintage-look wrestling posters and silhouettes of Gene Wilder, who attended school here. New this spring, a food hall concept serves up eight new-to-Iowa restaurants from the hotel kitchen. Order from menus of Insta-worthy sushi, spicy chicken sandwiches, savory burgers and more to enjoy with a drink in the hotel bar. The Graduate is right on the ped mall, so expect late-night revelers and early-morning tailgaters if you're here on a game weekend.
For an option that's outside of the main action, check out the Highlander Hotel off Interstate 80. In its previous life, the inn and supper club hosted the likes of Joan Baez, Mickey Mantle and Arnold Palmer. Today the hip boutique hotel celebrates its vintage roots through the decor and attractions. Spin vinyl, play old-school board games, swim in the chic pool and order drinks such as a Strawberry Fields, a gin fizz with berry puree. Keep your vehicle parked here and book a ride-share to see the city on foot. There are also several bed-and-breakfasts downtown.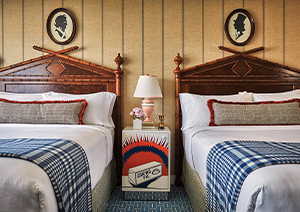 Graduate Iowa City. Photography courtesy of Graduate Iowa City and thinkiowacity.com.
Savor Northside Flavors
In the Northside neighborhood (just north of downtown), the Webster recently opened and serves elevated American cuisine such as wagyu beef tartare and whole Wisconsin trout with beets, dill and buttermilk. It's run by chef Sam Gelman, who worked at Mofongo in New York City under celebrity chef David Chang before returning home to Iowa City; the menu changes daily.
Less than a block away, Goosetown Cafe is a perfect brunch spot. Try the yogurt with bee pollen and scratch-made granola, or order a dinner of pasta with a glass of wine from their extensive selection. If you've had a bit too much tailgating and need something comforting, head to Bluebird Diner for breakfast all day with staples such as omelets and eggs Benedict; Wild Culture Kombucha for a flight of the healthy probiotic; or Oasis Falafel for a kabob plate with their hummus.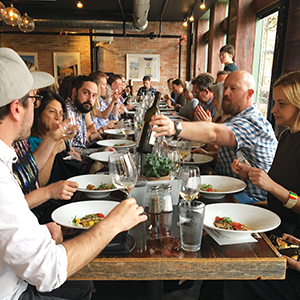 Goosetown Cafe. Photography courtesy of thinkiowacity.com.
Dine and Drink Downtown
With over 100 locally owned restaurants, including numerous ethnic options, Iowa City offers flavors for every type of diner. Pullman Bar & Diner downtown is a favorite, with an open kitchen that creates shareables such as marrow bones and kitchen fries with bacon jam, and mains including smoked salmon and steak frites. They host happy hour weekdays from 3 to 6 p.m. with deals on snacks and adult beverages.
Elsewhere downtown, order quick bites of pizza, tacos or burgers at Bread Garden Market—it's also a great place to grab upscale tailgating snacks and drinks. St. Burch Tavern is known for seafood, specifically oysters and their seafood towers, but it also has salads, steaks and gourmet mac and cheese. And for a bite before the game, order a breakfast pizza, frittata or polenta from Maggie's Farm Wood-Fired Pizza. It's less than a mile from the stadium.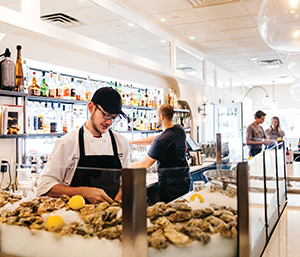 St. Burch Tavern. Photography courtesy of thinkiowacity.com.
Shop Your Style
Independent boutiques, some with Des Moines ties, abound around town. There are more than 60 options, including clothing, books, jewelry, botanical shops and gifts. If you forgot walking shoes, make Active Endeavors your first stop for something comfortable for the urban trek. Our favorite spot for gifts is RSVP in the Northside neighborhood, where you'll find cards, candles, jewelry, handbags and other easy-carry items. For clothing, see what's new at the Velvet Coat on the ped mall before checking out other fashion-forward shops in the area. And a visit to Iowa City wouldn't be complete without a new read from Prairie Lights Books & Cafe.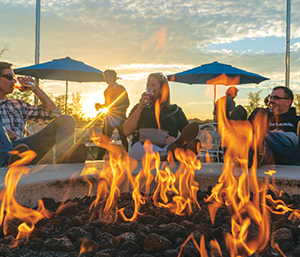 Big Grove Brewery. Photography courtesy of thinkiowacity.com.
Experience Fall Favorites
In our opinion, fall is the best season for patios, and Big Grove Brewery is a top spot for outdoor drinking. Order a classic such as their West Eddy IPA or try the Cannonball, a treat for those who love hoppy flavor.
For a quick detour to the country, head to Wilson's Orchard & Market to spend the day shopping their market, picking apples or sampling barbecue smoked with applewood grown on-site. At Rapid Creek Cidery, also on the property, try the hard cider while ordering brunch or dinner from chef Matt Steigerwald. (You may know the James Beard-nominated chef from his time at Lincoln Cafe in Mount Vernon.)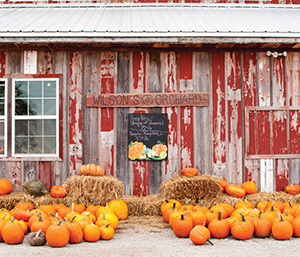 Wilson's Orchard & Market. Photography courtesy of thinkiowacity.com.
Embrace the Art Scene
Considered one of the top 10 public art schools in the country and home to the famed Iowa Writers' Workshop, the University of Iowa and surrounding community celebrate all things creative. To see up-and-comers or possibly take a workshop on screen-printing or letterpress, Public Space One is the place to visit. Plan to check out the Close House in the Northside neighborhood to see the exhibits and small performances in the Media Arts Co-op, part of Public Space One. And for fans of printmaker Lasansky, you can see or possibly collect one of his works at the Lasansky Corporation Gallery downtown. The Argentinian native lived and worked here for more than 65 years and taught his technique to generations of students.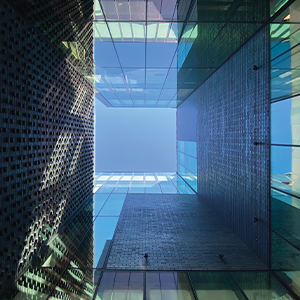 Photographer: Elizabeth Wallace, University of Iowa Stanley Museum of Art.
See Top Sights Around Campus
As of press time, the new Stanley Museum of Art was slotted to reopen its doors Aug. 26. With more than 150,000 square feet of glass and over 200,000 black bricks, the modern building designed by Rod Kruse of BNIM in Des Moines stands proudly on the banks of the Iowa River. Top attractions include "Mural," a 1943 work by Jackson Pollock, and the stunning new floor-to-ceiling mural "Surrounding" by Odili Donald Odita. The Nigerian-born abstract painter was raised in Iowa City and his father studied printmaking under artist Mauricio Lasansky.
After touring the new museum, plan on walking around campus and beyond to see significant buildings such as the modern Visual Arts, Voxman Music and the Art Building West. And there's the iconic Old Capitol in the center of the city (it's available for tours).
And Witness Some Sports
If you haven't snagged football tickets, check online sources such as StubHub or TickPick. As of press time, tickets to the Iowa-Iowa State game were going for $175 and up. We suggest grabbing a rooftop table at Joe's Place, an institution here since 1934. The iconic Deadwood has been a destination not only for generations of students but also townies; even if you're not a U of I alum, you'll feel transported back to your own college days in the endearingly no-fuss tavern. There are countless other options for catching the game—stroll around and find a place to suit your vibe.
For university sports without the throngs, attend a soccer game—the women play five games at home yet this year. Fall also brings field hockey season; they were the first Midwest university to win a national title and have appeared in the NCAA tournament numerous times.