A coffee smoothie made with Hanna Valley protein powder "is perfect for coffee lovers and is packed with nutrition," says Emily Hanna, who created the protein powder. She adds that it also "is filling and helps curb your appetite." The smoothie works with all Hanna Valley flavors—vanilla was used in the pictured drink—and also includes brewed coffee, vanilla, almond butter, almond milk, cacao powder, a frozen banana and frozen cauliflower. Read more about Hanna Valley Protein below.
Writer: Karla Walsh
Photographer: Duane Tinkey
"Necessity is the mother of invention," as the proverb says, and these three local entrepreneurs are proof. Inspired by their own families and personal health journeys, Emily Hanna, Jen Baccam and Megan Garvin all began developing signature recipes to help themselves and their broods live healthier, happier lives.
Instead of keeping their inventions and recipes tucked away inside their own kitchens, however, they decided to share them. The result: a protein powder, a quick-fix muffin and plant-based prepared meals that are as great-tasting as they are good for you.
---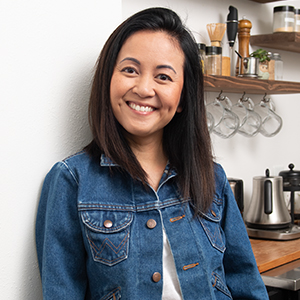 Jen Baccam
Vegging Out
Jen Baccam beams as she reminiscences about her grandmother's radiant energy and contagious smile—and her penchant for plants.
"At the dinner table, Grandma always loaded her plate with far more vegetables than anything else," says Baccam, 37. "She would graze on steamed, sauteed or raw vegetables. One of her favorite snacks was a steamed Japanese yam."
Seeing how her grandmother lived a long, healthy and vibrant life to age 96, and noticing a pattern in her family's medical history, including several cancer-related deaths in recent years, Baccam began experimenting with more plant-based recipes. She found she experienced less brain fog and chronic inflammation with a more vegetarian lifestyle.
Each time she shared her recipes with even "the most devout meat eaters," they piled on positive feedback, she says. "I became hooked. I asked myself, 'Maybe I can make a difference?'"
Enter Sivid, a preorder food brand she launched in spring 2020. Sivid means "life" in Tai Dam, a Laotian and Thai language, and so many of the dishes Baccam creates for her weekly rotating menu (Korean cucumber salad or vegetable bibimbap, for instance) are inspired by her own culture and life around the table with her grandmother, her father (an avid cook) and the rest of her large and close family.
"When I was younger, my parents often hosted dinner parties for my aunts and uncles. My dad would cook, and everyone would bring wine or another dish to share, and they would eat and talk for hours," Baccam recalls.
She takes a cue from many of his recipes to round out her weekly rotating menu for Sivid, which is available for preorder online (foodofsivid.com) by Sunday for pickup on Tuesday at the Mickle Center (1620 Pleasant St.).
Just because her recipes are light on meat and made with an eye on sodium content doesn't mean they're low in flavor. "I use a lot of herbs; they add great depth. I think of herbs as the fillers for any flavor gaps," she says.
Cole Vautier and his family rely on Sivid as an "easy button" to get a nutritious dinner on the table, he says. The family received a meal from Sivid as a gift in June 2020 and has been ordering it almost weekly ever since.
"We love the ever-changing foods and flavors, and since we're a busy family, it's so convenient to order online and pick up already-made meals," Vautier says. "Not only do my wife and I appreciate the food, but our 2-year-old also enjoys exploring new things." The family especially favors the jackfruit with miso slaw, the grain bowls topped with Buffalo-sauce-coated roasted cauliflower, and the roasted Brussels sprouts with vegan aioli.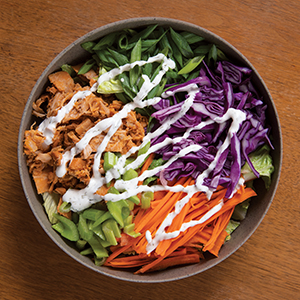 Sivid's Buffalo Jackfruit Bowl features, in addition to jackfruit, lettuce, carrots, purple cabbage, carrots, onions and celery.
---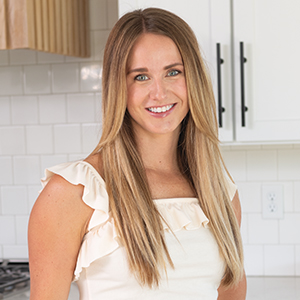 Megan Garvin
Better by the Dozen
Life changed for the better—and became much more hectic—when Megan Garvin gave birth to daughter Blake in 2016. (She now has two other kids, Piper, 4, and Reece, 1.)
At the time, she was working as a nutrition coach. "The overarching theme I heard from my clients was that high-quality options were hard to come by, and creating them at home was too time-consuming," the 34-year-old Garvin says.
She had those same concerns, and actually became a nutrition coach after battling her own health challenges in high school, college and her early 20s. At the pain's peak in 2011, Garvin was hampered by severe fatigue, joint pain, muscle weakness and brain fog. Her symptoms were strong and daily, often leaving her with zero energy to do more than lie in bed and sleep.
Doctors thought she might have the autoimmune condition lupus, and were going to treat it as such, but Garvin wanted to try holistic options first. She eliminated refined grains and added sugars, and focused on whole foods that offered a balanced ratio of protein, carbs and healthy fat.
"Your metabolism controls much more than how many calories you burn; it connects to your immune system, too," Garvin says.
Within three months or so, Garvin felt "normal" again, and hasn't had an achy episode like the ones she used to experience for 12 years.
"I have to be pretty mindful with my nutrition as I am sensitive if I fall off, but nourishing myself properly allows me to keep up with my family, business and active lifestyle," Garvin says. That inspires what she puts on her own plate and into what she feeds her family.
To help get balanced, easy-prep fuel on the table, she developed a muffin batter formula with almond instead of all-purpose flour, plus oats for fiber, and Greek yogurt and egg whites for protein. Garvin aimed to dial in the macronutrients (carbohydrates, protein and fat) "to support blood sugar balance to keep my body feeling and functioning its best," she explains. "I was amazed at how well the product baked and tasted. I finally had a healthy option that my children wanted to eat that didn't force me to sacrifice nutrition."
By June 2019, Gavin had perfected several flavor variations including double chocolate and ham and Swiss, and even discovered a way to freeze the batter.
So she decided to launch Batch Balanced by taking the nutritious batter recipe to a commercial kitchen. For the past three years, she's been selling frozen muffin mix online (batchbalanced.com) and for pickup and delivery in West Des Moines at YogaSix (140 Jordan Creek Parkway, Suite 130) and in the Quad Cities. It takes 60 seconds to get them ovenready: Simply slice open the bag, pipe the batter into a muffin pan, sprinkle on toppings (Garvin's kids adore dark chocolate chips), if desired, then bake and enjoy. Her menu now offers a few seasonal options as well, including mint chocolate, carrot cake and pumpkin.
Garvin hopes that she can share much more than muffins, however. "Batch Balanced is as much about philosophy and a lifestyle as it is about muffins," she says. "The muffins are simply a … vehicle to provide my family and my customers with a way to eat balanced, nutrient-dense snacks and meals that they made in their own home."
Longtime fan and working mother of two Lauren Patrick says Batch Balanced "has been such an easy addition to my routine on mornings where I don't have time for breakfast, when my toddler is being 'selective,' or when my husband needs a quick grab-and-go snack."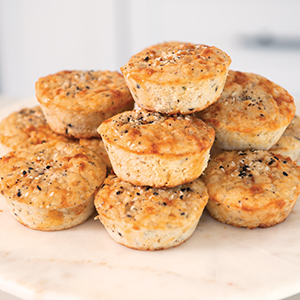 Batch Balanced's turkey and cheddar muffins are seasoned with sage, garlic, onion and cayenne. A serving, which consists of two muffins, has 20 grams of protein and 5 grams of net carbs. Megan Garvin says they can be "paired with fruit or a smoothie for breakfast, sweet potatoes or a salad for a meal, or eaten as a snack on the go."
---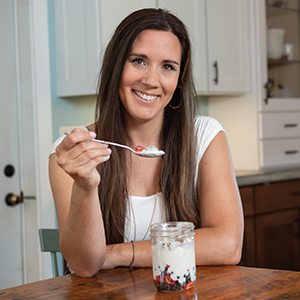 Emily Hanna
Going Nuts (and Seeds)
In 2015, Emily Hanna began experiencing debilitating pain in her wrists, hands and fingers, then her shoulder and neck, and later her hips, legs and toes, "which felt like lightning bolts paired with numbness."
Rashes, eye pain and stiffness made life even more painful, and after three months of hopping from doctor to doctor, "I began to feel hopeless and scared if we'd ever find an answer," Hanna says.
On a mission for something—anything—that would ease the aches, Hanna began diving into Netflix documentaries about nutrition. "I couldn't believe how much diet alone changed these people's lives. I figured I had nothing to lose to try altering my menu," says the 38-year-old mother of two.
Hanna embarked on a two-week experiment eating only plants, and "I was shocked at how much my pain decreased and how much energy I had," she says. "I was even sleeping better. There was a long road ahead of me to get a diagnosis and start to heal, but if I could feel that much of an improvement in such a short period of time, I knew I was onto something."
She began to adapt her family meals to be gluten-free and whole foods-based, and eventually received a diagnosis for the autoimmune disease lupus. (Research shows that diet can affect the severity of symptoms.) At the time, Hanna's husband, Brett, was using protein powder daily, and as she began examining the labels of every item in her pantry and refrigerator more closely, she was surprised by the lengthy protein powder ingredient list. So Hanna grabbed a spice grinder, some nuts, seeds and spices, and created her own signature blend to use in smoothies, brownies and more. Her neighbors heard about her custom concoction, and the super-powered powder snowballed from there.
"Hanna Valley Protein includes the most nutrient-dense ingredients that I could find that are also high in protein," Hanna says. "We keep it simple with whole foods: hemp seeds, pumpkin seeds, flax seeds and coconut sugar."
That means her vanilla, chocolate and cinnamon protein powders are something that she's more than happy to feed her kids—Mack, 9, and Dorothy, 6—and to sell to others online (hannavalley.com) and at several Des Moines retailers, including Campbell's Nutrition, Fresh Thyme Market, Dogpatch Urban Gardens, Nosh, Des Moines Mercantile, Iowa Food Co-op and Capital City Fruit.
Rikki Brockett of St. Charles says the all-natural protein powder has made "a huge difference." Allergies, food sensitivities and other health concerns are common on both sides of her family and her husband's family.
"Between food dyes, nut allergies, diabetes and gluten intolerances, finding common foods is a challenge. That's where Hanna Valley Protein comes in," says Brockett, who started using the product in June 2020. "We use it in smoothies, protein balls, and add it to granola and yogurt. Rather than feeling limited, we love thinking about what we can add to our diets now."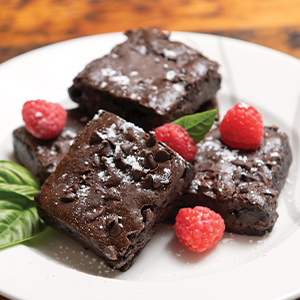 These gluten-free brownies—made by Lucy Golighty's Home Baked Treats, a home-based bakery in Madison County—include Hanna Valley's chocolate protein powder. The powders "can be added to so many things for a boost of nutrition and can even be disguised as dessert," says Emily Hanna.