Stephen Groenenboom
Writer: James Augustus Baggett
Photographer: Duane Tinkey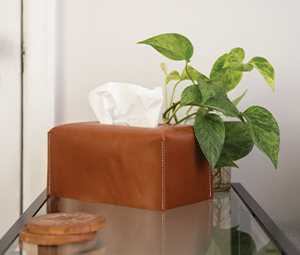 Stephen Groenenboom started working with leather as a hobby about a decade ago. At first he cobbled together a simple wallet, followed by other small leather goods, like a pair of sandals and a briefcase. Today, GroenHaus Handcrafted Goods is a thriving and growing business producing handmade leather goods and accessories, including gloves, purses, pillows and plant hangers. 
Stephen and his wife, Kylie, operate the business out of their home studio in Des Moines. The name GroenHaus is in tribute to the couple's Swedish roots: groen for green and haus for house. 
The New Sharon natives met as teenagers in high school, where they both played trombone in jazz band. After both earned degrees from Iowa State University (Kylie in interior design and Stephen in industrial design), they started life together in Des Moines in 2016. When they launched GroenHaus two years later, Stephen was managing Badowers, the longtime men's clothing store that closed in 2021, and Kylie was working at Habitat for Humanity as a construction manager; she later moved to Invest DSM as a construction specialist. 
After they formed GroenHaus, Kylie joined Stephen in leather-crafting, making pillows and plant hangers, and they started selling their handiwork on Etsy. "We found ourselves home more during the pandemic along with everyone else," Stephen says. "We believe that since people were home more, they were spending a lot more time thinking about their home, which led to increased business for us. Our home goods on Etsy really took off during the pandemic and have continued to be steady." Customers in Des Moines also can find their leather goods at Des Moines Mercantile. 
Kylie is the self-proclaimed brains behind their operation and handles branding, organization and marketing. Stephen takes care of the hand-sewing and the custom projects, which have included a golf putter cover, conference table straps, a bandolier and a bespoke guitar strap. Perhaps surprisingly, their consistent best-seller on Etsy is a leather tissue box cover.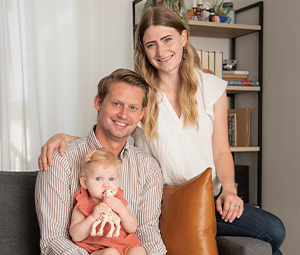 All of GroenHaus' goods are crafted from leather sourced from within the country (Horween Leather Co. in Illinois and Wickett & Craig in Pennsylvania) and stitched by hand. "Outside of our pillows, everything is 100% handmade," Stephen says. "Our patterns are made from scratch, cut out manually, and sewn one stitch at a time. The saddle stitch I use is a tried-and-true method of locking each stitch as you go, ensuring longevity and quality." 
When they're not working on the business, Stephen can be found selling cars at Willis Automotive and Kylie stays busy with their new daughter, Elouise, who joined their family last fall. "Her arrival definitely made us prioritize our time differently and reevaluate what's truly important." Kylie says. "We have been more intentional about what projects we say yes to and how much we take on in addition to our other responsibilities." 
The Groenenbooms are proud to be a part of the growing community of makers and artisans in Des Moines. "We have a very close friend group that has become like family," Kylie says. "We did consider living somewhere else early on in our marriage, but we knew we would always end up back in this area to be close to family. Des Moines has become home, and we really do love it here."