Specialty rolls such as Captain Crunch with tempura salmon and shrimp and topped with spicy mayo, unagi and tempura flakes star on the menu at Blu Thai and Sushi, located downtown.
Writer: Seeta Mangra-Stubbs
Photographer: Duane Tinkey
Cafe Con Leche 
At the corner of East 29th Street and Hubbell Avenue, Cafe Con Leche provides Des Moines with a much-needed Mexican cafe. They serve breakfast and lunch like chilaquiles, tortas and crepes, but you can also pop in for coffee, chocolate Abuelita and a variety of conchas (a sweet bread). I didn't know conchas with sprinkles were a thing. We're looking forward to returning for the horchata and Gansito milkshakes (Gansito is a strawberry-and-cream-flavored cake topped with chocolate). (2905 Hubbell Ave.; facebook.com/cafeconlecheDSM) 
Cajun Belle
While Cajun Belle can be tricky to get to, it's easy to order online and swing by for friendly service. The owner, a Texas native, adds one more kolaches option to central Iowa with savory and sweet selections. Plus, there's gumbo. The fresh, sweet-smelling bread was hard to resist on the drive home. I found the Cajun Belle (boudin or sausage) kolache on the dry side, but the flavors grabbed my attention. (5460 Merle Hay Road; cajunbelleia.com) 
Blu Thai and Sushi 
Toward the end of 2020, Blu Thai and Sushi closed its location in the East Village, but the owners promised to return, and they have. Located in the old Fighting Burrito downtown at 13th and Locust streets by the John and Mary Pappajohn Sculpture Park, the new space is bright and airy, and the food is even better than before. I had a simple chicken fried rice that felt like pure comfort, and my dining companion had me try massaman curry, which I'll be ordering next time. (309 13th St.; bluthaifood.com) 
Pura Social Club
I fell a little in love with Pura Social Club in the East Village's Lyon Apartments. The minimalist, black interior doesn't try to compete with the excellent view of downtown nor does it detract from the amazing food from Chef David Malfara. The reasonably priced tapas we tried—patatas bravas and chicken and waffle tacos—were big on flavor and presentation. It's a versatile restaurant that, depending on the time, brings night club vibes or an outstanding date night eatery. (660 E. Fifth St., Suite A; purasocialclub.com)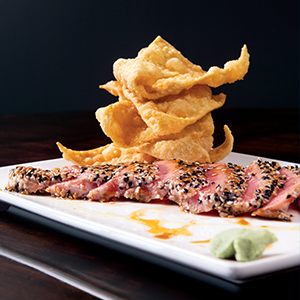 Must-try dishes at Pura Social Club include Tuna Tataki—sesame-crusted, pan-seared ahi tuna served with teriyaki glaze, wasabi and fried wonton chips.