The AT&T building with its two spires towers over the Cumberland River in downtown Nashville. 
Writer: Lisa Holderness Brown
Photography courtesy Nashville Convention & Visitors Corp. Photographers: Alyssa Rosenheck and Mayler Scott
In the last decade or so, Nashville's been fine-tuning its image and morphing into a multifaceted destination that's bringing in a steady stream of new residents and visitors. While country music put the city on the map, it's the abundance of impressive sites, walkability and welcoming friendliness that make the city so inviting, especially for a long weekend getaway. 
Nashville's skyline and list of tourist attractions are growing almost as quickly as its population (now close to 700,000). The more than 200 restaurants and coffee shops that have opened in the last two years are also garnering the attention and accolades of foodies. 
"There is definitely a new energy in Nashville, and so much has changed since my husband and I moved to here from Des Moines in 1992," says Iowa native Boo Brown Gordon. 
"Lower Broadway used to be sleepy and a bit run-down, but now this Honky Tonk Highway is a total scene," she adds. "There's free music 365 days a year. People roam from bar to bar and spill into the streets. …. But there's so much more to see in Nashville, especially for families." 
Boo's spouse, Kevin Gordon, is a musician and songwriter who went to the University of Iowa to attend the Iowa Writers' Workshop. He toured with well-known Iowa musician Bo Ramsey and met Boo while playing a gig at Wellman's Pub on Ingersoll in Des Moines. Like many musicians before them, the two made their way to "the songwriting capital of the world" to be in the heart of where music happens. 
After 30 years as residents, they know the hidden gems and must-do sites around the city and share their recommendations.
Getting There
The short nonstop flights on Allegiant Airlines depart from Des Moines on Thursdays and return Sundays. The Nashville airport is only 9 miles from downtown.
Visiting Downtown
A smart first stop is the Nashville Visitor Center, inside the glass tower at Bridgestone Arena at Fifth and Broadway. It's open daily and offers locals' advice, maps, tickets and a souvenir shop. Keep walking on Broadway and you'll run right into the honky-tonks, including Robert's Western World, which draws fans for traditional country music, fried bologna sandwiches and Sunday morning gospel shows. 
Downtown Nashville is easily walkable, but you'll also see plenty of tour buses. Keep a lookout for the 100-plus murals on buildings throughout the city and the whimsical Stix sculpture at Eighth Avenue and Korean Veterans Boulevard. The tallest building in Tennessee is the AT&T building, known as the "Batman Building." You can't miss its twin spires. Walk the John Seigenthaler Pedestrian Bridge over the Cumberland River, which connects downtown with East Nashville and offers a great spot to view the skyline. 
A downtown favorite is Ryman Auditorium, also known as the Mother Church of Country Music and the longtime former home of the Grand Ole Opry (1943-1974). Attend one of the 200-plus shows a year or stop by for a tour to get your picture taken in front of the microphone onstage. 
Steps away is the National Museum of African American Music, which opened in 2021. This highly immersive experience highlights the roles African Americans have played in all genres of American music, from jazz and country to hip-hop and blues. You can even create playlists and music videos to download on a special RFID bracelet. Plan on about 90 minutes here. And yes, bring the kids. 
A five-minute walk from Ryman Auditorium is the Country Music Hall of Fame and Museum. There are loads of interactive family-oriented things to do here. For starters, learn about the Hall of Fame members from the first inductees in 1961 through present day and walk through the current Chris Stapleton exhibit. See countrymusichalloffame.org for a daily calendar of events and to get advance tickets to tour the Historic RCA Studio B, the recording studio of music greats such as Elvis Presley, Waylon Jennings, Dolly Parton and the Everly Brothers. 
About a half mile south of the museum in Pie Town, take time to explore the super-funky Third Man Records. Launched by singer Jack White, Third Man houses a novelties lounge, record store, recording label, photo studio, and the ultra-hip Blue Room Bar that's open Thursday through Saturday and hosts live music. The 30-minute tour offered on Fridays is worth the $20, but you can also just drop in to shop and record your own 2-minute phonograph disc recording of your voice in the 1947 Voice-O-Graph Recording Booth. 
All that walking and touring will likely trigger the need for a break for treats, so head to the newly renovated Goo Goo Chocolate Co. Nashville's the home of the famous chocolate Goo Goo Cluster, America's first combination candy bar. Buy the original flavor here, or better yet, customize your own at one of the design-your-own kiosks.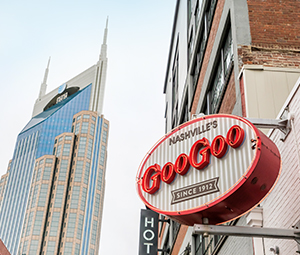 The AT&T "Batman Building" and Goo Goo Chocolate Co.
East Nashville
Known as the culturally diverse, hip and historical neighborhood across the Cumberland River, East Nashville is close to downtown and a locals' favorite. "We've watched our neighborhood go from kind of undesirable to the hottest area in an it city, with a proliferation of new restaurants, music venues and independently owned shops," Boo says. 
East Nashville is home to the James Beard Award-winning chef Sean Brock and his flagship restaurant, Audrey. This is Brock's nod to his Appalachian roots. The interior features local artists and makers and a first-rate folk art collection. The menu is a three-course prix fixe deep dive into heirloom Southern ingredients, and each dish looks like art. Also housed in the same building are Brock's upstairs cocktail bar, a food-focused research lab and his newly opened tasting-menu restaurant, June. 
Other East Nashville spots worth checking out include the woman-owned Bookshop, family-run Delgado Guitars (check out their handmade instruments), Dino's (a beloved dive bar known for cheeseburgers and hot chicken), and the Five Points area at Woodland and 10th streets. For an evening out in this area, the Gordons head to the Honeytree Meadery tasting room for a glass of the craft drink made from local honey before heading to the Basement East to hear live music. 
A prime spot to stretch your legs is the Shelby Bottoms Greenway. It has a 5-mile multiuse paved trail that runs along the Cumberland River and additional primitive trails.
Find More Info 
Go to visitmusiccity.com.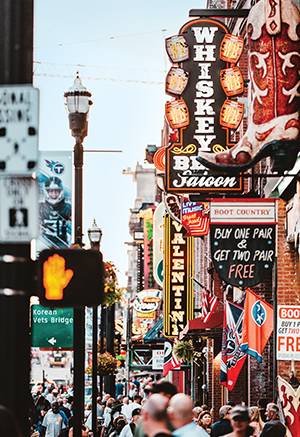 Broadway
Sound Bite of History
Nashville, the capital of Tennessee, was settled in 1779 and named after American Revolutionary War hero Francis Nash. It grew quickly, due to its strategic port on the Cumberland River, and soon became a major railroad center. But it was the Grand Ole Opry, the country's longest-running radio show, that caught the world's attention. It was first broadcast in 1925 from the city and has been instrumental in drawing songwriters, singers and all types of musicians to Nashville ever since.
---
At A Glance
Where to Stay, Eat and Go for Live Music
Stay
Nashville has over 35,700 hotel rooms, so you'll have plenty of choices. 
Grand Hyatt Nashville: This spacious, ultra-buzzy hotel opened in 2020 in the heart of downtown and is ideal for exploring the city's sites on foot. The rooms are modern and lovely. Also check out the sky-high rooftop bar, outdoor pool, spa and dining options.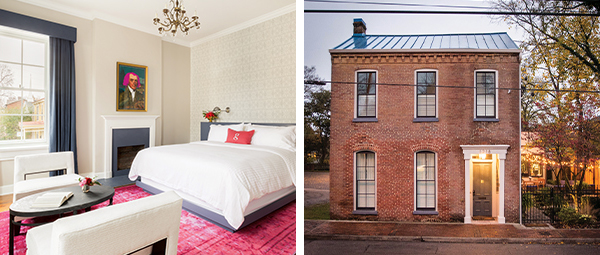 Germantown Inn
Germantown Inn: Just a few blocks north of downtown, this 10-suite, brick boutique hotel oozes charm and offers a calm oasis from the bustle of the city. It includes a petite rooftop patio and courtyard plus has a light breakfast buffet and cocktail hour.
Bode Nashville: If you're bringing a crew and want to stay downtown, the Bode offers some multiroom, apartment-style accommodations with kitchens and living rooms. Order a craft cocktail at the in-house Sidebar, sip locally roasted coffee at the Porch Coffee and Market, or play cornhole in the sizable backyard.
Eat
Like hotels, the Nashville eatery options seem infinite. Here are a few tasty and affordable spots to sample around the city.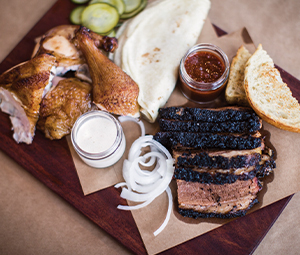 Butchertown Hall
Butchertown Hall in the Germantown neighborhood: A 36-square-foot open hearth and a high-capacity smoker keep the smoked brisket and wood-fired meats coming. The chatty, high-energy scene spills into the spacious outdoor courtyard.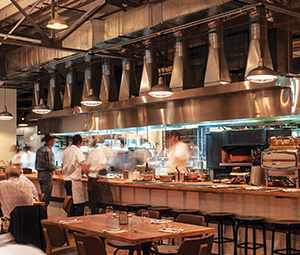 Adele's
Adele's in the Gulch (part of downtown): A short walk from lower Broadway and the Country Music Hall of Fame and Museum, this dinner and brunch restaurant serves farm-to-table comfort food in a roomy spot that formerly housed an auto repair shop. 
Edessa in Nolensville Pike, near the Nashville Zoo: Nashville has the largest Kurdish community in North America, and this restaurant is revered for its authentic Kurdish and Turkish cuisines. 
Mike's Ice Cream downtown: In between tourist stops, break for homemade bites at Mike's Ice Cream & Coffee Bar. Choose from 30-plus flavors, including Tennessee Fudge and Blackberry Cornbread.
Catch A Show
In a town that lives and breathes music, spots to hear live music abound. Here are a few favorites: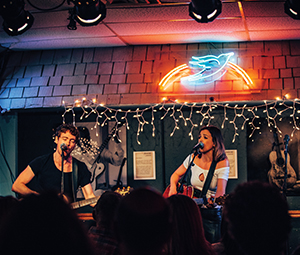 The Bluebird Cafe
The Bluebird Cafe in the Green Hills neighborhood: Garth Brooks, Taylor Swift and Dierks Bentley have all played at this famous music club located in an out-of-the-way strip mall. Get a reservation on their website in advance if you can—the cafe brings in over 70,000 visitors a year. 
Grand Ole Opry House on the north side of East Nashville: Experience one of the famous Grand Ole Opry radio shows in person. You can also take a backstage tour and learn all about the musical greats who have performed here.
The Station Inn in the Gulch neighborhood near downtown: For 40-plus years, this casual listening room has hosted bluegrass, roots and Americana music seven nights a week. Most shows (and tables) are first come, first served.