Detail of floral acrylic by Jenna Brownlee.
Writer: Jody Gifford
Photographer: Duane Tinkey
It's hard to miss the mural wrapping the corner of the Parker building at Seventh and Park streets downtown. Emblazoned with the words "My Heart Belongs to Des Moines," the 165-foot-long work, with its black background and brightly colored flowers, is a frequent stop for photographers shooting senior pictures and groups of teenagers snapping photos for their Instagram profiles. 
The thought of that makes Jenna Brownlee smile. The 36-year-old Des Moines native is the artist behind the mural. Created in 2018, it's one of 30 in Iowa with her signature on it, and one that helped launch her career as an independent artist. 
A graduate of Hoover High School, she attended college at the University of Iowa and decided to make Des Moines her home after graduation. Today, Brownlee and her husband, Jack, live in Clive with their two children, Elle, 4, and Ben, 3. She says the mural, like the rest of her work, is in line with her mission: "To make people happy through art and share the joy that it brings me."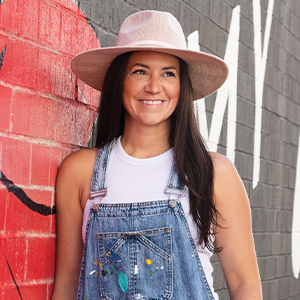 Jenna Brownlee at the mural "My Heart Belongs to Des Moines" downtown. 
How would you describe your work? I'm a multimedium painter. I do watercolor paintings and offer prints and paper materials for that line of work. I also paint with acrylic, which is what you see on my works on canvas, and I'm a muralist. I use acrylic or house paint when I paint murals. That line of work has its own unique style and approach. All of my work is inspired by nature. In 2020 I started doing a lot of flowers, and that work has continued to mature and grow over the last couple of years. I'm drawn to florals because of the organic shape and the complexity of each bloom; there are so many layers and textures. The medium allows me to explore the color and depth and contrast and movement shown through the brushwork. 
How did you get your start? I was a graphic designer and did a lot of digital illustration, and still do, for some of my mural work. I started doing fine art four and a half years ago, doing watercolor dog portraits. People would just send a picture of their dog and I'd do a portrait. Then I created pieces that I could sell as prints and I'd do the Downtown Farmers' Market with my watercolor work. In 2020, when the pandemic started, I had this clear vision of where I wanted my art business to go. Suddenly there were no markets and no festivals, and as any entrepreneur would be, I was nervous and knew I needed to try something new. I started working with Liz Lidgett [of Liz Lidgett Gallery + Design] and she's been instrumental in my career. She just reached out one day and said, "Can we represent you at the gallery?" I hadn't really done pieces on canvas before, and now it's a huge part of what I'm doing. I'm even shifting more to that and doing a little bit less of watercolor. 
You said your daughter was born four and a half years ago. Did motherhood and your move to being an independent artist intersect on purpose? It was definitely a meet-in-the-middle kind of thing. I'm a pragmatic thinker, but I'm also an artist—the left side of my brain is always firing. I knew there was risk involved, but it was also inspirational in the sense that everything had changed. Becoming a mom was the most profound thing that had ever happened to me, and I felt like I was finally coming into who I was as a person. It was such a big change and a lot of the insecurities and fear that I had kind of melted away. I was like, "I'm going to do this," and I'm proving that I can be successful and make money as an artist, but also that I can provide for my family.
Has being a mother influenced the style or themes of your work? It didn't change my work right away, but it has influenced how I work and the lines of work that I'm creating. I created a series of watercolor pieces that were inspired by my kids—they're sort of these abstract, simple shapes, really bright colors. To me, these are the inner workings of a toddler's mind and how they see these little shapes and pieces all fit together. Aesthetically, they'd work well in a playroom or a toy room, which is where we're spending so much of our time these days. As our kids develop and our lives change with their development, I'm sure my work will evolve too. 
What's it like to work as an independent artist? My first year in self-employment I had a newborn, and then my second year I was still getting over some of the first-time hurdles. The next year, I had my son, so I was like, "OK, next year is going to be the year," and the next year was COVID. It was like every year there's been some new thing to overcome, which leads to different avenues of inspiration and thinking and things to try and things to pursue. This year, I was in the Des Moines Arts Festival. It was such a great experience and something that I'll consider doing again next year. I really thought I'd need to have more of a strategy in place for where I wanted to be, but I'm becoming more comfortable with not having a plan. Things have worked out exactly as they were meant to.
What are your goals moving forward? One of my goals for 2023 is to pursue the Des Moines Arts Festival again (Brownlee was an exhibiting artist at this year's festival) and maybe one other regional festival. With little kids, I'm not able to really travel and do festivals around the country as much as other artists do. No matter what, I will continue to show that art is an integral, powerful tool that energizes, unifies and beautifies our communities. It's also important to me to show that as a woman, as an entrepreneur, as an artist, that you can be successful through art.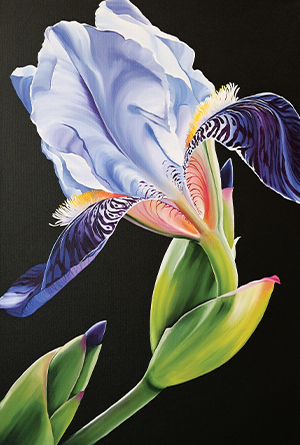 Jenna Brownlee, "IRIS," acrylic on canvas. She says she's "drawn to florals because of the organic shape and the complexity of each bloom; there are so many layers and textures."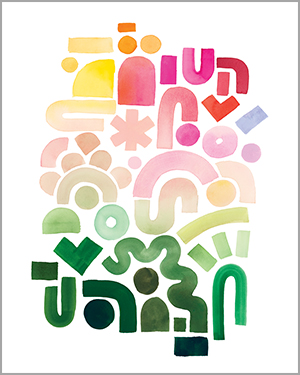 Jenna Brownlee, "Abstract Garden," watercolor on cold press paper. "This was part of a line inspired by my kids," Brownlee says. "It feels like the inner workings of a child's mind— simple and imaginative shapes pieced together into something whole." 
Jenna Brownlee
jennabrownlee.com
lizlidgett.com/jenna-brownlee
Instagram: jenna_brownlee