A horned figure named Asystole flashes a smile in "Aaru En Duat," published by Basi Affia's Sensi'il Studios. The illustration is by an artist who goes by Semo.
Writer: Madeline Cisneros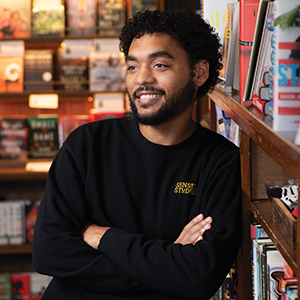 When Basi Affia was in preschool, a fictional famished insect changed his life. "The Hungry Caterpillar" by Eric Carle introduced him to the vast world of storytelling.
"I don't know if it was the complex character development of the caterpillar, but something about it just stuck with me," said Affia, whose given name is Aniekanabasi White.
The Des Moines native got to try his hand at writing for a first-grade class project, a story about a superhero named Spoonhead who fought dirty dishes. The character evolved into other projects throughout elementary school.
After years of creating new worlds with his writing, Affia has now launched Iowa's first Black-owned comic production company, Sensi'il Studios. The name comes from a word in an ancient Ethiopian language, Ge'ez, that denotes a traditional artform of telling stories on folded sheets of paper — essentially, a precursor to modern comic books.
These days, when some media outlets focus and even capitalize on Black trauma, Affia said he wants to make original "stories by us for us." As he put it, "I don't like leaving my story in the pen of a different writer."
With Sensi'il Studios, Affia handles everything but the illustrations. He writes the comics, goes to events, promotes the company on the news and creates merch. For the artwork, he works with illustrators in Washington, D.C., Brazil, India and the Philippines. He is also recruiting other authors of color to publish their stories through the company.
Affia currently has three hard-copy comics available for purchase. "Lost With All Hands" is about two engineers on a settlement mission to another planet. The second book, "Aaru En Duat," focuses on a warrior princess who leads a campaign to colonize a planet that's inhabited by a species of cats. It offers "different layers for different levels of readers," Affia said.
The third project, "Regicide: Havoc," is a graphic novel Affia created with NASCAR driver Colin Garrett, whose 11/11 Veteran Project helps military vets across the country improve their physical, mental and financial well-being. Affia, who is a religious affairs specialist with the Iowa Army National Guard, said the book addresses some of the challenges that military personnel and veterans face — "things that civilians don't necessarily understand," he said. "You've got to be there to get it, just to bridge that gap a little bit."
Looking forward, Affia continues to develop stories for the printed page and on screen. His animated comic "Lost With All Hands" is available on the Sensi'il Studios YouTube channel, and he plans to release another motion comic next year. He's also negotiating with animation studios to launch a series for streaming services.
"These types of projects often intertwine with different industries," he said. "It brings musicians, artists, writers, animators and all these different people together. It really stimulates the economy and stimulates the culture — just a lot of things that I feel like Iowa needs."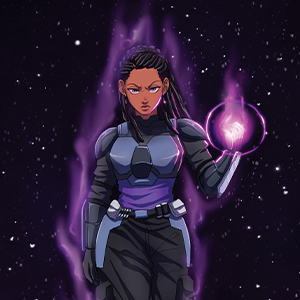 Azriel Black plays a key role in "Aaru En Duat," illustrated by an artist who goes by Oddyssey Art.