Elaine Graham Estes has amassed around 300 editions of "A Visit from St. Nicholas."
Writer: James Augustus Baggett
Photos: Duane Tinkey
It all started as a collection to be displayed at the Des Moines Public Library. Back in the 1990s, when Elaine Graham Estes was the library director — the first woman and first person of color in that role — she discovered that Clement Clarke Moore's classic poem "A Visit from St. Nicholas" is the most-illustrated piece of writing in American history. Most people know it by its first line, "'Twas the night before Christmas …"
"I thought the library public should see works published in different editions," she said. "So after I retired in 1996, I decided to start a collection of my own." To date, she's collected around 300 different editions.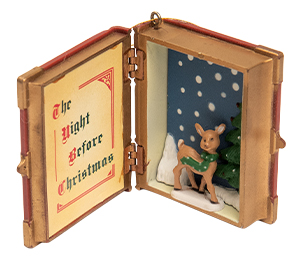 Estes is intrigued by how different illustrators and graphic artists have brought to life the famous 56-line poem that has probably influenced the world's vision of Santa Claus more than any other story. It's been published in all sorts of styles and formats, including miniature books, coloring books, pop-up books, 3D books and even books that talk when they're opened, like certain greeting cards.
She finds them at thrift stores, used book stores like Half Price Books and the Planned Parenthood Book Sales at the State Fairgrounds. But she doesn't shop online, partly because she doesn't own a smartphone or a computer. "I like to see that the books have all the pages and that the movable parts work," she said. "I really like to see, touch and find."
The poem was first published in 1823 and has been republished in some form almost every year since the late 1800s. Estes has shared its history in presentations to various groups like the Iowa Questers, the Iowa Antique Network and the Print Club at the Des Moines Art Center. She also curated an exhibit for the public library in Springfield, Missouri, her hometown.
By now, Estes figures more than 1,000 editions have been published over the years. Her oldest edition dates to the 1840s, and she's fascinated by the way Santa's image has evolved over time. "The early editions always talk about him in his fur and with his pipe," she said. "But in recent years there have been concerns about encouraging [the wearing of] fur and smoking for children, so many have eliminated that part of the story."
In the poem, jolly old St. Nicholas plops out of the sky with a sleigh full of gifts. But as any collector like Estes knows, the real pleasure is often in the hunt. "I love finding things that I don't have," she said. "I am pleased with the fact that I have found versions in all these different formats. That's what is especially exciting."