Jake Sahr (left) and Pascha Morgan (right)
Writer: Hailey Allen
Photographer: Duane Tinkey
Jake Sahr, 25, and Pascha Morgan, 46, first met in jail. It happened during the 2020 George Floyd protests, both saying they were falsely arrested. As they waited to be bailed out, they realized they had much in common, despite their 20-year age gap. 
Specifically, they discovered they shared a commitment to social justice as well as a deep desire to inspire hope and help their communities. 
Overflowing with ideas and a drive to put them into action, the duo established Attain in 2021. The nonprofit organization encompasses the variety of service work they've started doing, including a community library project called the Out of the Box Initiative. 
Last January, Sahr approached Morgan with the idea to create small free libraries "to provide knowledge for and about minority groups," Sahr says. He wanted the libraries to uplift minority voices in literature and educate young people on the histories of diverse communities. 
"Making this library is all about representation," Morgan says. "When you're a person of color going to a traditional library or bookstore, finding books that have representation of you is like finding a needle in a haystack. So instead we just made a haystack full of needles." 
Diverse Collection 
The Harriet Curley Library, located on the corner of 13th Street and Forest Avenue, opened in late July and is the first of several that the Out of the Box Initiative plans to open. It's named for the first Black schoolteacher in Iowa and is the size of a small shed, about 120 square feet. It houses a collection of books, mostly by minority authors, that focus on diverse communities and are geared toward a variety of ages, from toddler to teenager. 
As of press time, plans for additional libraries included a space in the Center @ Sixth development, a mixed-use commercial project being developed along Sixth Avenue, as well as a location in Johnston and on the property of a local credit union. 
Morgan has eight children, and the youngest of them, 8-year-old Isabella, loves to join her dad at social justice demonstrations, interviews and community meetings. She even helped put the Harriet Curley Library together. Morgan says it's important to him that he can lead by example to show his children ways they can create positive change in their own communities. 
After moving to Des Moines with his family in 2018, Morgan became an activist without waiting and without hesitation. As a military brat from the time he was born in Fort Leavenworth, Kansas, Morgan has lived in some 30 different states throughout his life. Because he was always moving around as a child, and continued to do so as an adult when he joined the Army, he's never lived in one place much longer than five years. 
"Your community is the community you're in at the time," says Morgan, who works as a digital marketer and social media content creator for the Iowa Coalition for Collective Change. "You don't have to be from there. If you grew up [moving] all your life, it doesn't take you years and years to form an attachment or connection with a place, because you don't have years and years."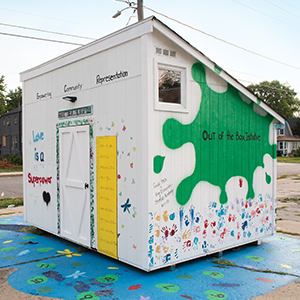 The size of a small shed, the Harriet Curley Library houses a collection of books, mostly by minority authors, that focus on diverse communities. Local artists Eris Ashley and Brazzy_515 painted murals on and around the library, with help from children participating in YMCA summer programs
Dedicated to Service 
Morgan and Sahr were two of the founding members of the Norwalk Black Lives Matter. Like Morgan, Sahr also has always had a passion for service. He completed both the EMT program and the certified nursing assistant program at Des Moines Area Community College in 2018, with the goal of becoming a registered nurse. He's currently working as a licensed barber as he saves for medical school and funds community projects. Sahr also volunteers as a barber to cut hair for homeless and underprivileged youths. 
Sahr became a community activist through the George Floyd protests, after which he was asked to lead the Norwalk BLM group. He helped organize several successful events for the group and partnered with Raygun to release a shirt series as a fundraiser. 
"In 2020, I never would've imagined [his and Morgan's work] to be at the scale that it is right now," Sahr says. Growing up in Des Moines, he says he saw that communities needed help, but never felt enough action was being taken. As he expands on projects with Morgan, he says he hopes to change that. 
In addition to the library initiative, they have also started working on an after-school tutoring program with Urban Dreams and Creative Visions, as well as an internship program with local businesses for young adults between 15 and 21 years old. The two also have been brainstorming ways to operate a free car repair clinic, which would offer simple servicing and repairs to help people continue to have access to reliable transportation. 
"I do believe in doing a lot of community work. I don't, however, believe in doing something just to do it," Morgan says. "It has to have an actual effect on people and be an actual use to the community."