Chiyo Nishida often hunts through Funky Finds Vintage & Retro to snag perfect secondhand items. They like to thrift most of their clothing from shops around the metro. Photo: Duane Tinkey.
Writer: Hailey Allen
As a ballet dancer, Chiyo Nishida has to be flexible. Fluidity is part of the job. It was also part of their upbringing. Nishida was born in San Jose, California, but by middle school they'd made the leap across the Pacific to live with their mom in Osaka, Japan. College at Butler University in Indianapolis brought them back to the states. Now, they're a company dancer here with Ballet Des Moines. Between jetés, Nishida still finds time once a year to jet back to Japan to see family and friends.
There's fluidity in their identity, too. Nishida is nonbinary and uses they/them pronouns. "I took a gender and sexuality course in college, and basically learned that 'gender' is kind of a social construct," Nishida said. They explained how they never felt they fit into a box, just "boy" or just "girl." Where they fall on the spectrum of gender can change day to day. "I'm still evolving and learning who I am."
They like living and working in Des Moines because of the welcoming and supportive LGBTQ community they've found here. "I feel very lucky to have a safe space around me," Nishida said. They shared a few of their favorite spots around the city.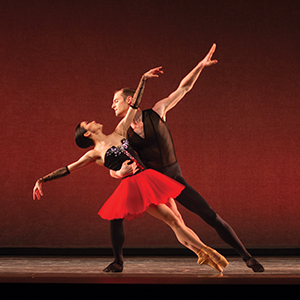 Above: Fellow company dancer Cameron Miller dips Nishida in a graceful performance of Tom Mattingly's "Rhapsody on a Theme of Paganini." Photo: Emily Kestel.
Ballet Des Moines
It might be an obvious choice, but Nishida said they enjoy working there because of the company's diversity and the shows it produces with artistic director Tom Mattingly. "Ballet is stereotypically a very gendered sport, but Tom does a good job creating space for me and for everyone to feel safe and welcome."
Bar Nico
"To me, it feels a little bit hidden," Nishida said of the Mexican eatery in the East Village. They pointed out that the entire menu is gluten free, which is unusual. Nishida likes to grab a seat at the bar and chat with the bartender.
Climb Iowa
"Climbing is a hobby I recently picked up, and so I go a lot just for fun," they said. It doubles as a strength workout. This rock-climbing gym has two locations, in the East Village and Grimes.
Funky Finds Vintage & Retro
Nishida enjoys thrifting most of their clothes. This throwback shop on Grand Avenue is more than your average consignment. It stocks all kinds of vintage goodies, from '60s-era swimsuits and old records to authentic mid-century modern furniture and other tchotchkes. "I can find really good quality vintage clothing here," Nishida said.
John and Mary Pappajohn Sculpture Park
On nice days, Nishida enjoys walking around the park and its world-class art collection. "It's a place in the city where you can just exist and be yourself. There are no expectations," Nishida said. "I like to get a coffee and read books in the sun."
SadBoy Ceramics
Local artist Nathan Spalding throws handmade bowls and mugs to sell on his website and hosts pop-up "Queer Clay Nights," when participants at any skill level can create their own mug. Nishida recently attended one of the events and recommends them to any LGBTQ individuals who'd like to try something new. "It's a safe space to get to know other queer people."